In the wake of the tragic shooting death of unarmed 17-year-old Trayvon Martin, much of the public focus has been on Florida's 2005 "Stand Your Ground" law (opposed then, and exposed today as a "Shoot First, Ask Questions Later" law). Regardless of concealed handgun permit holder George Zimmerman's invocation of the law, and the effect of the state's "Shoot First" law on his fate, the stark reality is that it is Florida's lax concealed weapons law that allowed George Zimmerman to carry a black seven-shot Kel-Tec PF-9 9mm pistol in public and shoot Trayvon Martin. If Florida did not have this dangerous National Rifle Association-promoted law, Trayvon Martin would be alive today.
The gun used to kill Trayvon Martin didn't find its way into George Zimmerman's hands by happenstance. Like the killing itself, it is the predictable result of an aggressive decades-long campaign by the National Rifle Association to promote lax concealed carry laws and attendant "Shoot First" laws. The primary and intended beneficiary of these laws has been the firearms industry.
Faced with long-term declines in household gun ownership since the mid-1970s, the firearms industry has worked to exploit these NRA-backed laws to re-sell old customers and entice new ones. As Tanya Metaksa, then the chief lobbyist for the NRA told the Wall Street Journal in 1996 -- "The gun industry should send me a basket of fruit -- our efforts have created a new market."
This week my organization, the Violence Policy Center, issued "Never Walk Alone" -- How Concealed Carry Laws Boost Gun Industry Sales. The report details how today ads for concealed carry or "personal-defense" handguns permeate gun publications -- both industry -- and consumer-oriented. The January 2012 issue of the NRA's monthly activist magazine, America's 1st Freedom, contains an ad for the very model of handgun used by Zimmerman to kill Trayvon Martin -- the Kel-Tec PF-9. The ad, shown below, features an array of the pistols in different finishes and urges readers to "Pick your favorite color." Described by its manufacturer as being designed with "maximum concealability in mind," the PF-9 is "one of the lightest and flattest 9mm ever made." On its website Kel-Tec states that it specializes in "handguns for concealed carry by law enforcement personnel and qualified citizens...." All of the company's employees are members of the National Rifle Association.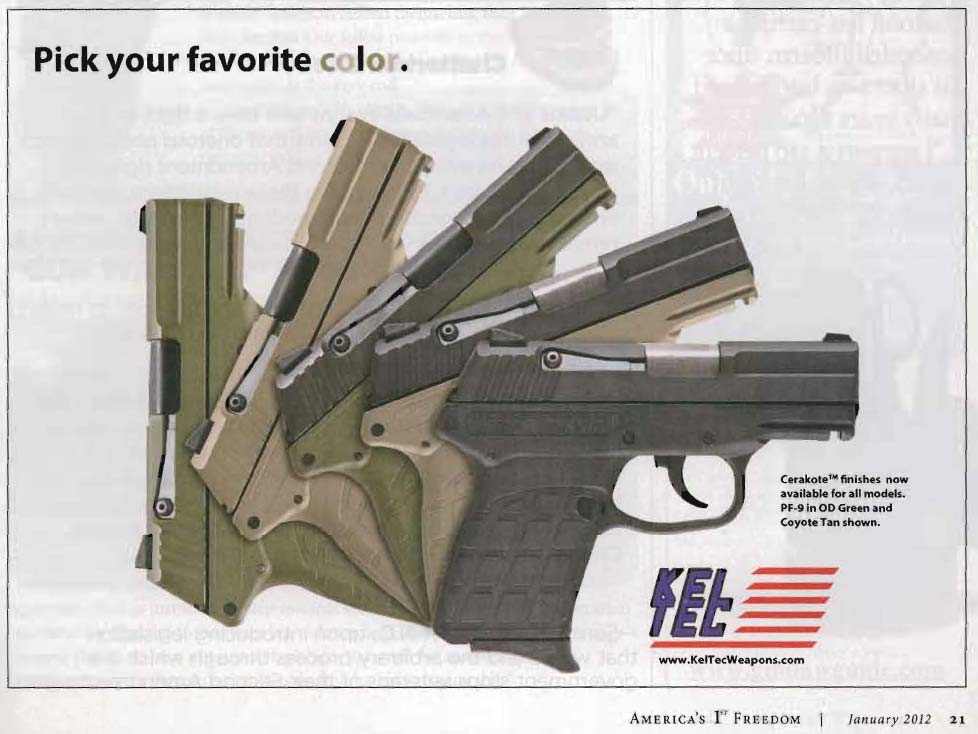 While in its public promotion of lax concealed carry laws the gun lobby and gun industry rarely mention the financial benefits such laws offer to gunmakers; in industry publications they are far more open. As the CEO of handgun manufacturer Taurus International explained to the gun industry publication Shooting Industry in December 2011:
"The buying trends of most people have shifted quite dramatically over the past four or five years. The products that are selling throughout the year have shifted. For instance, the cycles for sales of hunting products have been shortened dramatically, which requires a tremendous amount of planning and research to make sure you hit it right. However, in home security and concealed carry, it's a year-round business... The economy is certainly something we have been lucky to escape, especially in the areas of home security and concealed carry.'"

Six months earlier, in a Shooting Industry column devoted to marketing guns to women, the author exhorted:
"Scaled-down guns are the hot ticket for 2011, and many of the new guns introduced earlier in the year are beginning to appear on dealers' shelves. Almost every major manufacturer has a firearm that is reduced in size or designed for concealed carry, which is great news for women looking for pocket-sized self-defense guns...."
Included in "Never Walk Alone" (the title of which is taken from the ad below) are numerous examples of gun industry advertisements for concealed carry weapons taken from a wide range of manufacturers. Here are four of them.
A full-page ad in the March 2009 issue of Gun World for the "6-shot, .380 auto Micro Desert Eagle" from Magnum Research, Inc. warns "Never Walk Alone." The gun is "the ultimate in compact personal protection. Small enough to nest comfortably at home, in a pocket or in a purse, the double action only Micro Eagle is proudly made in the U.S. and weighs less than 14 oz.... Which only goes to prove that good things do indeed come in small packages."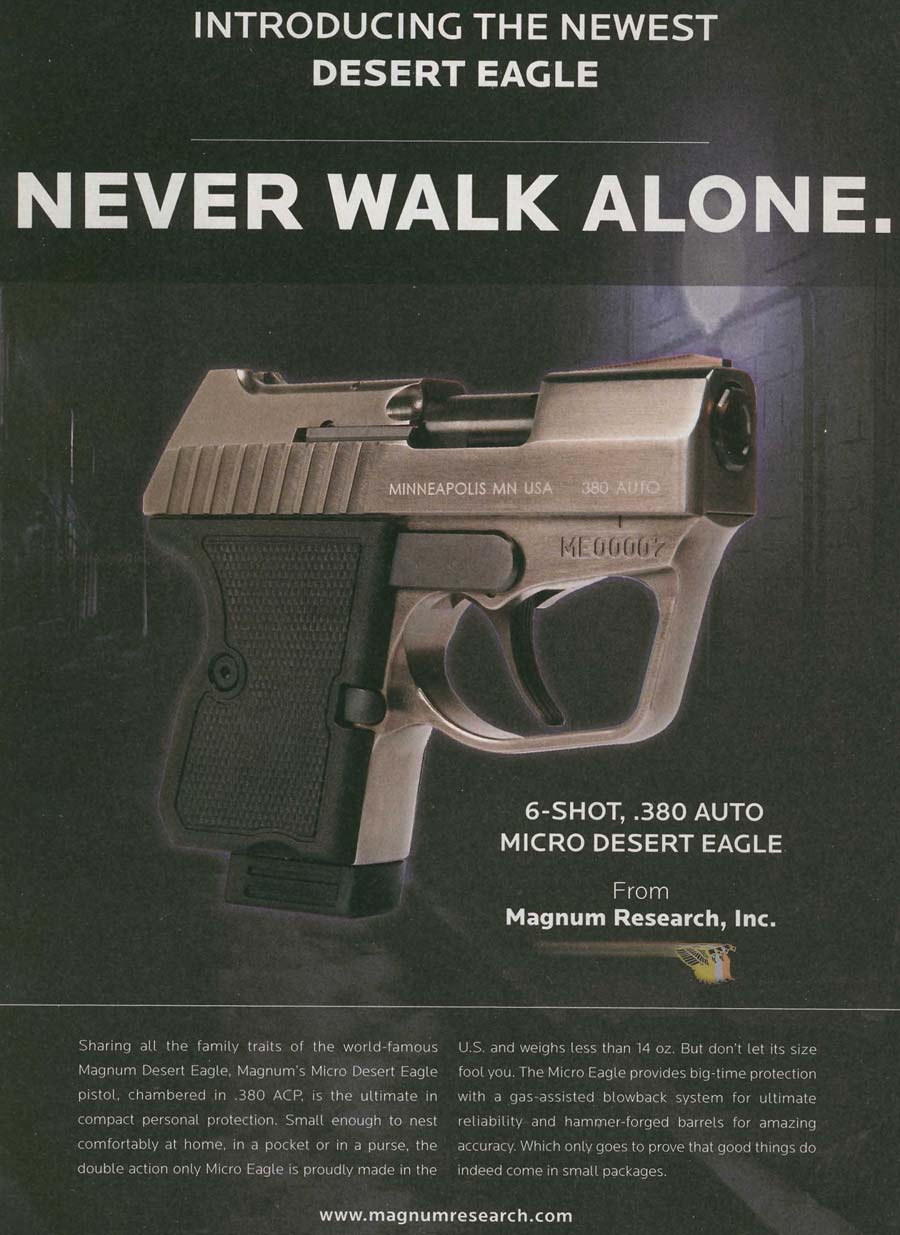 An ad in the December 2011 issue of Gun World for North American Arms' mini-revolver promises, "Regardless of your location, your dress or the season, NO gun is easier to carry or conceal than a North American Arms mini-revolver. Is it an effective deterrent? Would you want to be shot with one?" The ad warns the reader "don't leave home without one" and adds, "Remember Rule #1: Have a gun!"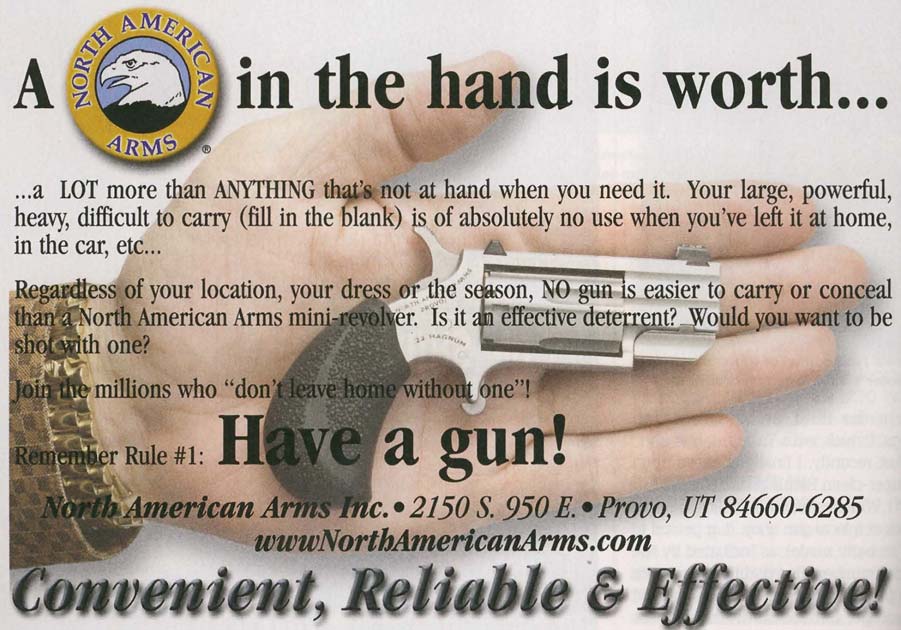 A full-page ad in the February 2012 issue of Gun World features two Ruger pistols that are "both perfect for personal protection." The Ruger LCP "is a compact .380 Auto pistol that weighs just 9.40 ounces (with an empty magazine). It is lightweight and ideal for all-day carry -- ensuring you have it when and where you need it." The larger Ruger 9mm LC9 "features smooth 'melted' edges for ease of holstering, carrying and drawing." The ad urges the reader to "check out the Ruger LCP and LC9 with Lasermax Centerfire Lasers!"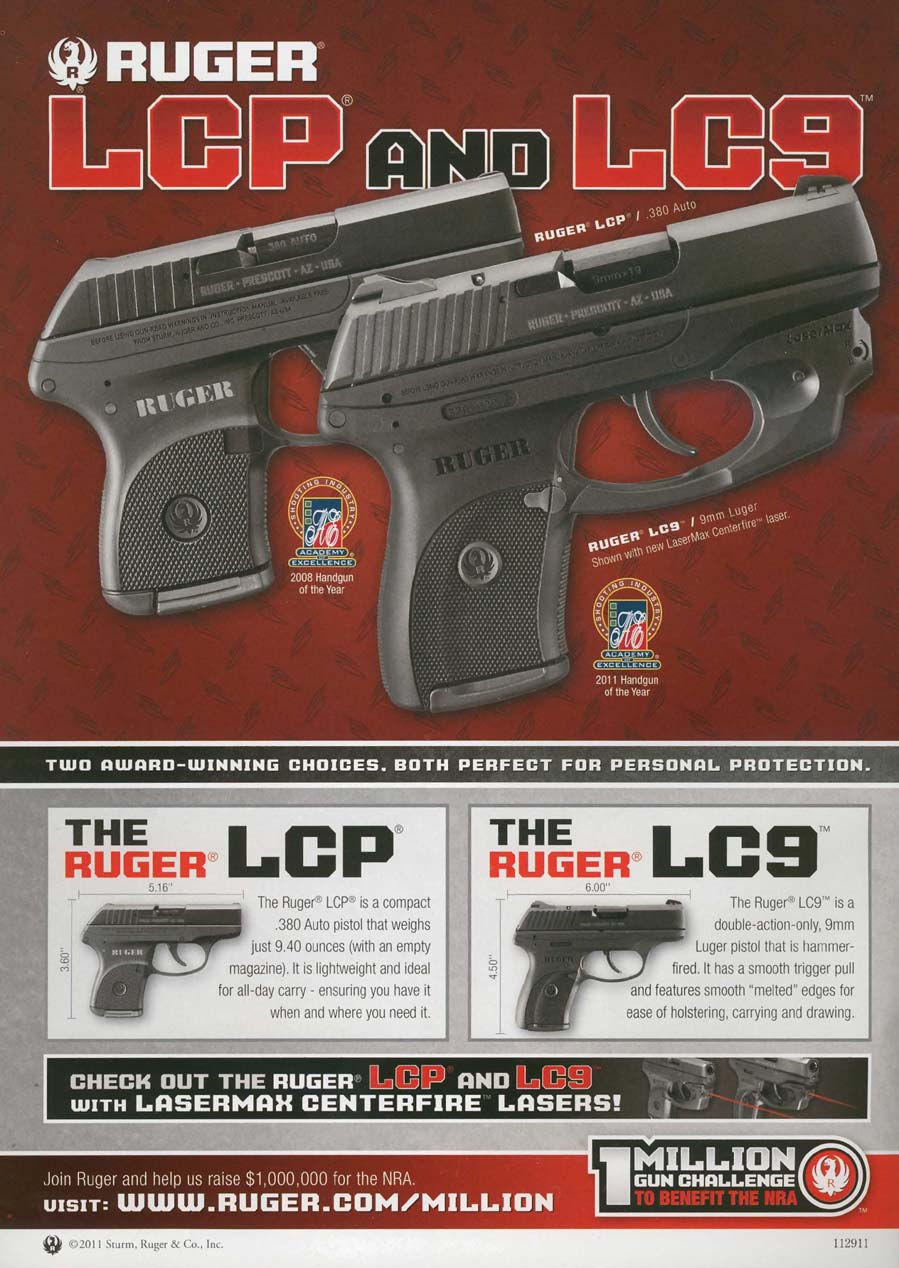 A full-page ad from Heizer Defense for "The world's smallest & lightest .45 ACP concealed carry pistol on the market today" in the January 2012 issue of Gun World touts the DoubleTap, "the Titanium Tactical Pocket Pistol." The ad promises that the "future of concealed carry firepower is now in your hands!"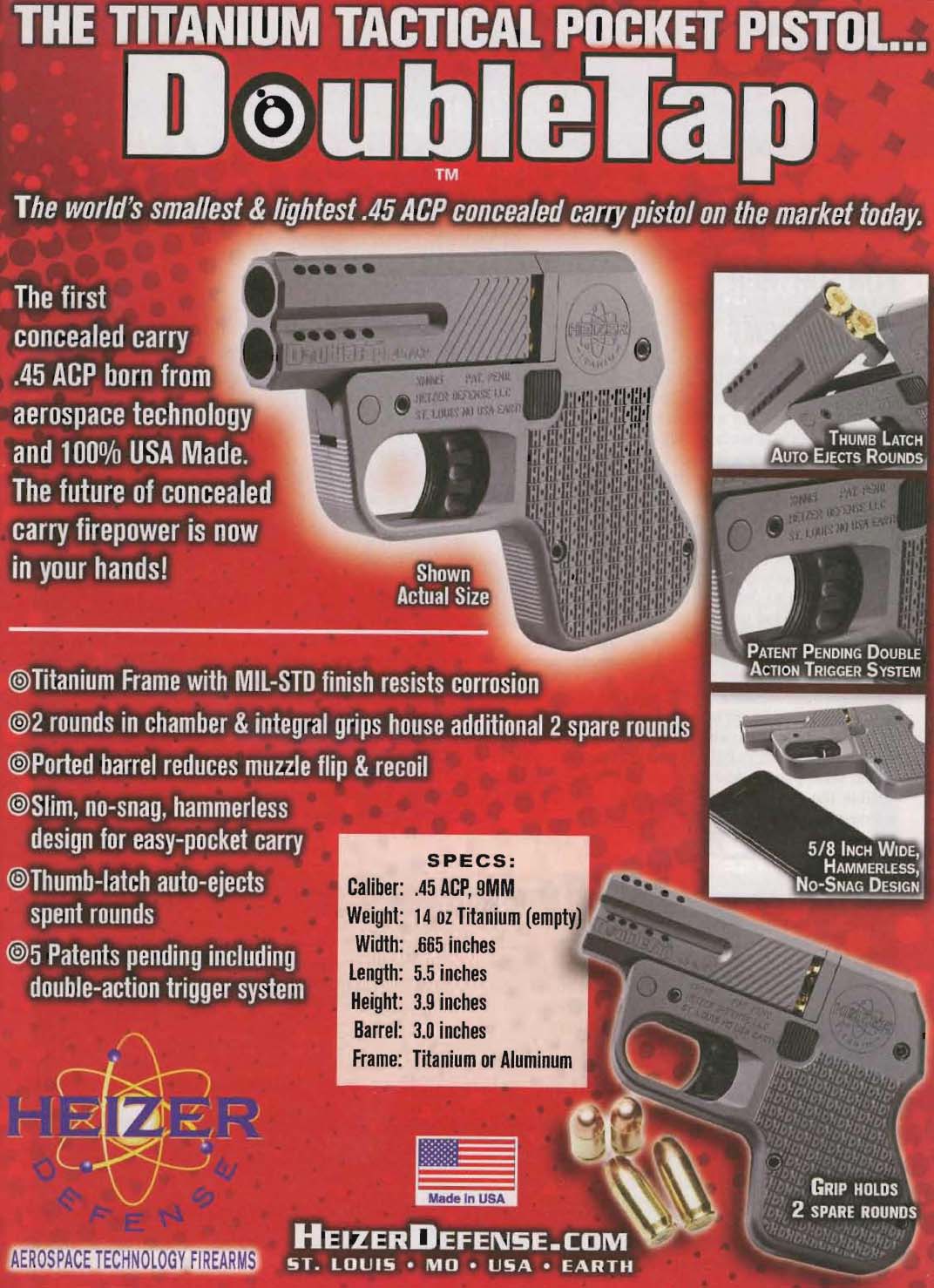 Despite the national controversy over the death of Trayvon Martin, the U.S. Senate may soon take up legislation that would actually expand the rights of concealed carry permit holders to carry their loaded handguns outside their home states and across the nation. The NRA-backed S. 2188 would force all states that issue concealed carry permits to recognize all out-of-state permits, even if the person could not qualify for a permit in that state. Gun violence prevention advocates have labeled this bill the George Zimmerman Armed Vigilante Act.
An even more extreme version of this bill is being pushed by Gun Owners of America (GOA), which views itself as the hard-line conscience of the pro-gun movement. Sponsored by John Thune (R-SD) and David Vitter (R-LA), S. 2213 grants national carry "rights" to gun carriers from states that don't even require their residents to obtain permits to carry concealed, loaded handguns in public.
And while without doubt pro-gun advocates will inevitably voice their support for these bills in terms of self-defense and individual rights, in the end the greatest beneficiary of national concealed carry will be the gun industry.
Calling all HuffPost superfans!
Sign up for membership to become a founding member and help shape HuffPost's next chapter