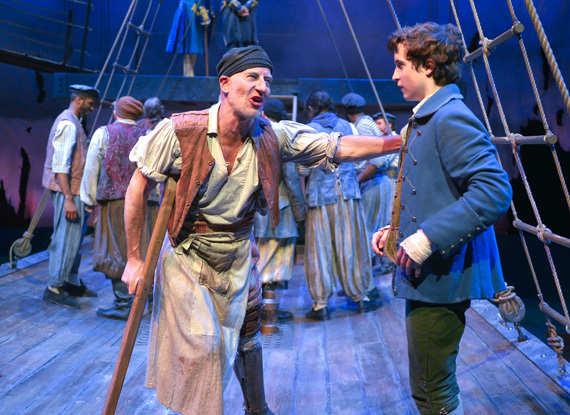 Steven Epp as Long John Silver and John Babbo as Jim Hawkins in Mary Zimmerman's adaptation of Robert Louis Stevenson's tale.
Who could possibly dream of trotting out another version of a story that has been adapted for film and TV more than 50 times, in addition to spawning a host of prequels, sequels and stage treatments? The ever-inventive Mary Zimmerman, that's who. The story is Treasure Island, Robert Louis Stevenson's enduring swashbuckler. And it's a high-energy knockout in Berkeley.
Jointly produced by Chicago's Lookingglass Theatre and Berkeley Rep, the tale of adventure, loyalty, treachery, greed and mayhem is like nothing that Zimmerman has fashioned before. She earned her status in contemporary theater by creating unique enchantments from exotic and frequently ancient sources, among them the Argonauts' quest for the Golden Fleece, Ovid's Metamorphoses, The Arabian Nights and a pair of Chinese legends. As in those productions, she serves as director as well as adapter of this latest show.
With Treasure Island, she put aside any urge toward the fantastical and tells the story straight, with its principal characters and events intact. Doing that takes about two-and-a-half hours, and may leave some viewers wishing she had taken still more time to flesh out incidents that are rich with detail and tension in the 1883 novel. If you blink, you just might miss a significant transition.
The story takes place in the mid-1700s, in locales that range from English taverns to a ship at sea to the island where honorable Brits and savage cutthroats pursue buried treasure. The vessel -- the schooner Hispaniola -- is the centerpiece of the Berkeley set. Suspended from heavy rigging that looks thoroughly seaworthy, it occupies most of the Peet's Theatre's thrust stage, and at times rocks perilously as if in tumultuous seas. When the action moves off the ship, it requires a hearty suspension of disbelief to "see" the other venues.
But that's a trivial matter in the context of the story-telling by Zimmerman and her cast of 14, who fill more than 20 roles with vitality and passion. Those performers include two who appear purely as musicians and two more who double as actors and instrumentalists, in the latter role adding subtle and effective underscoring.
At the adventure's center is the pre-teen Jim Hawkins (John Babbo), who endures threats to life and integrity from the tale's first moments to its last, forever displaying the spunk expected of a well-raised English boy in Victorian times, when the novel was written. Babbo, who originated the role in Chicago, delivers a performance of astonishing range and depth.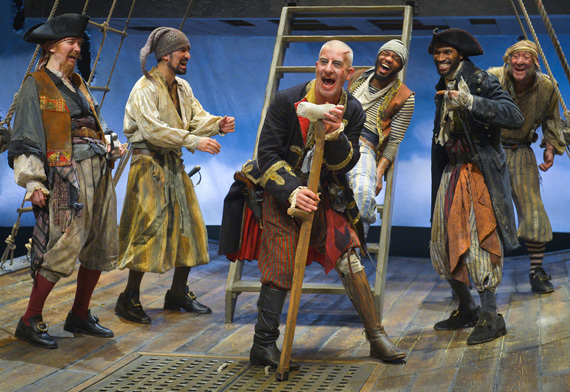 Even pirates can laugh: From left, Kasey Foster, Demetrios Troy, Steven Epp, Travis Delgado, Anthony Irons and Christopher Donahue
The show's most memorable role, predictably, belongs to the peg-legged Long John Silver, who morphs from amiable sea cook to murderous pirate and shrewd conspirator. Berkeley veteran Steven Epp dispatches it with extravagant leers, laughs and screams, commanding the stage at every appropriate moment, and perhaps even at a few when more restraint might have worked better.
Kasey Foster has the tale's most sympathetic role as Jim's widowed mother, who operates the Admiral Benbow Inn with her son. Reflecting her times, she accepts Jim's departure to sea with stoicism and only a hint of sadness. He has in effect been drafted into the treasure hunt by local aristocrats, and dutifully joins their quest; she has no choice but to acquiesce. Foster later returns, in beard and male attire, as a chattery pirate. She also contributes a haunting vocal solo in the early going.
Christopher Donahue, Steve Pickering and Anthony Irons quickly establish the pirates as vengeful nasties: Donahue as Billy Bones, who possesses the treasure map and fears for his life; Pickering and Irons as Billy's malevolent ex-shipmates, pursuing him. All are impeccably dressed in the scruffiest, patchiest costumes imaginable, wonderfully designed by Ana Kuzmanic. Piracy has never looked so gritty.
As noted above, the story unfolds swiftly, without embellishment. If you plan to attend, you might want to download and at least skim the novel, which is available free online. A quick read will enrich what is already a hearty theatrical feast.
Treasure Island runs through June 19 in Berkeley Repertory Theatre's Peet's Theatre, 2025 Addison St. Berkeley. Tickets are $29-$97, from berkeleyrep.org or 510-647-2949.
Related
Popular in the Community