The bond market tried to warn us about March's grim jobs report. And it's still warning us that the economy is not in great shape.
Ten-year Treasury note yields fell to their lowest levels since December on Thursday, a day before the Labor Department reported the weakest job growth in nearly a year. Yields fell even further after the jobs report was released Friday morning, dipping briefly below 1.7 percent, the lowest since Dec. 12, according to data tracker Tradeweb.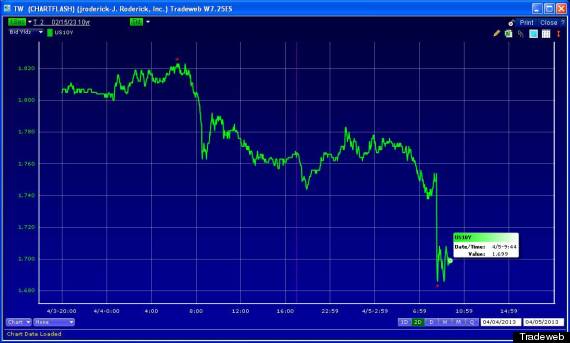 Bond yields and prices move in the opposite direction, so that yields fall when prices rise. Falling bond yields suggest investors are running for safety in the bond market, not long after stock prices jumped to record highs.
The recent stock-market run, and a growing appetite among mom-and-pop investors to buy stocks, led to a lot of silly talk earlier this year about a "Great Rotation" out of bonds and into stocks, after years of caution. That the Great Rotation was a myth is now plain to see.
Typically the battle between stocks and bonds is zero-sum: Stocks rise when bonds fall, and vice versa. That's because bond yields tend to fall when the economic outlook is poor and rise when investors are feeling friskier. There have been several occasions in the past few years when both have risen together, as they have recently. That typically ends badly for stocks, as the bond market's signal ends up being the correct one.
Sure enough, the recent trend of bond yields falling while stock prices rose ended abruptly, and not in the stock market's favor. The S&P 500 has tumbled 1.5 percent from its record high on Tuesday, with most of the losses coming after the weak jobs report that very few economists saw coming.
The drop in bond yields doesn't necessarily portend an economic apocalypse. For one thing, the Bank of Japan earlier this week announced it was planning to buy its own bonds aggressively to drive inflation higher and weaken its own currency. That news crushed bond yields in Japan and sent bond investors, desperate for interest income, however thin, running to U.S. Treasurys, which at least offer a little bit of yield.
For another thing, some hedge funds and other speculators have been betting heavily against bonds this year, in the belief that a Great Rotation was happening. When it didn't happen, they had to cover their losses, a process that drove bond yields even lower, notes David Ader, head of government bond strategy at the Connecticut brokerage firm CRT Capital.
Meanwhile, the Federal Reserve has promised to keep buying $85 billion per month in bonds, including Treasury bonds, until it sees "substantial improvement" in the labor market. There's no evidence of that improvement yet.
Still, there are fundamental reasons to worry, including the 1.5 percent drag on economic growth of higher payroll taxes and the across-the-board federal budget cuts known as sequestration. These are hitting an already sluggish economy, raising the risks of a slowdown.
"We don't anticipate the slowdown becoming too severe, not when the housing recovery is firing on all cylinders, but it is a reminder that the U.S. is still unable to sustain what used to be just average rates of growth," Paul Ashworth, chief U.S. economist at Capital Economics, wrote in an email.
In that light, the relative safety of bonds still makes some sense.
REAL LIFE. REAL NEWS. REAL VOICES.
Help us tell more of the stories that matter from voices that too often remain unheard.
BEFORE YOU GO
PHOTO GALLERY
9 Unexpected Economic Indicators