As women, we tend to build our lives around our commitments to others and the very high standards we set for ourselves.
In our relationships, we spend time creating perfect experiences for others. We want to have a perfect date night, or a perfect vacation; to have our kids eat perfect, healthy meals; to make sure that we look perfect for our Love; to keep a perfectly neat home. In our careers, we strive to have the perfect job, and to be perfect at our job. We want to be perfect mentors, role models, and friends. Our lives are often a series of events where we perform our perfectionism for the people around us.
A lot of people assume that if you're overweight, it's because you're sloppy and undisciplined and have no standards. But for me, it couldn't be further from the truth. For years, I've held a standard of body perfection in my mind that I've tried to achieve. Any day that I wasn't meeting that standard, I felt like a worthless loser. The way that I would comfort myself and try to feel better was typically through eating. Then, I would commit myself to an insane workout regimen to counteract my eating, which usually resulted in me getting injured or falling off the wagon.
The holidays have always magnified body issues for me. Because there is so much to do this time of year to in order to perform your perfectionism for everyone else, in everything from gift giving to hosting to being a guest to baking to charitable activity, it's always been a time of year where I lose my commitment to self-care and showing my body love. And with plenty of indulgent food around to reach for during stressful moments, my body issues have historically been at an all-time high during the holiday season.
Because I've held myself to such insane standards of body perfection, and defined "being active" in such a rigid, perfectionist way, when I would wind up with a pocket of 30 to 45 minutes of free time during the month of December, I'd think, "Well, I could go the gym, but I wouldn't be able to get a full workout in. So what's the point?" The actual result of this kind of thinking is not being active at all.
So this year, I'm challenging myself to approach it differently. This challenge IS NOT about weight loss or trying to meet a standard of perfection. It's just about taking a few minutes a day to focus on taking care of myself and loving my body through movement. Instead of trying to change my body, I'm working on transforming my relationship with my body.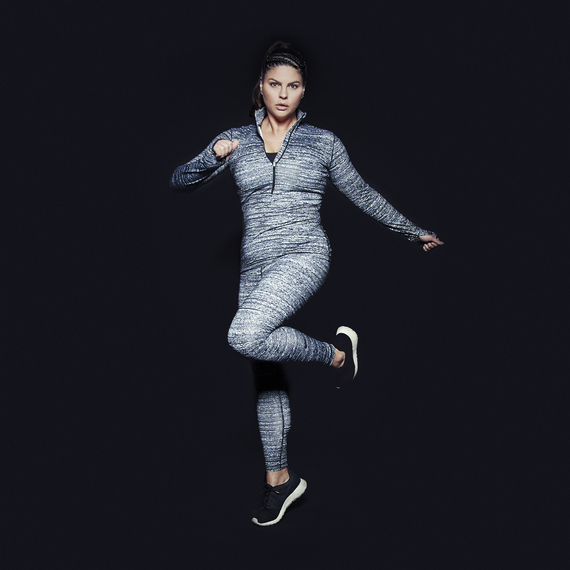 At 210 pounds, I'm at one of the heaviest weights I've ever maintained in my life. But I'm choosing to love this size 14/16 body and celebrate what it's capable of, rather than trying to whittle myself down to meet traditional standards of "fit," "healthy," and "sexy."
Instead of defining "being active," as adhering to a "perfect" training schedule, being active this holiday season means MOVEMENT. This can be taking a walk during the workday, a trip to the gym, or dancing in my bedroom in my underwear. I'm embracing any form of movement that makes me feel empowered and works with my daily routine! Additionally, I'm doubling down on my self-care rituals like journaling, getting outdoors, and taking bubble baths.
I'm inviting you to join me in the #healthyatanysize #getmoving2015 Holiday Challenge the week after Thanksgiving, from Nov. 30 - Dec. 4. I'll be sharing my journey with you all throughout the holiday months, and I hope you'll join in and share yours too.