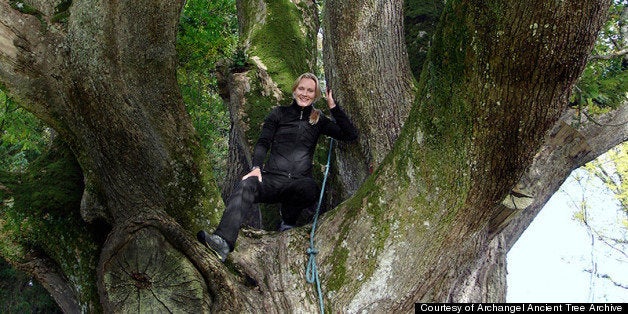 For Meryl Marsh, a business trip to the West Coast requires 90-pound gear bags of harnesses, ropes and cutting tools. How she's preserving tree DNA for the future, branch by branch.
By Jessica Stockton Clancy

In California's Sierra Nevada mountains, Meryl Marsh climbs 200 feet into a giant sequoia -- a perch she jokingly calls her office. Using a handsaw, she removes branches from the 3,000-year-old tree and tosses them down to a ground crew. The trimmings will be shipped in coolers to a specialized propagation lab, where they'll be pared down, dipped in a hormonal rooting compound, and placed under automated misters for agricultural cloning.
As director of global operations for Archangel Ancient Tree Archive, Marsh, 31, travels the world in search of the strongest, oldest trees to clone before they disappear because of logging or climate change. "Some have weathered droughts, fire, disease," she says. "We want to preserve that genetic memory for survival." But getting ancient tree cuttings to push out initial growth is tough; a 2 percent success rate is considered a huge victory. "It's like trying to get a grandmother pregnant," Marsh says.
With a background in marketing, she joined the Michigan-based nonprofit as a project manager in 2009 but started training with a world champion tree climber so she could help with collections, too. "I knew I didn't want to just sit behind a desk," says Marsh, who has made more than 50 climbs to date.
For her first assignment, she conducted an intensive search, consulting forestry experts, geneticists, and knowledgeable locals to find ancient oaks in Ireland. The samples she gathered were successfully cloned in a Netherlands lab, and now some of the offspring will grow on an archive, a living library of trees, in Ireland.
While some saplings are nurtured in protected areas, others are put on environmental cleanup projects: Last spring Marsh spearheaded the planting of 4,000 cloned black willows on a contaminated former industrial site to absorb toxic metals like arsenic.
Looking forward, she and her colleagues will keep pushing large-scale reforestation projects (her organization recently made history for planting cloned sequoias resilient to warming conditions) to offset climate change and the destructive impact of carbon dioxide on the environment. "This work is about tomorrow," she says. "Hopefully 200 years from now, someone will be glad we took on this mission."
REAL LIFE. REAL NEWS. REAL VOICES.
Help us tell more of the stories that matter from voices that too often remain unheard.
BEFORE YOU GO
PHOTO GALLERY
Famous Trees Around The World