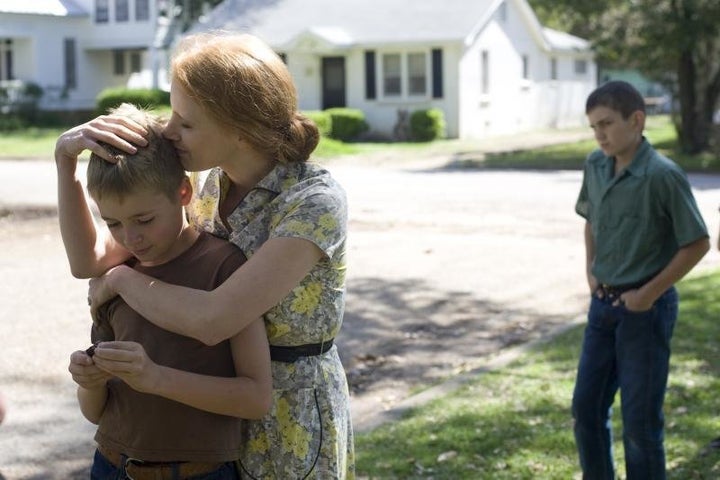 While a great deal of attention has been paid to the asteroids, opera, dinosaurs, and lava-spewing volcanoes that pepper long stretches of Terrence Malick's epic "Tree of Life," it's the deeply felt, hyper-realistic portrait of boyhood that anchors the film, as well as the performances of three young Texans. Tye Sheridan, Laramie Eppler, and Hunter McCracken effortlessly portray the sons to Brad Pitt's strict father and Jessica Chastain's angelic mother.
To mold his family in true authenticity, Malick and the production team spent over a year scouring schools across Texas, seeing over 10,000 students, looking for three young, non-actors to take on the roles. In the end, close to 95 percent of the entire cast for "Tree" was made up of people who hadn't acted before.
Though McCracken was unavailable for interviews, Sheridan and Eppler both spoke (very politely, in thick southern accents) to HuffPost about their unique experience working with the elusive auteur, Malick, back in 2008.
Sheridan, 14, who played the youngest brother, Steve, in "Tree," was the first boy that the filmmakers cast. He hails from Elkhart, Texas -- a small town of about 2,000 people just east of Waco. Though Sheridan performed in "a couple plays back in second grade," he never imagined he'd be in a major motion picture.
"My teacher said I'd be on Broadway one day. She thought I was great," he said.
Sheridan read for the production team at least ten or eleven times over the course of the audition process. "They just had me play with a bunch of other kids," he said. "To see how we reacted to each other."
Co-producer Nicholas Gonda complimented Sheridan's appealingly recognizable, old-fashioned American quality, and said the producers knew, almost immediately, that they wanted him in the film.
Laramie Eppler, 13, who plays R.L, the middle brother, had never acted in school plays or taken a drama class before jumping into his pivotal role in the film. Three years ago, the Iowa Park, Texas native merely accompanied a friend of his to an audition for "Tree" and randomly caught Malick's eye.
"Terry came out into the [waiting] room and saw me and asked if I wanted to read for it," Eppler said. "I read some lines, went to three other auditions, and then I got the part."
As Gonda said: "We didn't find Laramie -- he found us."
Neither Sheridan nor Eppler were given full scripts of the film before their auditions -- they were told only that they'd be playing young boys growing up in the 1950s. According to production notes, they were intentionally kept in the dark; Malick insisted that each of the boys play as close to themselves as possible, rather than "performing" as a character.
"[In auditions], he would tell you a situation," Eppler said, "and ask how would you really react to it. Like, what would you do if you just saw your mom and dad get into an argument?"
Before they began the four-month shooting process in Smithville, Texas, all three boys bonded intensely with their movie-mother, Jessica Chastain. For close to three weeks, the four of them essentially lived together; they went bowling, rode go-karts, ate ice cream, watched movies, and swam in the pool in Chastain's Smithville backyard.
"The first week was kind of awkward," Eppler admitted. "But after that we were all really tight. [McCracken and Sheridan] are like real brothers to me now."
"Yeah, Jessica's basically like a second mother," Sheridan added. "We still talk a lot."
That intimacy carried over the production days, as well. Every morning, the boys would wake up on location in their Smithville, Texas homes, and pick out clothes from the 1950s to wear in the film.
Though Chastain was unavailable to comment for this story, she says in production notes that she had trouble letting the kids go by the end of the process. "My heart broke as I realized these were not really my boys," she said.
Both Eppler and Sheridan said they'd like to act again in the future, with Sheridan especially hoping to venture out to L.A. to give it a real try. He's not sure when he'd go, but he has an aunt who lives out west, and he said he could probably stay with her.
Still, Malick had some choice words of advice. "He told me to make very smart choices in my life and just be really good," Sheridan remembers.
Eppler said he has no plans to move out of Texas -- he's busy playing baseball and basketball at his middle school and showing market goats as part of the Junior Future Farmers of America. Eppler also does rodeo, and just earned a slot at the Texas Junior State Finals for team roping, his favorite event.
"I catch the head of the steer and another guy catches the feet," Eppler said.
The kids, for their part, have watched the lengthy, complex film that they star in, and both claim they liked it "a lot."
"Now that I've watched it several times I think I get it," Eppler said. "I think the movie is about like letting stuff go and to not hold on to your grievances."

Calling all HuffPost superfans!
Sign up for membership to become a founding member and help shape HuffPost's next chapter