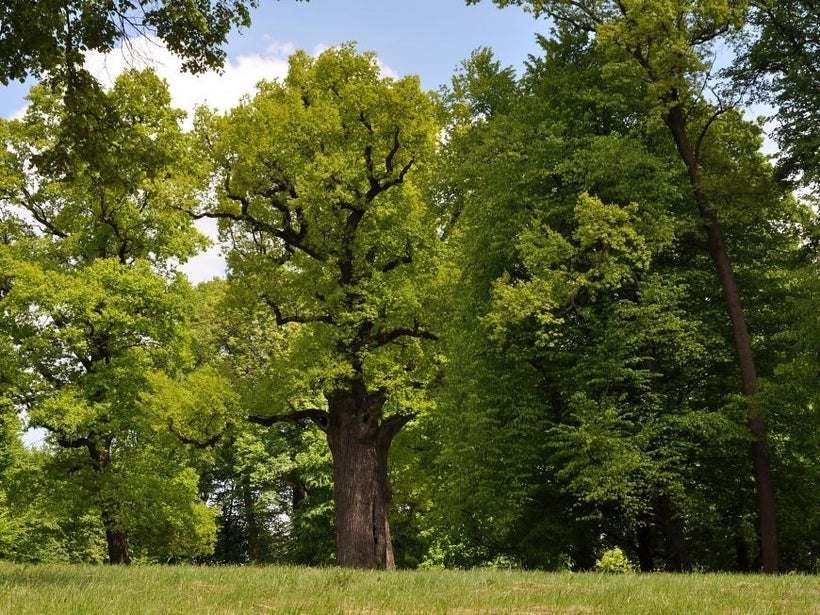 An oak tree in Poland that played a vital role saving Jewish lives during the Holocaust was recently chosen as the winner of the 2017 European Tree of the Year award.
The European Tree of the Year contest, now in its seventh year, was established to highlight the significance of old trees and their natural and cultural heritage. Rather than emphasizing the tree's beauty, age or size, the contest focuses on the tree's story and its connection to people.
"This tree saved two lives," said Jakub Pawlowski of the Ulma Family Museum in Markowa.
Poland's Oak Józef helped shelter a Jewish family according to Pawlowski. During the Holocaust, two Jewish brothers who apparently escaped from the Frysztak ghetto or a forced labor camp were shown the hollow of the oak tree.
"The hideout was shown to the brothers by Rozalia Proszak," said Pawlowski. "The hollow in which they hid was huge. People say it had two levels. The lower was used as a hideout and the upper was used as a lookout. Both brothers survived the occupation but their fate after the war is unknown."
Located in the Polish village of Wisniowa, in the southeastern part of Poland, Oak Józef is often captured by photographers and painters. In the 1930's, the image of the tree was even printed on the Polish 100 zloty bill.
The name of the tree, Józef, was given by the inhabitants of Wiśniowa, after a well-known Polish artist, Józef Mehoffer, who had painted the oak tree in the 1930's.
"The story of this tree, while very interesting and unusual, is a reason for Poland to be proud; the story of Poles helping Jews," commented Pawlowski.
The 2017 European Tree of the Year Award Ceremony, which was organized by the Environmental Partnership Association, the European Landowners' Organization and TetraPak, was held on March 21 at the European Parliament in Brussels with 200 attendees.
Robert Godek, Head of the Strzyżów District Council in Poland, shared his appreciation of the award at the ceremony. "A warm thank you to all the people of Wisniowa and all the European supporters for believing in Oak Józef's candidacy: we will celebrate this honor back home as it deserves," said Godek, who received a unique wooden trophy that passes from winner to winner each year.
More than 125,000 people from all over Europe voted in the competition. Oak Józef won 17,597 votes, followed by the Welsh Brimmon Oak in the UK with 16,203 votes and the Czech Lime Tree in Lipka with 14,813 votes.
Calling all HuffPost superfans!
Sign up for membership to become a founding member and help shape HuffPost's next chapter
This post was published on the now-closed HuffPost Contributor platform. Contributors control their own work and posted freely to our site. If you need to flag this entry as abusive,
send us an email
.