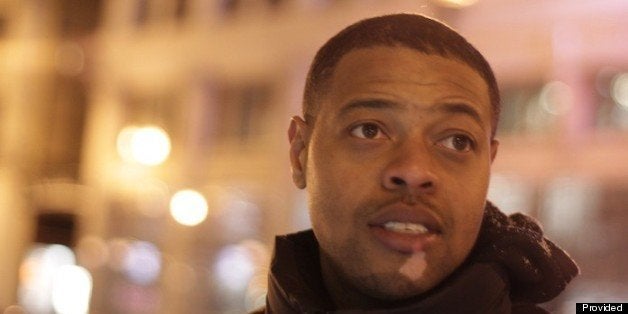 Tremaine "Tree" Johnson refuses to take anything for granted.
Instead of basking in the pre-glow of his soon-to-launch stardom, Tree is getting ulcers from the stress of preparation. The last few months have been full of vocal practice, honing focus and obsessively sweating the details of what will make his performance a hit.
Tree's arrival at one of the best-curated music fests has been an exercise in patience -- and certainly no accident.
After hanging out in the margins of mainstream recognition, the rapper, who spent his early years in the Cabrini Green housing projects, decamped to Atlanta in 2011. The year-long stint left the rapper "homesick like a mother*****r" and "depressed" after a mix of personal and professional setbacks.
"I missed my son. I missed my family. I was writing sad music that I turned into songs I can listen to. I was recording music in my closet."
The result was 2012's "Sunday School" mix tape, which drew instant praise from taste-making outlets like Pitchfork and The Fader.
Still, the rapper admits the slow-burn success has challenged and at times frustrated him. While other Chicagoans like Chief Keef and Chance the Rapper have seen breakout success, Tree tells HuffPost he's taken the slow growth in stride.
"I've become wiser and more adaptable to my settings," Tree said, noting he only recently secured a manager ("I write raps, not business plans," he jokes.)
Interview continues below.
Lyrically, Tree is easy to distinguish from the dominant local styles, like the city's drill music scene. Though Tree doesn't reach for the "conscious rap" label that clings to artists like Common, he's coined soul trap to describe his sound — a fusion of Stax-era soul with Southern-style trap music, popular for its snappy drum machine beats, synth bleeps and chopped samples.
Thematically, the differences are even greater; Tree's raps aren't dominated by boasts about cash or violence. As an artist and lyricist, Tree says he favors the honesty of life, what he calls "a beautiful ugliness."
"Be a real person," he says. "Be rich in self. I describe my music as passionate," Tree says. "I mean everything I say. I don't shoot people. I don't gang bang."
Though he cares deeply about the quality of his music, Tree -- who divulged his obsession with the U.K. indie group Emily In The Woods and Feist -- has little use for people trying to redefine him as anything but who he is.
"I'm not a Ciara—I'm an Adele," Tree says. "I don't have dance moves. I don't take off my shirt — but I'm damn cute."
Ahead of his featured slot in the Pitchfork Music Festival on Sunday, HuffPost asked Johnson to help fans learn more about the rapper who loved Chicago so much that he couldn't stay away via our My Chicago questionnaire.
Where in the city do you live and how long have you lived there? I'm in Englewood now and have been there about a year. Before that, Hyde Park, and then Englewood, I lived in Bronzeville when I was a kid and before that, Cabrini Green.
What is your age? What is your occupation? 29. I write music, I'm a performer, I'm a soul rapper.
What was your first job in Chicago? I worked at Shedd Aquarium through the mayor's summer jobs program. I was 13 or 14 and did customer service, tours. I loved it. It was fascinating. I learned stuff about what they do with dead animals that they made me promise I would never tell.
Which Chicago "celebrity" -- living or dead, real or fictional -- would you have over for dinner? What would you talk about? Oprah Winfrey. I'd have lunch with her -- I'd talk to anyone with common sense, really -- and I would talk to her about Chicago.

What is your favorite "last call" bar? Black folks have a different definition of "nightcap" (laughs). I go to Heart's near Halsted and Division. I don't go out that much now.
What are your go-to spots when you have visitors in town? Seven Ten Lanes -- I'm not fancy, usually. Friday, Saturday and Sunday on the South Side there's a mass migration of youth, between 87th and 83rd on South Chicago Avenue. You have to check it out: drag racing and fancy cars. Cops don't bother you. It's the only place kids can go, to "The Strip."
What is the last cultural event you saw in the city? What'd you think? The Ghanafest in Washington Park. Mostly anything in Washington Park I like to attend. Black folks know how to have a good time. It's just those young n****s I don't like!
If you had to have your last Chicago meal for some tragic reason, where and what would it be?
Uncle Julio's on North and Clybourn. I'd get the asada steak platter. It's the best Mexican food I've had in my life!
Cubs or Sox? When they play each other, I don't care. I'm just a Chicago fan.
Wicker Park, 1993 or Wicker Park, 2013? 2013. I'm a resident of Chicago. A lot of neighborhoods [like Wicker Park] that have changed are areas my friends and I couldn't walk through back then. Gang bangers, all that. Look, I'm not the black guy who's gonna say "they're pushing me out to the suburbs!" I wouldn't want to hang out with those [gang] dudes, either.
Chicago-style hot dog, Chicago-style pizza or Chicago-style politics? Definitely the pizza.
What advice would you give to a new Chicago transplant? It's not as bad as it seems. If you come to live and you can make it here, you can make it anywhere. It has the best and worst of it all. The history of Chicago represents America. From Obama to [Loius] Farrakhan, the World's Fair, the Black Panthers. It's all here.
What do you miss the most when you're not in Chicago? My family.
If you could change just one thing about our fair city what would it be? The sheer and utter segregation. If everyone intermingled, we wouldn't have these problems that we do. Gang-bangers need other bangers to bang with! Mix everyone up and some of those dudes will think twice.
Describe Chicago in one word. Eccentric.
In 1951's "Chicago: City on the Make," Nelson Algren wrote: "Once you've come to be a part of this particular patch, you'll never love another. Like loving a woman with a broken nose, you may well find lovelier lovelies. But never a lovely so real." Through My Chicago, HuffPost is discussing what, to this day, makes the patch we call home so lovely and so broken with some of the city's most compelling characters.
Calling all HuffPost superfans!
Sign up for membership to become a founding member and help shape HuffPost's next chapter
BEFORE YOU GO
PHOTO GALLERY
The Pitchfork Music Festival 2013 Lineup