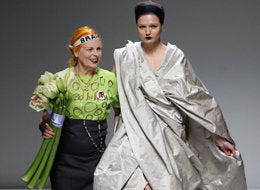 Sincere apologies to the fashion industry. It seems that there was a reason all the fashion week shows in Paris, Milan, and New York lacked some serious luster for the Spring 2009: the economic downturn. It is all part of the new trend of "investment dressing," a way of still looking chic while not breaking the bank.
With the economy showing no sign of improving any time soon, investment dressing is fast becoming the new black. In the September issue of American Harper's Bazaar, the editors dedicated two pages - squeezed between glossy ads for luxury fashion label Etro, and designer shoe brand Giuseppe Zanotti - to how to "recession-proof your wardrobe".
British Designer/activist Vivienne Westwood had similar sentiments before her show in Paris:
"In these hard times -- dress up," she said in a handwritten statement handed out to guests at her ready-to-wear show. "There is status in wearing your favorites over and over until they grow old (patina) or fall apart."
Just what is investment dressing?
While some of the world's luxury fashion houses may not have liked Westwood's message, she is not alone. Dozens of designers have resigned themselves to the fact that, as the economy continues to sour, even luxury consumers are likely to opt for "investment pieces" - that is, well-made, timeless classics - or as The Wall Street Journal's Christina Binkley puts it: "Clothing that will survive trends and frequent dry-cleaning."

Belted skirt suits, tailored trousers, blazers, pant suits, blouses and classic sheath dresses are among the key "investment pieces" to emerge from the latest round of spring/summer catwalk shows.

In Paris, the most classic collections turned up at Balmain - fitted sheath dresses, pencil skirts and square-shouldered tuxedo jackets and blazers; at Rajesh Pratap Singh - all long-sleeve sheaths, sleeveless shifts, and blouses tucked into tailored pants; and at Yohji Yamamoto - who channelled the bleak economic mood with black skirt suits, and classic white shirts, buttoned under black vests, and tucked into black trousers...

At Milan, a week earlier, even more designers were opting for classic looks that could endure an economic downturn, rather than new looks that would lure consumers into store.

Among those who pinned their hopes on the enduring classics were Burberry - trench coats; Jil Sander - fringed sheaths and blazers; Bottega Veneta - roomy sheaths and pin-striped pant suits; D-Squared - Charlie's Angels-style pantsuits; Gucci - wearable boyish cotton and linen pantsuits with matching fedoras; and Prada - crushed pencil skirts.
Check out some key looks from fashion weeks in Milan and Paris below! Is investment dressing the style solution during these times of economic instability? Tell us what you think.
Popular in the Community