White may be the reigning color for kitchen cabinets — chosen by 42 percent of homeowners who remodel their kitchens, according to Houzz research — but blue can bring a surprising balance to an otherwise neutral or pale kitchen. From classic navy to sunny aqua, blue hues can impart elegance while still pairing well with neutral surfaces in white, wood or metal. The many variations of this timeless color can transform a traditional or modern kitchen into a stylish heart of the home. Read on for seven blue colors I recommend for giving your cabinets a sophisticated makeover.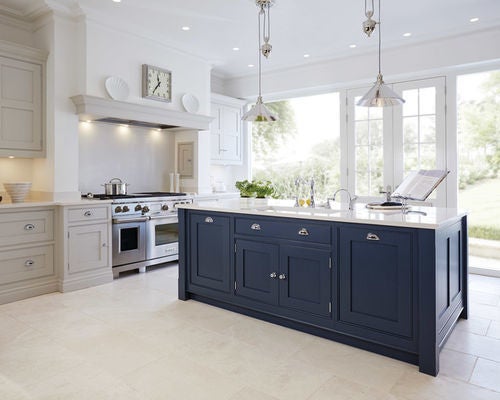 Why it works: Classic and elegantly dramatic, navy is an excellent choice for kitchen cabinets, especially when paired with a white countertop. The bold contrast will give your navy cabinets a richer look and make your gleaming whites even more crisp.
Wall, cabinet and island paint: Ebony Blue 163A, Nippon Paint
On your cabinets: Navy is a terrific choice for kitchen island cabinets. As shown here, the dense color serves as an anchor within the space and creates a focal point in a white kitchen.
Try it with: Finishes in white, pale or warm woods and any shiny metals in the form of accessories, hardware or appliances will all look fabulous with your navy cabinets.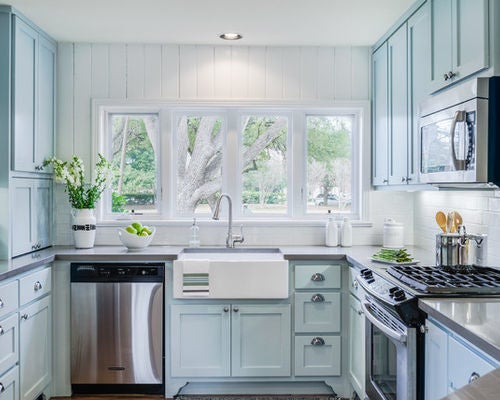 Why it works: This soothing pale greenish blue is a surprising neutral in the kitchen. Most often found in a bathroom or bedroom, blue mist can bring harmony and light to a kitchen.
Cabinet paint: SW 0068 Copen Blue, Sherwin-Williams
On your cabinets: Blue mist is a smart choice for dark kitchen spaces because of its pale, light-reflective quality. It also makes it a great alternative to white and is a good choice for when you want subtle color on all of your kitchen cabinets, rather than just on an island or lower cabinets.
Try it with: Similar to white or gray, this cool pale hue pairs well with most tones of white, any shade of wood, gray or even black. Chrome or steel accessories and fixtures will bring out this color's silvery essence.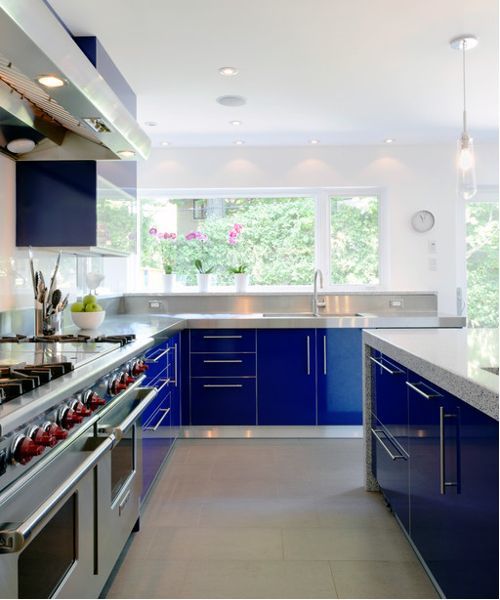 Why it works: Cobalt, also known as royal blue, might not readily come to mind for your kitchen cabinets, but this deep blue can bring show-stopping sophistication to your kitchen with its eye-catching energy.
On your cabinets: Choose cobalt blue for just your lower cabinetry if you want to make the area above the cabinets feel taller and brighter. Choose it all the way up on the cabinets if you want to draw the eye up.
Try it with: Cobalt looks best next to warm or pale woods and white or gray finishes. Reflective accessories and fixtures tend to blend well with this bold blue. Go for copper and gold accessories or hardware to really give your kitchen a regal look.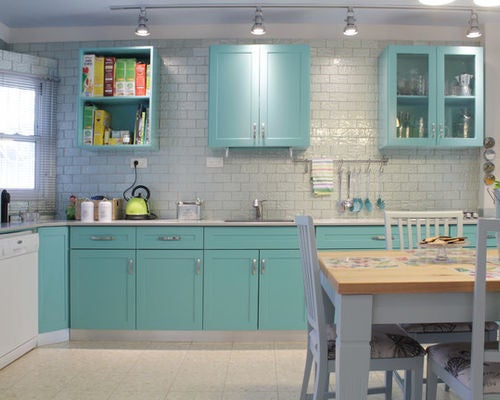 Why it works: Make your kitchen smile with this happy blue. Again, it's not a typical color for kitchen cabinets, but aqua's sunny undertone makes it a perfect counterpart for the warm woods and whites found in most kitchens.
Cabinet paint: Light green 6027, RAL
On your cabinets: Although a pale color, aqua is still notable when placed in the kitchen. Try using it as the focal point of the room such as on an island base. Alternatively, it can be a terrific color for all of your cabinetry because it's not an overwhelming tone.
Try it with: Aqua is a well-rounded color and can work seamlessly with many palettes, from pale colors such as whites and grays to bright variations of reds and yellows. For metals and hardware, I recommend copper, brass or chrome.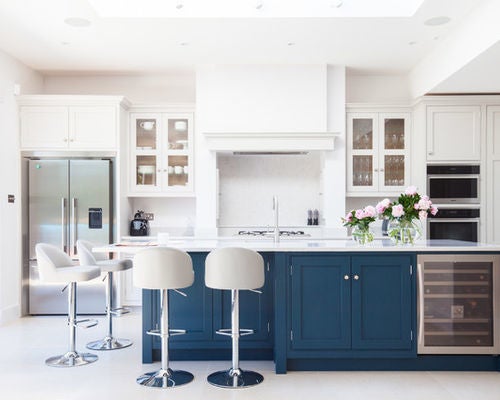 Why it works: Similar to navy, deep teal is a dramatic partner to the white finishes in your kitchen. It has a luxurious intensity that can give your kitchen high style.
Island paint: Hague Blue No. 30, Farrow & Ball
On your cabinets: This regal hue can be used for that featured kitchen island. Or, try painting just your lower cabinets deep teal with the upper cabinets painted a pale neutral like white. It will create a rich contrast.
Try it with: Deep teal works best with pale finishes — think white, ivory and light gray. For hardware and fixtures, almost any shade of metal will shine nicely against this fabulous greenish blue.
Why it works: French blue, also known as Cadet blue, has a touch of gray and a slightly sunny undertone. It's a true blue that can impart a historical feeling in a traditional kitchen, while its medium intensity can give a modern kitchen a fresh vibe.
On your cabinets: French blue is a great choice for highlighting the details on period-style or antique-looking cabinets. For modern spaces, it adds cool color without being overly icy next to your stainless steel appliances.
Try it with: As with most of the blues presented here, cadet blue works well with neutral finishes. Because of its medium intensity, it coordinates with woods of all shades, from light to dark. The same goes for fixtures and hardware: from polished chrome to brushed brass and everything in between, this versatile blue is a friendly canvas for the metal of your choice.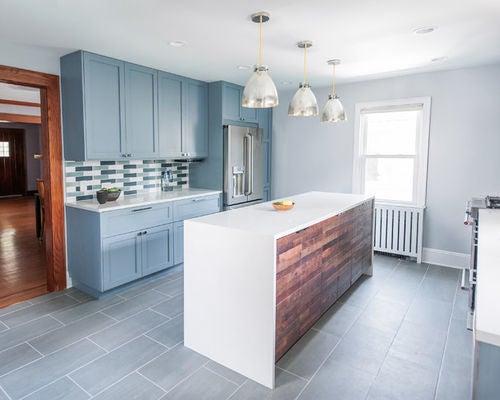 Why it works: Wedgwood blue is one of those in-between blues with a chameleon-like quality. A softer hue than French blue, this grayish blue color is more muted, with smoky overtones. In fact, it can often read as just gray.
On your cabinets: Wedgwood blue is a go-to hue when you want gray cabinets but are looking for a hint of color. This pleasing blue works well in both traditional and modern kitchens. It's a superb choice for all of your cabinets or just a feature cabinetry wall.
Try it with: An all-around friendly medium to light intense color, Wedgwood blue can be paired with most neutral finishes and many types of wood, both light and dark. Fixtures and hardware of all colors — including rose gold — would look fabulous with this classic elegant blue.
REAL LIFE. REAL NEWS. REAL VOICES.
Help us tell more of the stories that matter from voices that too often remain unheard.
This post was published on the now-closed HuffPost Contributor platform. Contributors control their own work and posted freely to our site. If you need to flag this entry as abusive,
send us an email
.