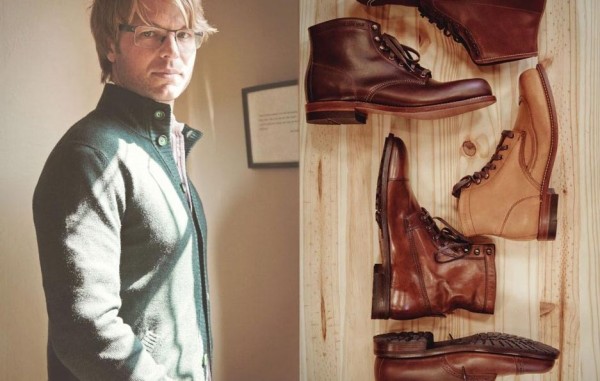 With Iowa dominating the news this week, we decided to check in with the best independent menswear shop in Des Moines -- Badowers. The shop was opened in 1950 by a tailor and its mission continues to be to offer men an old-school level of service. Badowers still boasts an on-site tailor, custom clothing, private appointments, closet cleanings, dress shirts, special orders and an expert staff who offer advice on fit, cut and construction. And, there's a selection of brands exclusive to Iowa including Eton of Sweden, Zanella, Billy Reid, Gant Michael Bastian, Wolverine 1000 Mile, Gitman Bros and everything a guy needs -- from custom made suits for $5,000 and raw denim, dress shirts to workboots. The store's great blog, Facebook page and informational Twitter keep customers apprised of new deliveries, pre-order opportunities, sales and other happenings.
We caught up with Michael Chilton of Badowers to find out what he's planning for A/W 12.
What brands are you most excited about seeing for Fall/Winter 2012-13? and why?
Gant by Michael Bastian Autumn/Winter 2011 was an incredible collection, and our customers responded very well. We sold every piece. His Spring/Summer 2012 collection was a bit over the top, so I'm anxious and hopeful for Autumn/Winter 2012.
Which trends or key items do you predict we'll be seeing a lot of for Autumn/Winter 2012-13?
More dressy casual trousers. Something between khakis and dress trousers -- like a five pocket dress trouser in flannel. Autumn/Winter 2011 saw many shades of purple, and I think those will be more red this year. Trouser cut denim will gain steam, as well as non-denim jeans.
Are there any trends you're secretly hoping will go away by next season?
Ironic footwear. No more Florsheim Duckie Brown or Mark McNairy with neon soles.
Are there any new labels you think the public should be on the watch for?
LBM 1911 debuted for SS11 and is gaining momentum as soft shoulders and unconstructed jackets see a spike in popularity. Lubiam has spent years developing this line. They turn out a terrific product at that price point. Great piece goods, and made in Italy.
Baldwin Denim in Kansas City has been around for a few seasons now. They started with some great denim, and have rounded out the line well with staples like white and blue oxfords, and buttery soft pocket tees.
What are the three best-selling items in your store right now?
Eton dress shirts, LBM 1911 jackets, and boots from Alden, Allen Edmonds and Wolverine 1000 Mile.
With Spring/Summer right around the corner, what are key pieces you think every guy needs to have in his wardrobe?
1) An unlined sport coat. What's the point of a cotton jacket if it is constructed and has a lining? You might as well wear a light colored wool. The right unlined/unconstructed jacket feels like a lightweight shirt. It breathes and flows with your body.
2) New shoes! I don't understand why guys don't buy shoes for spring/summer. Start off the season with some fresh kicks. A pair of chukkas for the grind, and some boat shoes for the weekend. Grab some with canvas tennies and sprinkle in where necessary.
3) Washed denim. Yup, you need a pair sans ink. Either take that stinky pair you've had for the last 18 months and give them a warm water soak, or pick up a new pair. I love the new washes Simon Spurr has coming out. I don't mind the lower rise because I go untucked more often for this season.
4) Get some shades from Randolph Engineering. You can't go wrong with the aviator in matte chrome. Their polarized lenses will reduce glare when driving, and give you more visibility through the water when you're out fishing. The bayonet temple piece doesn't wrap around your ear, but goes straight back. Other sunglasses that go behind my ear can give me headaches, but not these. It also allows the frames to stay on your face better.
Tell us about your travel plans -- what cities will you be visiting on buying trips?
I get to do Vegas and New York. I'll hit Barneys in Vegas. In the evening I'll play video poker for free drinks. In New York I have to see the Bergdorf Goodman men's store. I like checking out the vintage watches on the first floor. At night I enjoy strolling around looking for hole-in-the-wall bars and restaurants. My co-worker and I found the coolest Irish pub last summer. We hung out for a couple drinks and chatted up the locals. It's fun to just get lost in the city. There are always new things to see.