You may have heard that school lunch choices are healthier with the new USDA regulations, but did you know that school cafeterias are also downright trendy? The same menu innovations, ethnic flavors and hot products seen in top restaurants are showing up in schools from Alaska to Maine. Like trend-conscious restaurateurs, school nutrition professionals know that their customers want the same things they see on TV food shows with celebrity chefs.
Protein has been trending for several years -- and 2014 forecasts call for even more protein power. Technomic's Take: 10 Trends for 2014 predicts the parameters of protein will be pushed in new directions -- with more ethnic BBQ flavors, creative center-of-the-plate alternatives for both vegetarians and flexitarians, and pork as a rising star. The six satisfying trends profiled here are taking over schools, from large urban and suburban schools to tiny rural districts.
Local meats and more
A 2014 USDA Farm to School (F2S) census revealed that more than $354 million school food dollars are invested in local purchases. While fruits and veggies are a mainstay in the 43 percent of school districts with a F2S program, local meats are rapidly gaining in popularity. To celebrate October as National Farm to School Month, Decorah (IA) cafeterias served BBQ pulled pork from a local farm on a homemade, whole-wheat bun with vegetables from the school garden. In RSU #14, Windham-Raymond (ME), burgers are made from local, grass-fed beef and served with baked Maine potato wedges and crisp Maine apples. Now, those are local meals!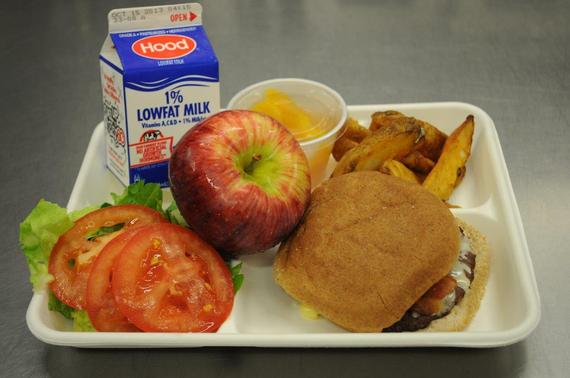 Boat to school
Sushi and crab cakes for school lunch? Boat to school is trending in several coastal states, where nutrition programs now have direct connections with local fisherman. At Bend-Lapine Schools in Bend (OR), students have dined on baked sole and enjoy regular shrimp in sushi, salad and fettuccine. Local fish and shellfish is a natural for the school cooks in Sitka (AK), where local Coho salmon and other fish appear at least twice a month on the school lunch menu.
Going Greek with yogurt
Thanks to an innovative USDA pilot in four states (AZ, ID, NY and TN) this fall, more districts have been able to offer the hottest dairy trend -- authentic, all-natural Greek Yogurt. From the small Rush-Henrietta Central School District in Henrietta (NY) to the larger Hamilton County Schools District in Chattanooga (TN), students have another delicious lunch option: Greek Yogurt cup, plus a low-fat cheese stick, whole grain roll or crackers, and a variety of fruits and vegetables. In addition to being on trend, strained Greek Yogurt provides more protein than regular unstrained yogurt and its creamy texture is perfect for parfaits and smoothies. To learn more about this pilot program and help make Greek Yogurt an affordable option for all schools, visitGo Greek in School.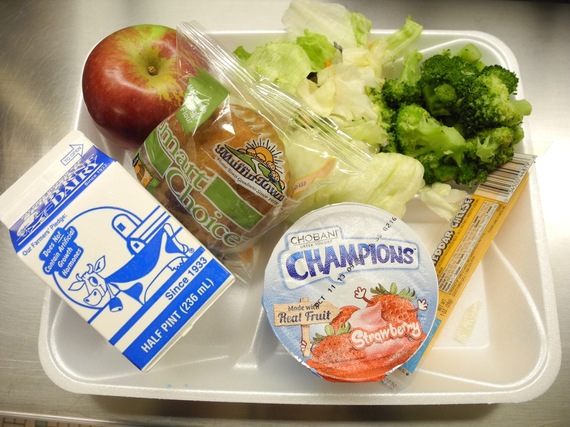 Surprising umami blends
Following top chefs and restaurant chain trends, more schools are making room for mushrooms on lunch trays. Mushrooms' umami, recognized as the delicious fifth taste, makes the "trend to blend" popular with students who may not have eaten many fungi before. The school chef in Maplewood Richmond Heights (MO) uses 50/50 mushroom-turkey blends in meatballs and meatloaf. Their mushroom pizza and Portobello burgers are a hit with vegetarians and meat eaters alike. In the urban Cincinnati (OH) schools, students were thrilled to see their fave bacon cheeseburgers (turkey bacon, beef/mushroom burger on a whole grain bun) -- back on the menu with a savory new umami twist!
Lots of legumes
The new USDA meal patterns require more dried beans, peas and lentils. Schools are meeting the requirements in deliciously creative ways beyond the typical tacos, burritos and refried beans. In Kalispell (MT) schools, local beef is combined with Montana-grown lentils to make burgers that taste great and provide a larger serving of protein on the tray. Kalispell is also totally trendy with lentil hummus, recently dubbed "the next salsa." Elementary students in Grant Pass (OR) love the chickpea hummus lunch plate with whole grain crackers, vegetable crudités and fresh fruit.
Eggs for lunch, too
Cypress-Fairbanks ISD, a large suburban Houston (TX) district, serves on trend grab-and-go salads with hummus, black beans, chicken, tuna, cheese and sunflower seeds, as well as the trending-again, high-protein, hard-cooked egg. The versatile egg is also showing up in ethnic food concepts like build-your-own noodle bars. At Newton North High School, Newton (MA), students can personalize a bowl of whole grain noodles and authentic Asian broth with everything from egg strips, roasted tofu and grilled chicken to edamame, kimchi and pickled ginger. Talk about global, trendy and super popular with foodie teens!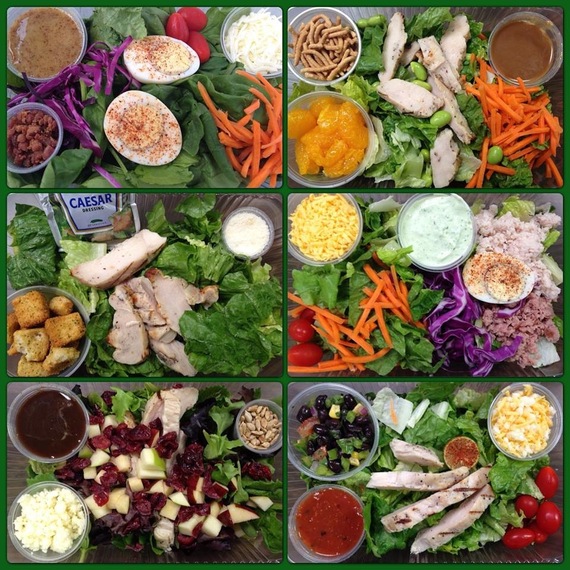 Next time you're looking for a delicious, trendy, inexpensive lunch, it may be time to check the local school lunch menu. Schools are clearly on trend and pushing protein parameters to satisfy their customers -- while offering balanced, delicious options to meet the new MyPlate-friendly meal patterns.
Dayle Hayes is a consultant to Chobani, Inc., and has previously consulted to agriculture commodity producers including mushrooms, eggs and beef.