Amanda Brugel is not only amazing on the new TV series Seed, as the super funny, and gorgeous Michelle Jones, and no doubt destined to add fire to the flames in her upcoming role on Covert Affairs, she's raised up a fierce army of women out of the depths of cyberspace in a move reminiscent of Daenerys Targaryen in Games of Thrones. All with one purpose in mind -- helping women and kids have better lives. A fact that makes my heart beat just a little bit faster because I love strong, smart women with heart -- and, well, an army full of them is a dream come true.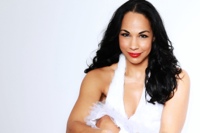 Brugs Army, a non-profit organization, raised $21,000 last month for Holland Bloorview Kids Rehabilitation Hospital in Toronto with their premier event -- Mingle for a Mission. Bringing together some of today's hottest stars in US and Canadian TV, including cast members from Lost Girl, Defiance, and Orphan Black, so they could raise some money and hang out with their fans. While there was definitely lots of star power on hand, what's really fascinating about this event is that it was created, driven and promoted through social media, including a live stream, inspired by one of their "soldiers" in Paris, making it a very inclusive event. And it was while watching this event, that I fell just a little bit in love with Amanda Brugel -- and her army.
Not because she is stunningly beautiful, super talented, or utterly charming, as some may well suspect --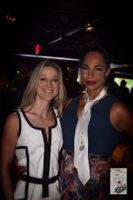 although all that is true -- it was actually her passion for helping, a fierce commitment to making things happen, and well the fact that she is all heart, that really got my attention. During the live video feed when asked what her proudest moment was, a little teary eyed she talked about her son, "He has wonderful heart already at only two... and he is the best man I know." With that she reached in and touched my heart, and that combined with the outpouring of support at the event made me want to know more about her and her army. And what I found was pretty damn amazing.
The fact that the entire event was dreamed up and driven using social media isn't all that surprising since Brugel raised up her army, and launched the foundation, with the help of her "generals" -- women who were once fans, and are now close friends, who she lovingly calls "her crew" -- almost exclusively through Twitter, Tumbler and Facebook.
Brugs Army is actually one of a few charities that solely operates through social media. There's no office, no paid staff, no budget for advertising, no event coordinator, and definitely no PR department, it is literally an army of women who want to make a difference in the world -- and actually do it. Amanda points out that without "her crew," Brugs Army would just be a dream, instead of a beautiful living breathing reality.
By using social media they've connected women in 17 countries, 10 states and almost every province in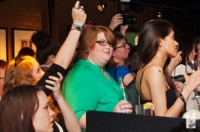 Canada with a click of finger, and it's growing every day. It is now a world wide charity -- and it's just three months old. All of which is pretty spectacular considering that Brugel has only been actively tweeting for seven months, getting started after staring in Sex After Kids -- a must see movie -- and getting the role on Seed.
At first, just like everyone else, she tweeted about life, work, music, and, well, in her case fashion. Then some fans started the Brugs Army Twitter account, and, well, here is where all that heart, soul and passion comes into the Amanda Brugel Twitter equation. Brugel realized that she had an opportunity, and, as she says, "a responsibility," to do and say something of substance. "I've been given a really good life, and I wanted to show my son what you do with a good life-- you never take it for granted," she says.
So intent on giving back, and creating a platform where women could "pay it forward" and help how and when they can, she reached out to the women who started the Brugs Army Twitter account. Connections were made, friendships forged and lightening struck -- and the Brugs Army was born.

"We may not change the world, but we will have an impact on the world, even if that impact is just on one life," says Brugel. Well with the money they've raised, it's guaranteed that they will have a bigger impact than that and it's already spreading like wildfire. So much so that some of the soldiers and civilians at the Mingle for a Mission event, who are inspired by the wonderful work Holland Bloorview is doing with children will be staying on to team up with the facility to do more work together. "It's amazing how quickly it spread, and how people are inspired to do good in their own way," she says.
Brugs Army is gearing up for a new worldwide "pop up event" benefiting women and children taking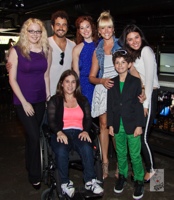 refuge in women's shelters. They aren't asking for money, so what do they want? It's pretty simple -- they want an action. Brugs Army will be asking their soldiers, and everyone else who wants to join in, to connect with their local shelters, and on a day to be announced, donate one outfit for a woman or a child, who often have to leave everything behind to survive. Hopefully this will result in mass donations around the world, not only giving these women and kids some much needed help, but raising awareness along the way.
Amanda Brugel may well be the real world incarnation of Daenerys, all she needs are some dragons, and I wouldn't be surprised if there were some in her future. Yet one thing is for sure, Brugs Army is full of magic makers, who are doing some really beautiful work together, so I can't wait to see what happens next on their quest -- and I'm willing to bet they actually do change the world.
Special thanks to Donna Ruckle for the amazing photos.
Calling all HuffPost superfans!
Sign up for membership to become a founding member and help shape HuffPost's next chapter