As the year winds down and we are preparing for our holiday & New Years parties, check out these trending holiday cocktails that are easy to make and are certain to be a hit with guests. Say goodbye to the Dirty Martini and welcome festive options such as Gingerbread Martinis, Cinnamon Tequila Toddy's and Berry Punch!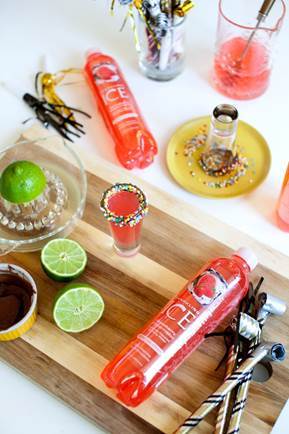 1 oz Sparkling Ice Strawberry Watermelon
Sprinkle Rim, for garnish
Instructions: In an ice filled cocktail shaker, combine all ingredients and shake. Pour into a shot glass with a sprinkle rim and serve.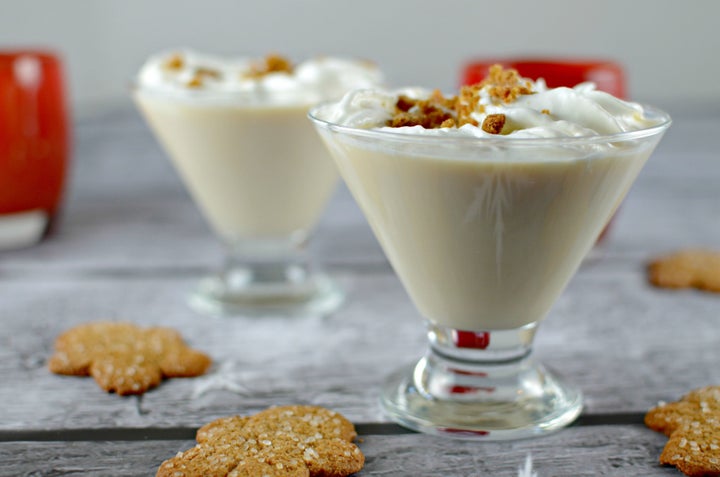 Courtesy of Kendra Darr from Simply Darrling
3 ounces Smirnoff No. 21 Vodka
2 Tablespoons gingerbread syrup (or to taste)
1/2 teaspoon vanilla extract
Whipped Cream & Crushed Gingerbread cookies for garnish
Instructions: Mix ingredients and serve!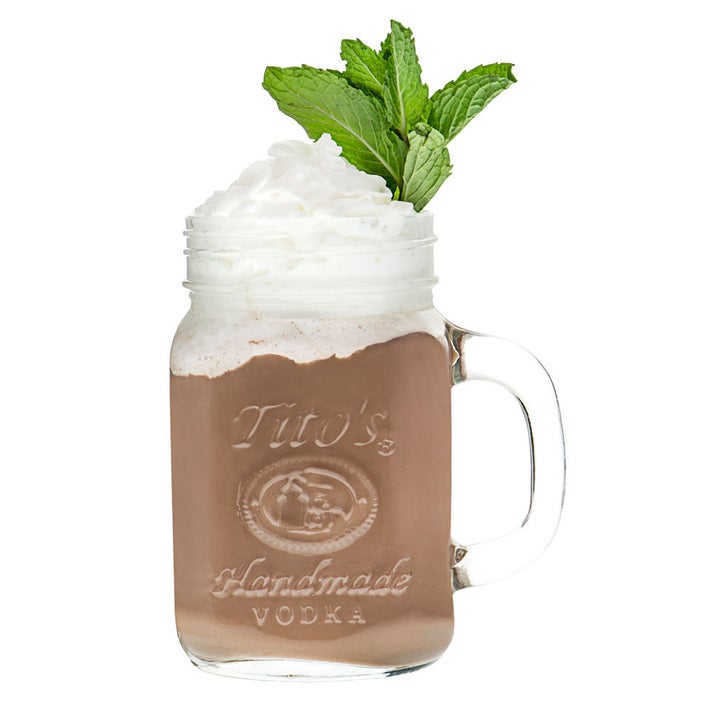 1 oz of Tito's Handmade Vodka
0.25-0.5 oz of Dark Créme de Menthe
Instructions - Combine 1 oz of Tito's Handmade Vodka, 0.25-0.5 oz of Dark Créme de Menthe and 4 oz of hot chocolate in a large mug Garnish with whipped cream and fresh mint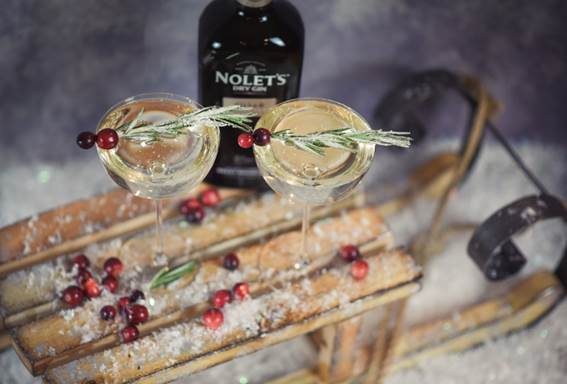 1.5 oz. NOLET'S Silver Gin
1 oz. White Cranberry Juice
Garnish: Rosemary and Cranberry sprig dusted with powdered sugar
Instructions: Fill shaker with NOLET'S, lemon juice, simple syrup, white cranberry juice and 1 cup of ice. Shake hard to chill and combine ingredients. Fine strain into coupe or flute. Top with champagne. Garnish with rosemary cranberry sprig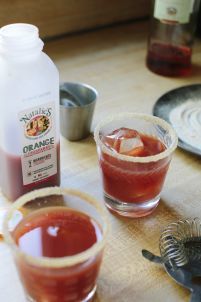 THE BOG - (Made with Orange Cranberry Juice)
Ingredients For the Cocktail
2 oz Natalie's Orange Cranberry Juice
.75 oz Natalie ' s Lime juice 1.5 oz dark rum .5 oz Aperol .5 oz simple syrup, see ingredients and recipe below For the Simple Syrup 1 cup water 1 cup sugar For the Rim 1 lime wedge 3 tablespoons granulated sugar 1 teaspoon ground ginger
Instructions -Prepare the simple syrup by whisking together water and sugar in a saucepan, until dissolved. Set over medium-high heat. Bring to a boil. Remove the pot from heat. Let cool before using. To rim the glass, add the sugar to a small plate. Add the ground ginger and mix to combine. Moisten the rim of a rocks glass with a lime wedge. Dip the rim into the sugar-ginger mixture and rotate slowly until the rim is coated. Pour Natalie's Orange Cranberry Juice, Natalie's lime juice, Aperol, Dark rum, and simple syrup into a cocktail shaker along with three or four ice cubes. Shake until chilled. Strain into rimmed rocks glass.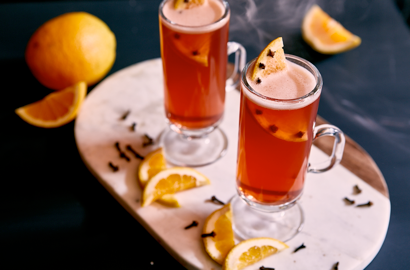 HOT BUTTERED BOULEVARDIER
1 1/2 oz Russel's Reserve Bourbon
Instructions: In a footed glass or mug add bourbon, Campari, sweet vermouth, maple butter and vanilla. Pour hot water on top and stir briskly until butter is dissolved and well integrated. Garnish with a clover-studded half orange wheel and a star anise pod
*Maple Butter: 1/2 lb (2 sticks) unsalted butter 5 Tbsp Maple Syrup 1/2 tsp. salt Using a robot coup or Vitamix whip all ingredients until smooth.

STELLA ARTOIS WARM APPLE CIDRE
6 bottles of Stella Artois Cidre
Instructions: Mix Stella Artois Cidre in sauce pot along with other ingredients, except butter. Bring to a boil, then lower flame and reduce down to approximately 1 cup. Strain and discard solids, whisk in butter. Pour hot Stella Artois Cidre mixture into a mug. Top with whipped cream and vanilla extract. Garnish with cinnamon stick and orange zest.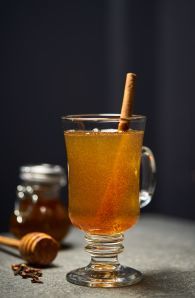 1 ½ parts Hornitos Black Barrel Tequila
¾ part cinnamon bark syrup
Instructions: Combine equal parts sugar and water and 3 cinnamon sticks in a saucepan and bring to a boil to create cinnamon bark syrup. Remove cinnamon sticks from the mixture and combine the remainder of the ingredients in a coffee glass. Stir and garnish with a cinnamon stick.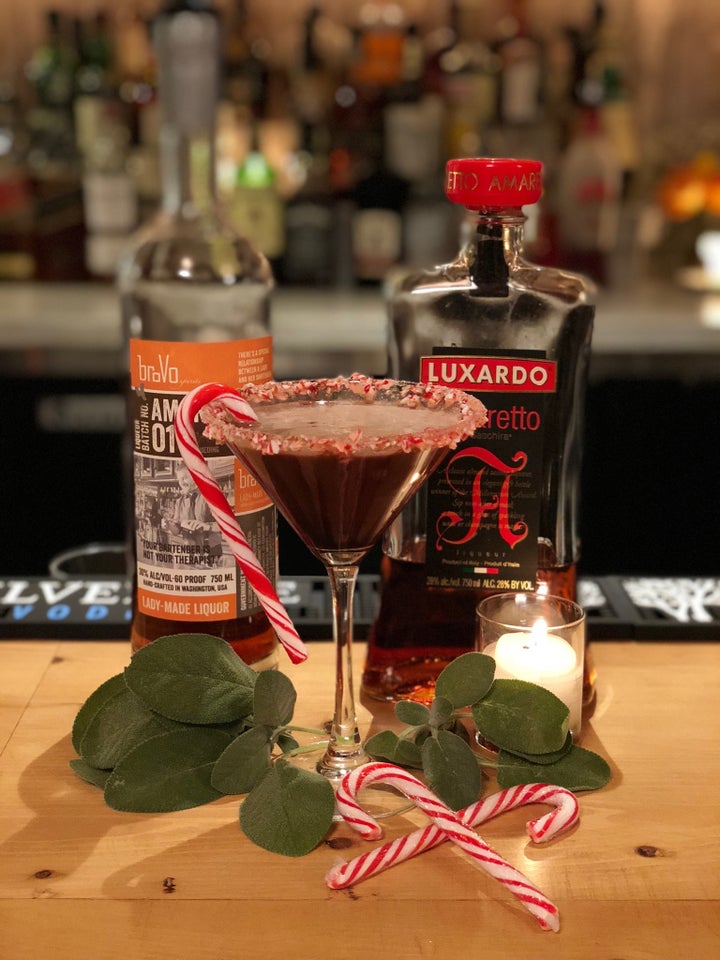 ISOLA'S - SANTA'S LITTLE HELPER MARTINI
3/4 Oz BroVo Amaro Batch #1
3oz HOME MADE chocolate cocoa
Garnish with crushed candy cane rim and candy cane.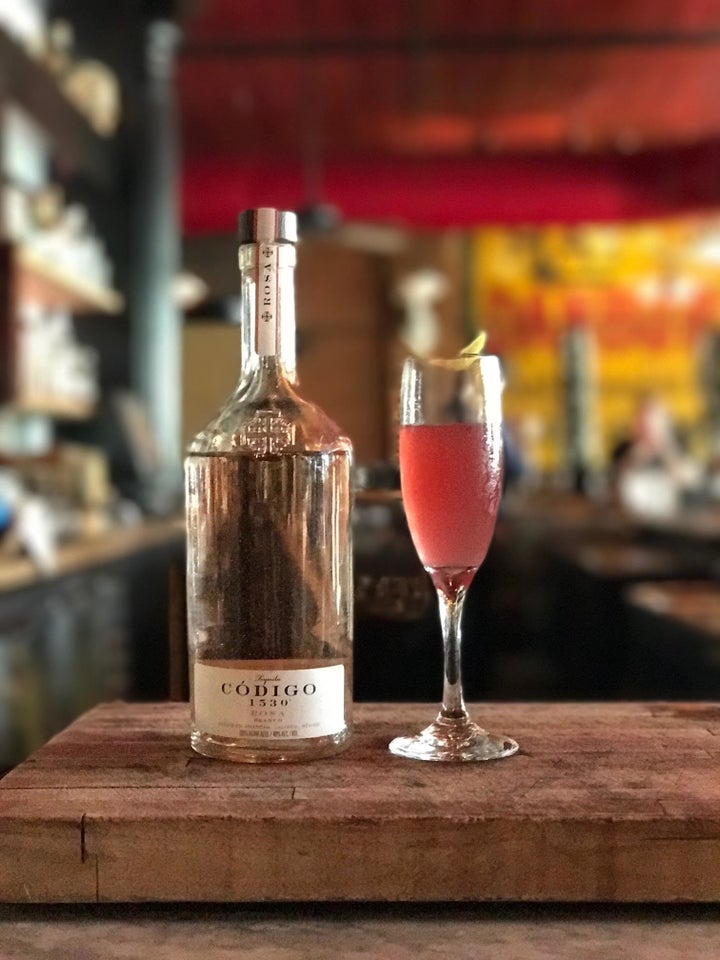 .5 oz Hibiscus & Orange Simple Syrup
In a shaker filled with ice, add tequila, pineapple juice and hibiscus & orange simple syrup. Shake and strain into a Champagne Flute and top with Rosé Prosecco.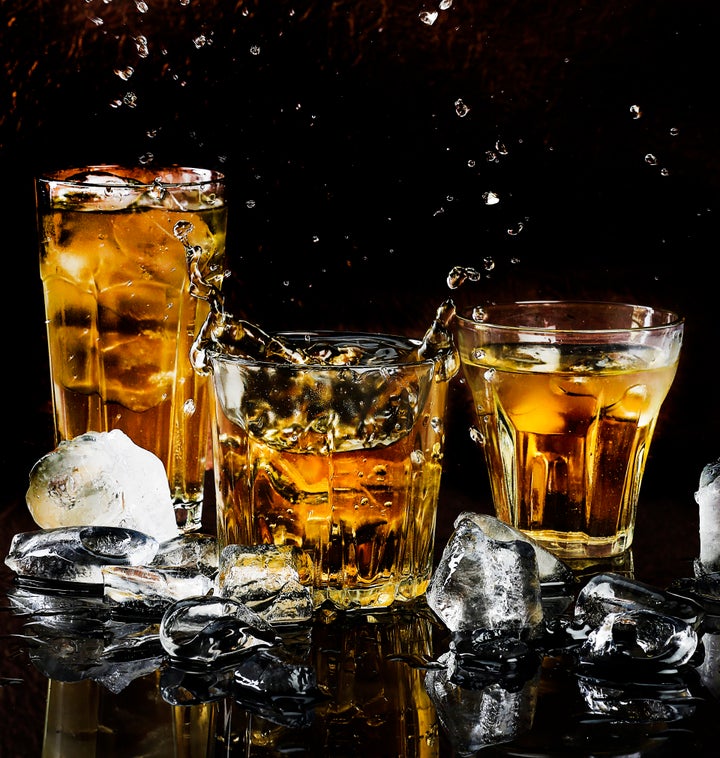 In a small chilled highball glass: Add one quarter filled glass of crushed ice.
1 x teaspoon of fresh squeezed lemon juice
1 x teaspoon of fresh squeezed lime juice
Line the the glass rim with fresh orange juice, and brown sugar.
Serve with lemon & lime peel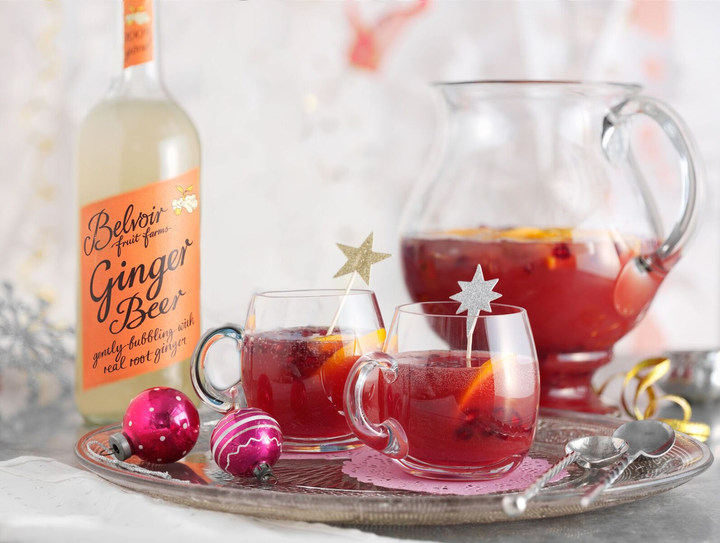 320ml of freshly squeezed orange juice (4–6 oranges)
zest of about ¾ of an unwaxed lemon
160ml blueberry and/or blackcurrant cordial
Aromatic bitters, such as orange or peach (optional)
2 unwaxed oranges, sliced
1 pomegranate, seeds only
400ml Belvoir Ginger Beer
Jug or Punch bowl; punch cups or tumblers
Instructions - Put the citrus juices, lemon zest, blueberry and/or blackcurrant cordial and the bitters, if using, in the jug or bowl. Add the orange slices and pomegranate seeds and leave to macerate. When you are ready to serve, add ice cubes (16–20, depending on size) and top up with Belvoir Ginger Beer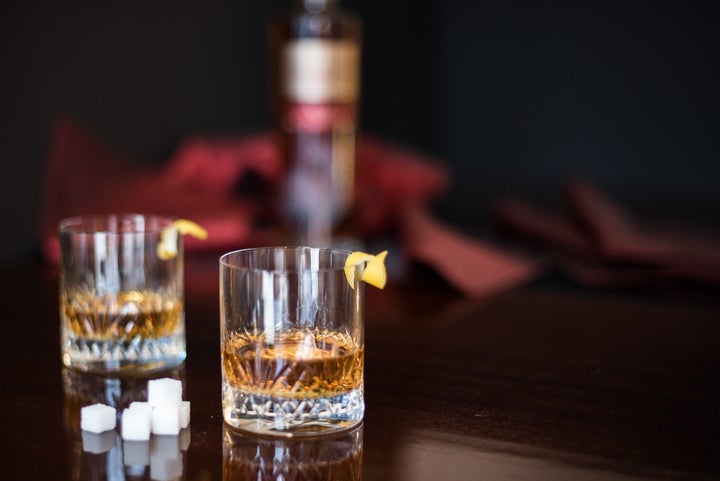 .5 oz vanilla simple or one sugar cube
2 dashes Peychaud's Bitters
dash of lemon oil ( or lemon zest for garnish)
Instructions: Rinse a chilled a rocks glass with absinthe, add ice and let it sit. Stir the rest over ice. Dump ice and absinthe from the first glass, and strain the drink into that glass. Add a dash of lemon oil and 2 dashes of Peychaud's.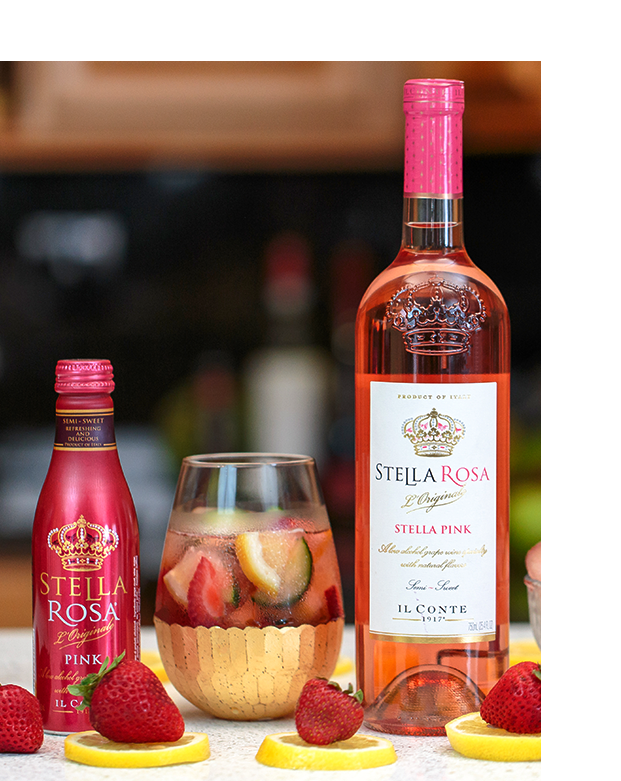 Strawberry, cucumber, and lemon ice cubes.
Instructions: Freeze strawberries, cucumber, and lemon in ice. Once frozen, add the cubes to serving glass. Pour in Stella Rosa Pink.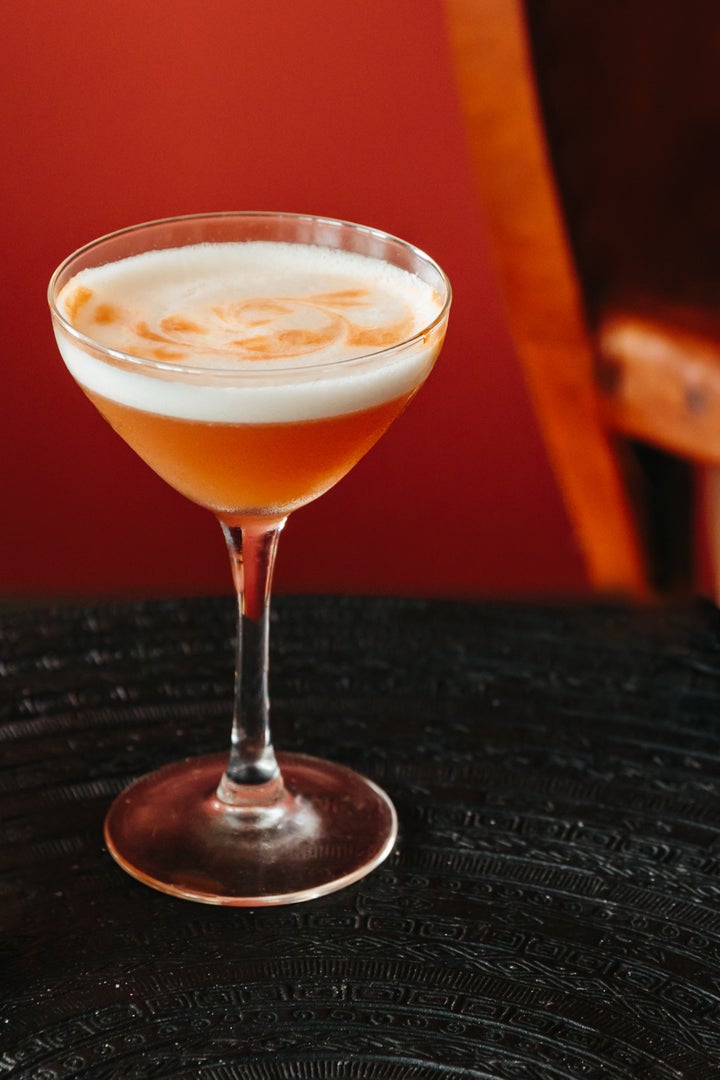 ½ oz. Honey Syrup (1:1 Ratio Honey to Water)
1 Egg White (approx ¾ oz. if using liquid egg whites)
Instructions: Add all ingredients to a shaker tin without ice. Whip shake (quick, repetitive circular motion) to build a foamy texture. Add approx. 6 oz of shaved or cracked ice – just enough to chill the drink, while allowing the ice to build more texture from the egg white. Garnish with a freshly expressed orange peel and atomized Campari on top.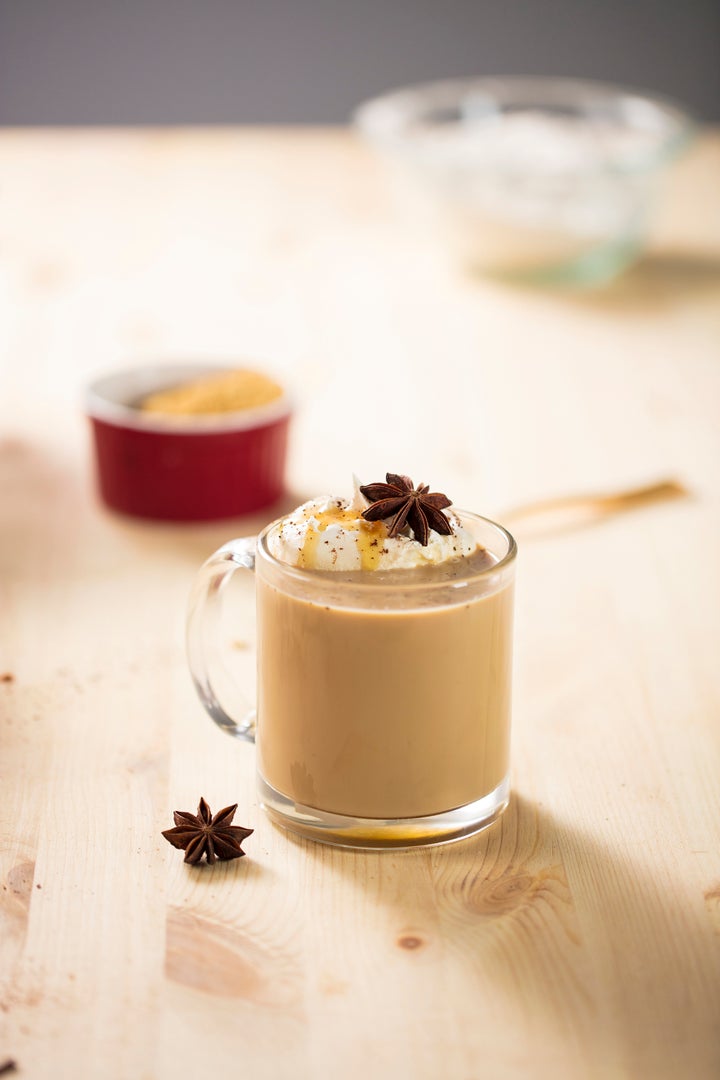 1 oz Baileys Original Irish Cream
Whipped Cream, Star Anise, Honey and Espresso Powder for Garnish
Instructions: Combine Baileys Original Irish Cream, espresso chai tea, honey and hot almond milk in a mug and stir well. Top with whipped cream, star anise, a honey drizzle and dusting of espresso powder and enjoy!
Ideal Serving Glass: Coffee Mug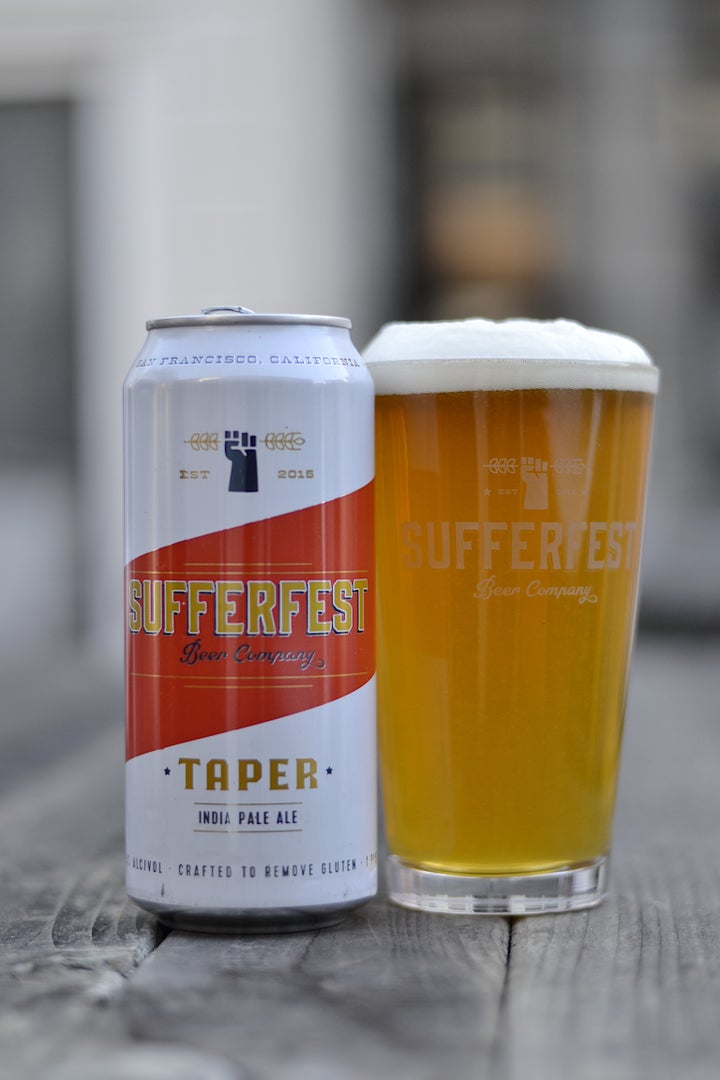 SUFFERFEST BEER – For those who love a premium craft beer, check out this Gluten Free option made in San Francisco
Happy Holidays! Drink Responsibly!
Related
Popular in the Community