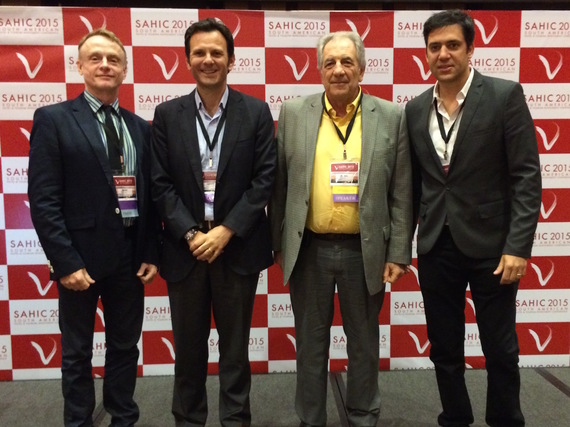 Mark Chesnut of LatinFlyer.com, Jesus Parrilla of Luxury Frontiers, Daniel Piana of DPA&D and Juan Stadler of GlobalCollect, at the South American Hotel & Tourism Investment Conference in Lima, Peru.
There's a saying in English, "if you build it, they will come." But in the hospitality industry, simply building a hotel doesn't guarantee that anyone will invest in your project, or that guests will come to stay. At this year's South American Hotel & Tourism Investment Conference (SAHIC), the region's largest such gathering of big-name hotel executives and investors, I moderated a panel about trends in hotel construction, design and technology, to find out what some of the leading .
Here are a few key takeaways from the panel.
What are the most important trends in terms of innovation in hotel design?
Jesus Parrilla, Luxury Frontiers: We design experiences; comprehensive trips where the focus is on presenting a trip of high emotional impact and where one of the key elements in this experience is the place where the guests stay -- and the design of the room, structure, can take different paths. It can be half-permanent structures or mobile structures, or longer duration and with recycled materials, [or] superior materials, depending on the specifications. Also, one of the particularities of our design is that they are of low ecological impact. [Part of] our service ... is the design of this travel experience and taking all the attributes that a destination can offer. We do not operate in cities or urban places; we operate in places with more difficult access or where there is no electricity or water infrastructure, etc. And what we do is analyze all the elements of the destination and incorporate them into this big travel experience that has to do with showing off the natural and cultural attributes and also showing off the agricultural or biologic heritage that may exist in the destination. So, our approach, our view is a rather global view taking care of all the necessities of the destination and the client.
So what are your clients asking for?
Parrilla: What we see or what we have seen recently is a general tendency of doing projects of low environmental impact, and this implies that many of our clients are asking to use recyclable materials or easily reproduced materials like bamboo. There is a conscience that compels us to integrate recycled materials or that can be reproduced in a sustainable way.
What do hoteliers need to be careful about?
Parrilla: There is an obsession to innovate to the point where really we are giving our backs or ignoring what makes this world move ... this world is moved by relationships, by an emotional connection. I believe that that emotional connexion must be a key driver, a motive, for which we should develop and propel our projects, in bigger or smaller scale.

What are some of the most common trends in terms of e-commerce for hotels?
Juan Stadler, GlobalCollect: I'm going to speak about the final step, the checkout. This is the part where the penalty gets kicked, where the client finally buys or for some reason that transaction is rejected, or the client decides to not keep uploading the information and therefore the sale is not done. What are the points that we must keep in mind so that checkout is as efficient as possible? Speaking to you from our experience, of what we experience with other hotel companies and specific topics, there are some things that can be truly counted on and it's an exact science, how we see it, how we measure it up and see that performance. The first indicator has to do with the quantity of paying methods that are offered on your checkout, how pinpointed they are and with the local currency. What does that mean? It is very important that you offer payment methods preferred in each [culture or country]. In some countries, Paypal is stronger than in others; in Brazil it might be important to have bank slips and in Argentina easy payment or account payments. The other point is to offer the local currency, to not only sell in American dollars. The truth is that there are many countries or cultures that are very sensitive about using their local currency, and it's important that you can offer that local currency.
How are hotels positioned in terms of sales through Online Travel Agencies [OTAs]?
Stadler: The OTAs, or Online Travel Agencies, are here to stay. I think that there will be a process of raising the competence. The issue is what is the mix that you have between your direct sales and through third parties? That has to have a balance. If you [sell] a lot through the OTAs, probably you are losing profitability and it can be a sign that the personal hotel Website doesn't have a good-enough user experience for better conversion. So, I think that is fundamental, to take a good look at the user experience and also to be aware of which public you aim toward, what is the target, what is the average ticket that your chain has ... and that the offered payment methods go in line with that. If you're in the luxury sector, it makes no sense to offer cash payment methods to a non-banked public, like a bank slip in Brazil or a 7-11.
How can hotel design successfully address aesthetic and functional concerns as well as the vision of the investor and business operator?
Daniel Piana, DPA&D: Any innovation process today in the area of hotel design has a lot to do, and it's necessary to follow sustainability guidelines. When I speak of sustainability guidelines I'm not talking about a generic global sustainability, but rather a specifically economic one. When we do designs of hotels ... we have a tremendous challenge between what it means to achieve a certain quality of products and fulfill fixed economic equations. As professional investors, as users, etc., we are pressured to achieve good results, but those good results must be supported by possibility and economic feasibility.
What are the most important elements to consider?
Piana: When we speak of one hotel, we are speaking of a physical phenomenon; 70 or 80 percent [of the project] are the rooms. That is not simply a material analysis of what is a hotel, it's also a reflective analysis of what happens in the investment. When we are saying that the hotel rooms generate 70 or 80 percent of the [revenue] volume of the hotel, we are saying that in the rooms we have 70 or 80 percent of costs [for] the hotel and of the hotel as an investment. It is there where the cards get played; it is there where the process is really decided.
Calling all HuffPost superfans!
Sign up for membership to become a founding member and help shape HuffPost's next chapter