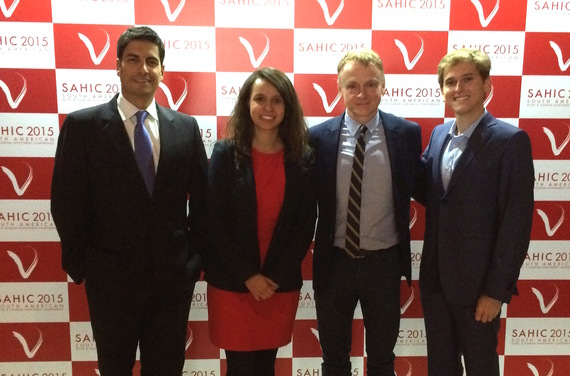 Miguel Oliveira of Wyndham, Joanna Ayala Quintana of AccorHotels, Mark Chesnut of LatinFlyer.com and Juan Corvinos Solans of Hilton Worldwide, at SAHIC 2015 in Lima.
How important is social media and technology in the hotel industry? During the recent South American Hotel & Tourism Investment Conference (SAHIC) in Lima, Peru, I moderated a panel that addressed that very topic. I was joined by a team of hospitality experts from three major hotel companies, who weighed in on a variety of trends.
Here are a few key takeaways from the panel.
AccorHotels Opens Up to More Hotels
This France-based hotel company has attracted attention with its new digital reservations platform, which includes independent hotels that aren't even part of the company. Why did they make the decision to include outside hotels on their company booking site?
Here's the explanation from Joanna Ayala Quintana, regional developer manager for Colombia, Peru and Ecuador at AccorHotels: "The opening of our digital platform to independent hotels is part of a digital plan that we have for the next five years at Accor, with the goal of maximizing the potential of our digital tools in different markets. Specifically, the opening of our digital platform to independent hotels is about integrating hotels that don't have any international brand on AccorHotels.com, with the goal to have around 10,000 hotels in the long term in about 300 destinations. We are about to start in Europe, in France, Germany and the United Kingdom, and next year, the goal will be to launch the program in the Latin American market. It is really revolutionary that a hotelier opens itself like this to independent hotels, but we truly see it as a very innovative initiative, in which we'll have much more economical fees than what OTAs [Online Travel Agencies] have nowadays, and this will lessen the dependence on OTAs for independent hotels."
"Within the next five years, we'll be investing nearly 225 million euros in a digital plan that's not only focused on the market and our guests but also complements the [offerings for] employees, partners and investors. The obvious objective of this digital plan is to create a calmer experience for all travelers, so they have tools that can be with them from before the journey until the end of it. On the same digital platform or app a traveler can plan his journey, have all the tickets, all the flights. At the moment he arrives at the hotel he'll be able to coordinate his taxi, check in, he'll be able to pay from his cellphone, to ask for room service from his cellphone, and ... accumulate points from our [loyalty] program Le Club -- because nowadays, we want to do everything with our cellphone."
High-Tech Hilton
Hilton is progressing with technology as well and recently negotiated an alliance with Uber. What does that mean for travelers?
Here's the word from Juan Corvinos Solans, director of development for Central america, the Andean Region and Hispanic America at Hilton Worldwide: "Part of our digital strategy is to [place] all the applications inside in your cellphone so that the moment you make a booking, I can make a booking in any part of the world in just five taps. It has all the information saved. In five taps I can see a reservation within 20 days, 50 days or a year."
"In our new partnership with Uber I don't carry money anymore. I never have money in my pockets, because it's been years since I've taken a taxi. New clients usually don't carry money, don't use a foreign exchange. So with that partnership, when you are in an airport like Bogota or Lima, you start Uber, get off the plane, the taxi arrives, it remembers you, where are you going, there's not an exchange of money, you don't have to have the danger of carrying money."
"The sharing economy is something that we are watching. You have a house, but you can share it when you are on vacation. You have a car, but you can use it when you are not there to rent out and make some money. So all these sharing technologies, all this scale in the marketplace, we are integrating it in our technology. With my cellphone, I've made a reservation, picked up a taxi, gotten to the room, and the door opens. This gives more control to the client to decide what he wants to do at every moment. If he wants to see somebody, he'll see somebody, but if you don't require a personal attention you have that control. We are giving control to the client."
Wyndham Aims for the Right Message
How big are the differences between how different generations are using technology when they travel, and how do hotels make sure they're targeting the right audience and providing something that more general travel sites don't?
It's a complex issue, according to Miguel Oliveira, vice president of digital global commerce and marketing for Wyndham Hotel Group: "The means of communication not only cross generations, but also the ways that businesses communicate. For example, I was watching Periscope, which is another way of messaging, that allows all of us to make a reality show about ourselves using live broadcasts. So the means of communication, the way that businesses go looking for an approach toward clients, is changing entirely."
"The pressure is getting stronger when you think of the brands. There are so many brands and you have to be careful about what are the appropriate channels for each brand, because there are different audiences. When you think about personalization, how can you find relevant content for each type of consumer? We want to create a good experience but also find a way to use technology to influence [hotel] stays. Everyone wants to control. Joanna spoke about the app that will do everything, Hilton has check-in, Wyndham has a very powerful app and we're investing more, but the OTAs also want control; they're creating alliances and buying businesses where they can integrate everything. It's a battle to see who will control the relationship with the client. But only we have the hotels, so that's a big advantage. But the challenge is big too."
Popular in the Community