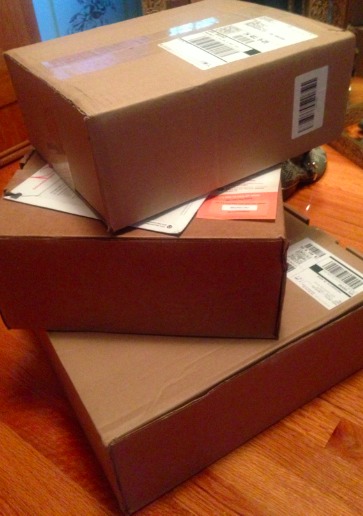 Fashion and Sizes: The only consistency is abysmal inconsistency. Random and whim-determined, from one line to the next and even within a single line, size and fit inconsistency is the muck of an industry through which we (women in particular) all must wade. I am rather tall and slender, easy to fit, same size for eons, but I kid you not, I own current clothes in sizes 2 through 8 and shoes that span over two full sizes. I am a devout online shopper, which means I spend a considerable amount of time trying to calculate my size. Honestly, the only thing worse than the fickleness of fashion sizing are the minutes I spend plodding through online shoppers' chatty reviews, when all I want to do is figure out which size will fit me best.
I am very happy for your good fashion fortune, dear online reviewers, but I have news for you:
I don't care where you intend to wear it.
I don't care how much your boyfriend liked it.
I don't care in how many colors you bought it.
I don't really care about anything personal, including how much you like it. If one buys a wearable and keeps it, can we all agree it is safe to assume you like the item?
And then there's that "True to Size" quip:
If stated without any comparison to other lines or items, what in the dickens is that supposed to mean? "True to size" with no other comparative reference or official industry standard is rather meaningless. Our government actually attempted standardization of women's sizing in past decades but failed, ultimately discarding the flawed system they briefly implemented. Here and there, online retailers now offer intermittently placed interactive sizing guides or they will note the model's measurements (but often without stating what size the model is wearing!), but retailers still have a long, long way to go. Now as in ages past, we are on our own with sizes, especially online, reading review after review and cross-referencing fit with other stores' or designers' reviews and charts, and still making best guesses at best.
Fellow shoppers and online reviewers: Pursuant to the wearable in question -
I care about which size you did buy. Then:
I care about your height and ballpark weight.
I care about a word or two on your perceived body type.
I care about your measurements, which again is to say, relevant measurements. Don't list your newly enhanced cup size in a listing for a pair of jeans. (Retailers, take note: The sillier the reviews, the less one might want to associate self with the other wearers of said garment. Please, vet and edit. Fashion marketing is, among other things, an associative game)
As for shoes: If there is a comparable line in which a similar item fits well, name it and the size you own it in. Voilà! Instant comparison for me, a free mention for the first pair, a successful order of the second pair and all are served.
Online shopper reviews should only 1) post legitimate beefs about item quality (inconsistency to listing, materials, construction) and 2) post relevant stats for purposes of size comparison.
Why? I would like to order only one garment and avoid a return. Even one return is a drag, and two returns or the retailer selling out of the item in a belatedly realized size is worse. I can and do order multiples to try on and compare, but that still involves returns and cluttered credit card balances. Returns and re-orders are a waste of time and resources, from gas to manpower to materials. Let us not kid ourselves that, in this competitive online shopping environment, "Free" shipping and returns do not come at some cost to us all. As we indulge ourselves, we should use our perks conscientiously.
Shoppers and online reviewers: Keeping your reviews relevant is the only way we can work around a massive industry that would evidently rather keep us guessing. Post information so the rest of us can calculate how what fit you will also fit us. It is green, it is savvy, it is helpful. Your fellow tech-reliant fashionistas will thank you.
Related