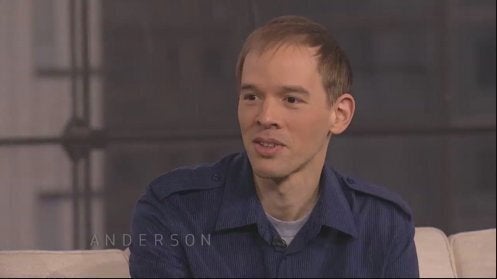 Trent Arsenault may be the most controversial father in America right now. Not only has he fathered 14 kids, but he's also a 36-year-old virgin.
Arsenault claims he's never had a sex partner and feels it's his duty to the couples who use his sperm not to deplete the supply.
Arsenault doesn't charge for his baby batter, but his unconventional methods have spurred the Food and Drug Administration to issue a cease-and-desist order, the San Jose Mercury News reported. The FDA alleges that Arsenault did not take the legally required precautions to prevent the spread of communicable diseases.
Although Arsenault has attracted sympathy from various people who believe the FDA's allegations set a dangerous precedent, other activities of his have aroused controversy, such as the 100-plus videos he has posted online showing him masturbating with unusual aids such as a water polo ball and frozen packs of organic blueberries.
On February 3, 2012, Arsenault discussed his philosophy towards life, love and childbirth and answered reader questions in a live Q&A hosted by HuffPost Weird News Senior Writer David Moye.
Watch a video of the Q&A below:
Related
Popular in the Community