WASHINGTON -- Rep. Trent Franks (R-Ariz.) told reporters on Wednesday that there is a "good chance" House leadership will bring his nationwide 20-week abortion ban to the floor this year for a full vote in light of the Kermit Gosnell trial.
While Franks' bill, which only applied to the District of Columbia the previous times he introduced it, has never been brought to the floor for a vote, he said the Gosnell trial has caused leadership to take it more seriously this year. He argued people are slowly starting to change their minds on abortion after hearing the details of Gosnell's abortion practice, the same way people changed their minds about slavery and the Holocaust.
"What changed people's mind over slavery? What changed their minds over the tragedy in Eastern Europe, the horror in Eastern Europe?" he said. "Those minds did change, and I would suggest that it's because they finally came face to face with the humanity of the victim and the inhumanity of what is being done to them."
"I don't know what this society and this world have lost because of 55 million little American babies dying in the last 40 years," he added, referring to the number of abortions performed in the U.S. since Roe v. Wade was decided. "I don't know. But I would suggest to you that if taking the lives of little innocent children when they're crying-- if that is not wrong, then we have at last arrived. Nothing is wrong."
Gosnell, a Philadelphia abortion doctor who ran a filthy, unregulated clinic, was found guilty of first-degree murder after he performed late-term abortions long beyond Pennsylvania's 24-week limit, cut the spines of newborns with scissors and killed at least one female patient.
About a dozen Republican congressmen and one congresswoman, Rep. Michele Bachmann (R-Minn.), joined Franks at a press conference on Wednesday to deliver passionate pleas on behalf of the bill, which would prohibit abortion after 20 weeks of gestation in the United States unless the woman's life is in danger.
Rep. Louie Gohmert (R-Texas) became emotional as he told the story of holding his premature daughter for the first time. "I held my firstborn in these two hands. She was small enough that I couldn't use one, I was afraid I might hurt her or she might roll out. And to think about someone snipping her spinal cord," he said. "How can we expect God to keep blessing America when we can do this millions of times to truly the most vulnerable among us?"
"We've got to stop abortion at all levels," said Rep. Paul Broun (R-Ga.), "but if we can't stop it at the level where these babies feel tremendous pain and go through this torture and anguish ... what can we stop?"
Franks' bill would violate the precedent established by the Supreme Court in Roe v. Wade, which prevents states from banning abortion before the fetus is viable outside the womb. Viability is generally thought to occur between 22 and 24 weeks of gestation.
The Ninth Circuit Court of Appeals struck down a similar bill in Arizona on Tuesday, declaring it unconstitutional. But Franks said he doesn't trust or respect the Ninth Circuit.
"Keep in mind that this is the infamous Ninth Circuit that has essentially the most left-wing zealots in America on the court," he said. "Over 90 percent of the time they're overturned. In my mind, [the fact that they struck the law down] might be one of the best signs we have, given their track record. If they upheld it I should be worried."
Before You Go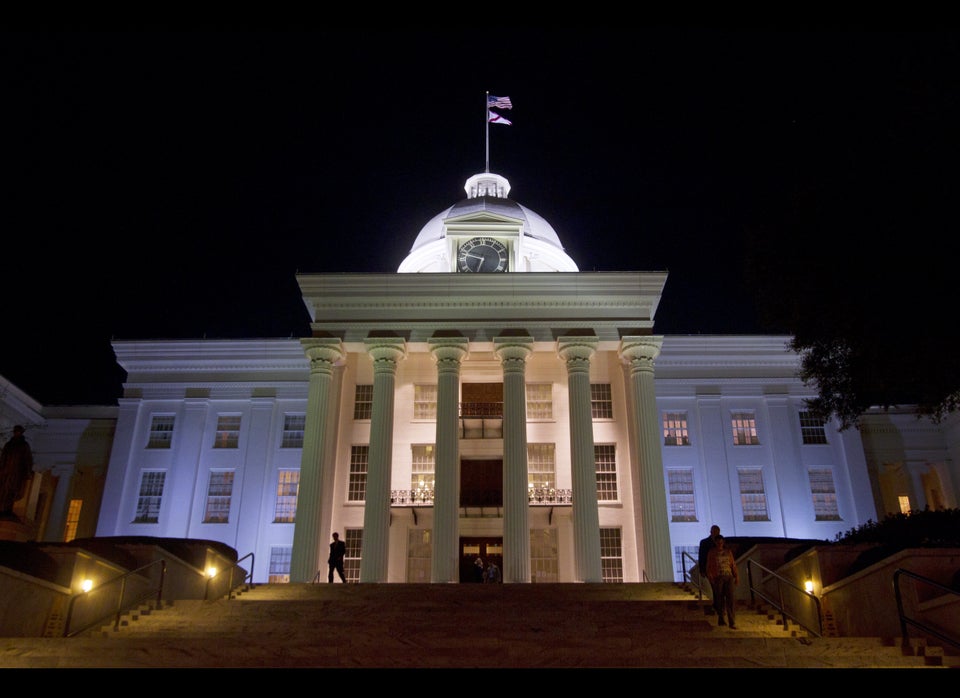 U.S. State Capitol Buildings
Popular in the Community