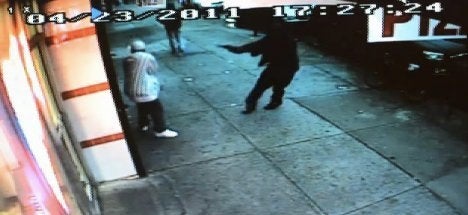 Police are looking for a man who shot and killed Trevonne Winn outside a Crown Fried Chicken in East Flatbush. His family believes Winn's death is a case of mistaken identity.
A small candle vigil was set up Monday where police said Trevonne Winn, 24, was gunned down Saturday as he stood outside his uncle's Crown Fried Chicken shop at 2085 Nostrand Ave. in East Flatbush.

Video from a surveillance camera shows the gunman walk up to Winn and fire before running off. Winn tries to get back on his feet, but eventually collapses to the ground as a crowd of bystanders surrounds him.
The South Carolina native was visiting relatives in Brooklyn. His family is convinced Winn was killed by a perpetrator who mistook him for someone else.
"My son is not from here. He knows no one to have any kind of problems with to just kill him like that," Winn's mother, Tracey told NBC New York. "[It's] a very hurtful, wrenching pain." Winn's sister said the victim was awaiting the birth of his second child.
The News reports that Winn's criminal record includes several arrests in South Carolina.
Longtime East Flatbush resident Shakeem Muhammad said deaths like Winn's are not all that uncommon in his neighborhood.
"I've seen just about everything that could happen in this community," Muhammad said. "I renamed this avenue here body-a-week avenue."
Warning: the following video is graphic.