"Daily Show" host Trevor Noah didn't hold back his disgust after conservative pundits accused President Barack Obama of faking his tears during his address on gun violence Tuesday.
Like any other rational person, Noah empathized with the president's show of raw emotion as he remembered the 20 children killed in 2012 by a gunman at Sandy Hook Elementary School. 
"See that thing you're feeling right now? That pain in your chest," Noah said after airing the clip of Obama on his show Wednesday night. "That comes from watching someone weep on national television, because he knows that society can do better than to file the shooting of children under 'shit happens.' That feeling is how you know that you are human."
Some conservatives, however, were outraged by the president's behavior. Numerous commentators on Fox News, like Melissa Francis and Meghan McCain, said they were infuriated that Obama didn't cry publicly after the recent San Bernardino and Paris attacks. 
The incredulous Noah showed the clip of Tantaros' commentary and delivered a furious response.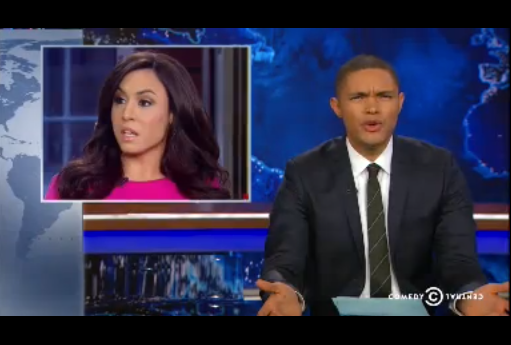 "Are you f**king kidding me? Shedding tears when you think of murdered children is not really believable? You know what, there is something here that's not really believable: the fact that the rest of us have to share the title of human being with you."
We're not sure when Tantaros last cried, but we have one thing to say to Obama: thanks.
PHOTO GALLERY
Guns In Campaign Ads
Calling all HuffPost superfans!
Sign up for membership to become a founding member and help shape HuffPost's next chapter