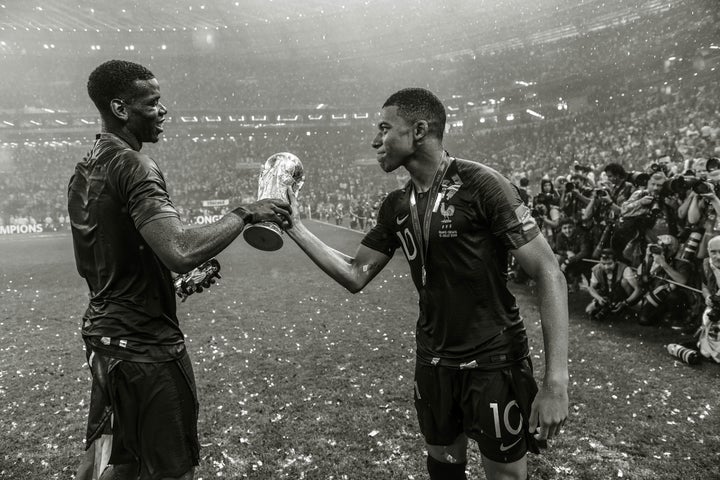 Welcome to Good Stuff, HuffPost's weekly recommendation series devoted to the least bad things on and off the internet. 
Gérard Araud, the French ambassador to the United States, had written a whole-ass letter to Trevor Noah about why the comedian's joke about Africa winning the World Cup erases the "Frenchness" of France's many players of African descent.
In a very "I said what I said" statement, Noah responded: "Black people all over the world were celebrating the Africanness of the French players. Not in a negative way, but rather in a positive way, going, 'Look at these Africans who can become French.' ... I don't take their Frenchness away, but I also don't think we need to take their African-ness away."
Noah later added: "When I watch what politicians say, especially in France, about African migrants, when they are unemployed, when they may commit a crime, or when they're considered unsavory, it's the African immigrants. When their children go on to provide a World Cup victory for France, we should only refer to them as French."
Noah provided a lesson in the way French assimilation perpetuates the French colonial legacy. He concluded: "I will continue to praise them for being African, because I believe that they are of Africa. Their parents are from Africa. And they can be French at the same time. And if French people are saying they cannot be both, then I think they have a problem — not me." ― Zeba Blay
Rooftop Sex Scenes
When I really need to get away from the news cycle, I open up my Kindle for iPhone app and find an ebook with lots of petticoats and an almost equal amount of boning. I am referring, of course, to Regency-era romance novels.
This is not everyone's flavor of escapism for a number of reasons: Traditionally, they're pretty white and comfortably gloss over the British imperialism that fills the coffers of our aristocratic heroes. But I, reared on Jane Austen and rom-coms, have an insatiable hunger for them. Bonus points if the banter is razor-sharp and the heroine is implausibly independent and scandalous for the era.
Sarah MacLean, one of my favorites, had a new book out this summer that's all that and more. Wicked and the Wallflower features an adventurous young lady of the ton who has failed to make a good match in her first few seasons and is now aging into that most dreaded of things: a spinster. She crosses paths with a devilishly handsome crime lord; sparks fly; intrigue happens; they fall in love. Oh, and have sex on a roof. (The perfect summer fantasy, thank you.) — Claire Fallon
Cher + Abba = Love
Anyone hoping for a Cher renaissance need look no further than the 72-year-old diva's Twitter feed, where each ungrammatical anecdote or fiery Trump screed announces itself like a miniature comeback. But Cher is also making an actual comeback.
The silly, effervescent "Mamma Mia! Here We Go Again" is her first film in eight years, featuring Cher as its grande dame and reminding us that her movie career is a sparkling one. As if singing ABBA's "Fernando" with Andy Garcia wasn't enough, Cher announced this week that she will soon release an entire album of ABBA covers — and why shouldn't she? Cher is a delight, ABBA is a delight, Cher singing ABBA is a delight. It's time to embrace the DGAF portion of Cher's career. If we could reach the stars, we'd give them all to her.
This Dude Doing The 'In My Feelings' Challenge
This Pakistani man taking the "In My Feelings" challenge in his white pathani suit is the only thing that kept my spirits afloat during this very bleak week. He's slightly off-rhythm. He barely knows the words to the song. He's earnest as fuck. I want to be him. — Laura Bassett
The Trailer For The RBG Biopic
There was nothing that soothed my soul more this week than watching the newly dropped "On the Basis of Sex" trailer on repeat. The upcoming Ruth Bader Ginsburg biopic looks like the perfect mix of entertaining, informative, empowering and tear-jerking.
It has Armie Hammer-as-Martin Ginsburg eye candy! It has gorgeous period costumes! It has lines like "I want to represent clients in the pursuit of justice" and "It could topple the whole damn system of discrimination"! It has sweeping protest scenes! It has Kathy Bates! It almost makes you believe that our country could one day not be a burning hellscape!
Yes, Felicity Jones' confusing Brooklyn-British mashup of an accent leaves much to be desired, and yes, I think Natalie Portman, who was originally slated to play the lead, would have been absolutely perfect, but even those things couldn't stop me from being thoroughly excited to spend my money going to see this film in December. RBG forever. — Emma Gray
The Aching Ennui And Destruction Of This Subway Ad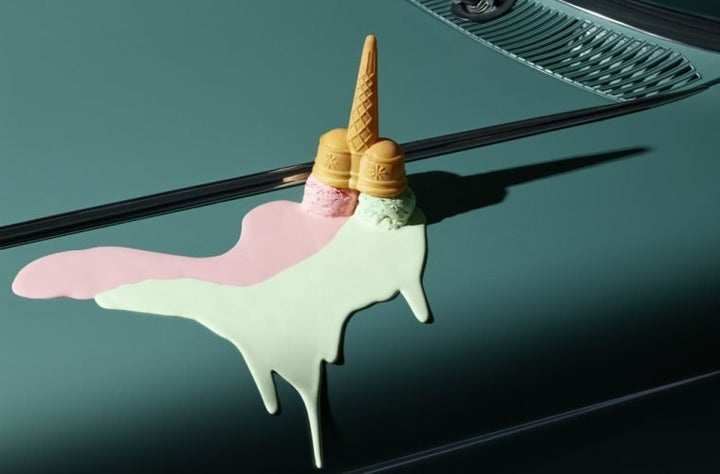 For as long as I can remember, I've had thoughts about destroying things that look too perfect. Beautifully presented makeup, food, glass, flowers, what have you —I have the urge to mess them up immediately. One of my old friends used to call these thoughts "Hulk smash."
This ad, for a bank of some kind, hits me right in that part of myself. The ice cream is so satisfying in its destruction, and it's topped with an extra helping of existential ennui. I love how deliciously broken it looks in its melting, how melancholy it is, how smooth and how depleted. I keep seeing it on subways, and every time I do, I get the longing to find the original ice cream (which probably isn't even real ice cream) and screw it up some more. — Anna Krakowsky
This HuffPost Story About Rep. Steve King Being A White Supremacist
For this story, written by Christoper Mathias, HuffPost's Arthur Delaney tracked down U.S. Rep. Steve King (R-Iowa) and asked him straight up if he was a white supremacist. He bumbled and fumbled, and did not deny he was a white supremacist. Then King shared the story on Twitter, never denying it. — Andy Campbell
This Masterpiece Disguised As A 10-Year-Old's School Notebook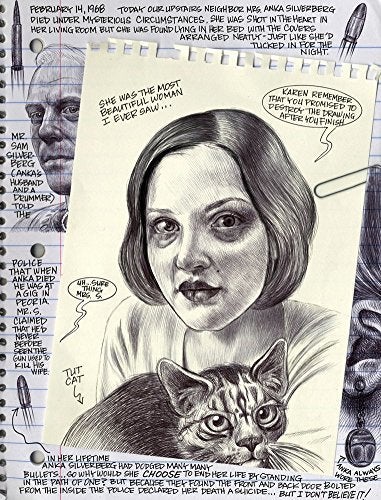 Emil Ferris' My Favorite Thing Is Monsters is a 400-page beast of a graphic novel posing as a 10-year-old girl's blue-lined school notebook. (A 10-year-old werewolf-girl named Karen, to be exact.) In her notebook, Karen's daily struggles and gothic obsessions take virtuosic form, juxtaposing school bullies and small-minded neighbors with spear-tongued demons and blood-spewing skeletons. Often the former appear more frightening. Things get way darker when Karen's beautiful and somewhat witchy neighbor winds up dead under iffy circumstances.
The 2017 book is 56-year-old Ferris' first graphic novel, which she created using only Bic pens and Flair markers. Even more astounding, she made it while reteaching herself to draw after being temporarily paralyzed from West Nile virus, which she contracted from a mosquito bite. It's almost impossible to believe when you see the drawings: so intricate, uncanny, expressive and haunting, sure to dig their way right into your REM cycle.
This is an astounding noir murder mystery, classic monster tale, and coming-of-age story rolled into one gory and gorgeous masterpiece. Would recommend. — Priscilla Frank
'Robin Williams: Come Inside My Mind'
Not interested in heading to the movies? You can reminisce on Robin Williams'  life and career from the comfort of your own couch as HBO's documentary "Robin Williams: Come Inside My Mind" hits the network and its streaming site this week. Director Marina Zenovich pairs Williams' own words with never-before-seen images, clips and original interviews to create a stunning picture of the Oscar-winning funnyman we all adored. Sit-downs with Billy Crystal, David Letterman, Pam Dawber and Steve Martin bring the laughs while also adding a new layer to Robin's story and his ultimately tragic end. ― Leigh Blickley
'... With Your Lavender'
We are here less for the tweet than for the video invoked by the tweet, which is nothing short of the greatest video known to humankind. In it, a man snatches the edges of a racist white woman who has profiled him. Before the video starts rolling, we're given to understand, Rebecca claims she makes more money than this Black King. She's holding a CD player and he's standing next to his Mercedes-Benz.
This on its own is an Omega-level drag. But then bruh tells shawty that she should "go and be great … with your lavender" as she storms off, defeated, "turning red from her back."
It is the kind of taunting life advice that can only be delivered by a person of color; the talent is passed down to us from our mothers, our grandmothers, our aunts and uncles. It's comforting to see a racist woman dragged in this way. It clears my cystic acne. My credit score is well over 800 now. My student loan debt has disappeared. 
Anyway, when I saw this tweet breathe new life into the best video on the internet, I knew that this was undeniably some #GoodShit. — Julia Craven
Carli Lloyd, Scoring From Neptune
My contribution isn't from this week. It's actually from three years ago this month, and it's Carli Lloyd's goal from the halfway line against Japan in the 2015 Women's World Cup final. The U.S. won 5-2 ― its third World Cup crown ― behind Lloyd's hat trick, but none of the other goals were as amazing as this one.
Lloyd slips past a defender at midfield, sees the Japanese keeper off her line, and fires a missile from 50 yards out into the bottom left corner of the net. Why am I digging up three-year-old soccer videos and forcing you to watch them? Because I'm going through World Cup withdrawal, and the only thing keeping me alive right now is knowing that we're now less than a year from the 2019 Women's World Cup in France, where the USWNT will likely enter the tournament as favorites to add a fourth star to their jersey. — Travis Waldron 
Reality TV Premised On Good Intentions
It was another garbage week in the news, so I've found myself rewatching old episodes of "The Great British Bake Off" (known in the U.S. as "The Great British Baking Show") on Netflix, increasingly my go-to comfort-food television as the world crumbles all around us. It's hard not to root for pleasant people to successfully flip their upside-down tarts.
Thankfully, PBS is currently airing a "new" season (originally aired in 2012 on the BBC, but never seen in the U.S.). The most recent episode tasked contestants with making some questionable but humorous "American pies," leaving the bakers to decide for themselves what our pies entail (one baker decided "American" meant dumping in A LOT of peanut butter).
While still containing plenty of the dramatic stakes and frenetic music of reality and competition shows, "GBBO" (along with Netflix's "Queer Eye") belongs in a narrower genre: reality television predicated on friendliness and good intentions. When a baker needs to, say, put the final, frantic touches on her multi-layered hors-d'oeuvres, the other bakers give her a hand. Like the contestants' fluffy sponge cakes, it's a show full of warm goodness. —Marina Fang
Calling all HuffPost superfans!
Sign up for membership to become a founding member and help shape HuffPost's next chapter