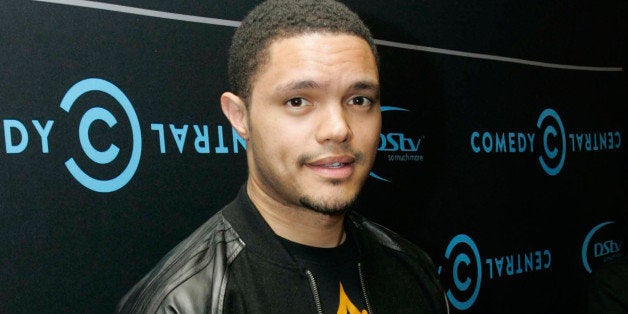 No matter where people shake out on Trevor Noah and his controversial tweets, one word fans and critics alike have agreed to describes Jon Stewart's Daily Show successor is "mixed-race."
His multiracial background is mentioned in most headlines about the announcement and is central to his description in most stories.
But why is it so remarkable?
And our president -- although he self-identifies as African-American -- comes from a decidedly mixed-race family.
Some pundits say that Noah's upbringing as a biracial child in South Africa is notable because it provides him with a unique perspective on American race relations. And surely it will.
But what I think is most remarkable is the way that Noah's mixed-race funny man status allows us to fundamentally change the conversation we've had about mixed-race identity and experience.
Historically, the story told about mixed-race people was governed by the trope of the tragic mulatto: a melodramatic tale about a mixed-race character who cannot find a place in either black nor white society because of the curse of her mixed blood.
Today, mixed-race identity and experience is too often part of the national conversation when it is a flashpoint of long-held racial prejudices. Take for example, the latest flap over the newly crowned mixed-race Miss Japan who many consider not Japanese enough; or the controversy about the biracial star Zendaya playing singer Aaliyah in a biopic. Zendaya, critics said, wasn't black enough. And would we have paid as much attention to the heart-warming Cheerios commercial featuring an interracial family had there not been such a hateful response from YouTube commenters?
Noah introduces a humorous take on his mixed heritage to mainstream America. Simply put, Noah is going to take the tragic out of mulatto one joke at a time.
We are lucky to be in a new age where comedians like Noah and comedic phenoms Key & Peele can mine their biracial backgrounds for their comedy. And they are not the only ones. This year, The Daily Show's Al Madrigal produced a comedic documentary Half Like Me about mixed-race identity, and Tracee Ellis Ross, a mixed chick herself, plays a mixed chick on ABC's hit black-ish with humor and grace. There are many more comedians in the wings ready to take center stage with their own humorous view of the Mixed experience including: Rain Pryor, Sunda Croonquist, Tehran, Abbi Crutchfield and Alex Barnett.
So, Mr. Noah, it's time to bring it. We're ready to talk about the complicated and crazy issues and stories about the mixed-race experience and move the needle on the conversation. And mostly, we're ready to laugh.
Popular in the Community