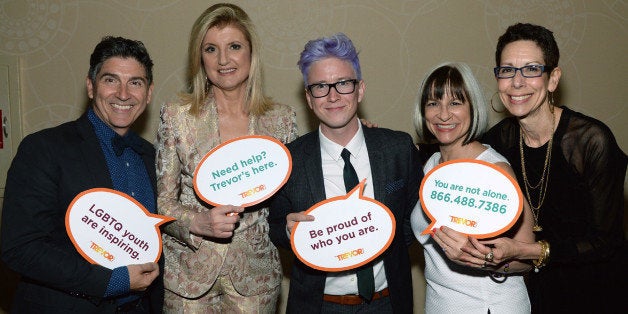 Last night, leading lesbian, gay, bisexual, transgender and questioning (LGBTQ) suicide prevention organization The Trevor Project hosted TrevorLIVE NY, an evening dedicated to honoring those who are working to support LGBTQ youth.
Comedian Wanda Sykes hosted the event, which was directed by Adam Shankman, and Huffington Post Editor-in-Chief Arianna Huffington, seen in the photo belong with HuffPost Gay Voices Executive Editor Noah Michelson, was among those being honored alongside Youtube celebrity Tyler Oakley and Goldman Sachs. Huffington received the Trevor Hero Award, presented by Neil Patrick Harris.
This annual star-studded event, which also featured appearances by Zachary Quinto, Ellen Page and Jane Lynch among others, serves to raise money to fund the crucial work of The Trevor Project, which provides crisis intervention and suicide prevention services to queer teens and adults.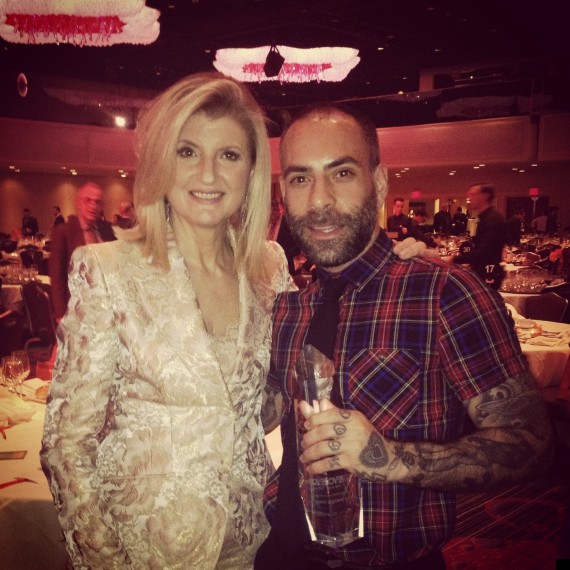 Check out Huffington's acceptance speech for the Trevor Hero Award below and for more from the Trevor Project, including how you can lend your support, visit the organization's official website and follow it on Twitter.
When I heard that I was going to be introduced by NPH at an event to support LGBTQ, I was like, OMG.

I first met Neil when I had a cameo role with him in "How I Met Your Mother," during which he invited me to join him in the library to stimulate his package. I know how everyone hates spoilers, so I won't tell you whether I did or not.

In 2005 Neil came out -- in his story the coming out led to a marriage. Sort of the opposite of my case: my marriage led to a coming out. But my ex-husband Michael and I are bonded forever by a deepening friendship and two amazing daughters, both of whom are here tonight. Christina and Isabella, would you please stand?

I may make Neil the poster child for my book Thrive because he embodies each of its four pillars: well-being (he does yoga and meditates), wisdom (he keeps four of his wisdom teeth in his home by a little Buddha statue in his meditation corner), wonder (just look at the photos of his twins, and all the crazy beautiful landscapes on his Instagram), and giving (to the Trevor Project, to the AIDS Healthcare Foundation to cancer research). And above all he lives life, as he put it, to the fullest, as "a very content gay man."

All of us here tonight are part of a civil rights movement that has succeeded more rapidly than anyone could have dreamed of just a few years ago. And that's to a large extent because of the passion, commitment, courage and hard work of many of the people in this room. But even though we have been celebrating amazing victories in the last few years, including the Supreme Court decision on same-sex marriage, we can never forget that prejudice, injustice and discrimination are still rampant. And that's why the Trevor Project is so important -- empowering young people to be proud of who they are, giving them a voice, showing them they're not alone in this world, and helping them to thrive fully as themselves.

The Trevor Project is built on a powerful combination of information and connection that has in, tens of thousands of cases, helped save lives. Providing a platform that can give a voice to millions who otherwise wouldn't have one is at the core of what we try to do at the Huffington Post Gay Voices, which has become the number one LGBTQ website in the country.

Indeed, I'm very honored to receive this award, but I'm really sharing it with our Gay Voices team and our fabulous Gay Voices editor, Noah Michelson. Noah, can you please stand? Under Noah's leadership, Gay Voices is an integral part of the Huffington Post -- on our front page, on HuffPost Live, and often translated in our eleven international editions, making sure that the stories we cover go far beyond the LGBTQ community to educate and touch millions of people who otherwise might remain mired in the past.

We have heard a lot about people -- especially politicians -- saying their views on equality are "evolving". Well, our job at HuffPost is to dramatically accelerate this evolution, because while their views are evolving, millions of lives are at stake. We want to change lives, and change hearts and minds, by telling stories.

Over and over again we see that when someone comes out or shares a story about what it's like to be transgender or offers their experiences with bullying, it's these stories that resonate most deeply with our readers. Like the story of 11-year-old Marcel Neergard, who wrote about having to be home-schooled for sixth grade because of severe bullying and then watched an anti-gay lawmaker in his home state of Tennessee actually receive the "Educational Reformer of the Year" award. Marcel wrote about this so movingly and powerfully that the petition he started on HuffPost got the award rescinded. A small victory, but like all small victories, it had wide ripple effects.

It's stories like this that accelerate the inevitable historic progress of this movement. Because we are all, in some sense, on the front lines. It's the Republican senator from Ohio with a gay son, it's the lawyer defending Prop 8 before the Supreme Court whose daughter came out in the middle of the legal battle, and is getting married this month, causing his views to, yes, evolve. And, of course, there's Darth Vader himself, the Dick Cheney who saw the light ahead of even President Obama and Hillary Clinton because of the daughter he loves.

This movement has the wind at its back because our times are calling for all of us -- whether LGBTQ or straight -- to live our lives authentically, to be true to ourselves, to stop hiding, pretending or living in the shadows, and instead tap into the amazing possibilities that each of us embodies in all of our uniqueness.

I'm extremely humbled to be receiving this honor, and I promise that, in the spirit of the Trevor Project, we will continue to shed the light in the darkest places where there is loneliness and despair. On behalf of Noah, our Gay Voices team and The Huffington Post, thank you from the bottom of my heart.
REAL LIFE. REAL NEWS. REAL VOICES.
Help us tell more of the stories that matter from voices that too often remain unheard.
BEFORE YOU GO
PHOTO GALLERY
Straight Allies