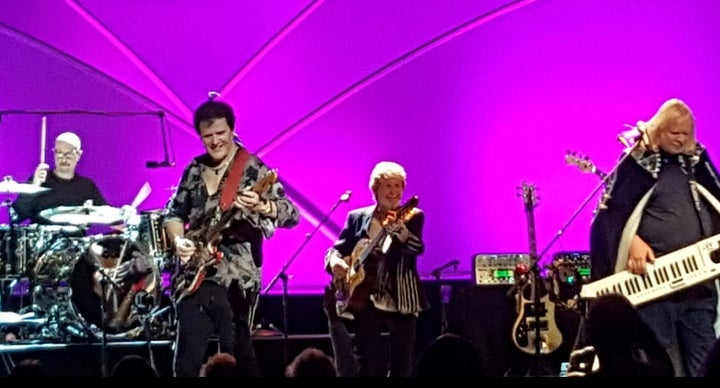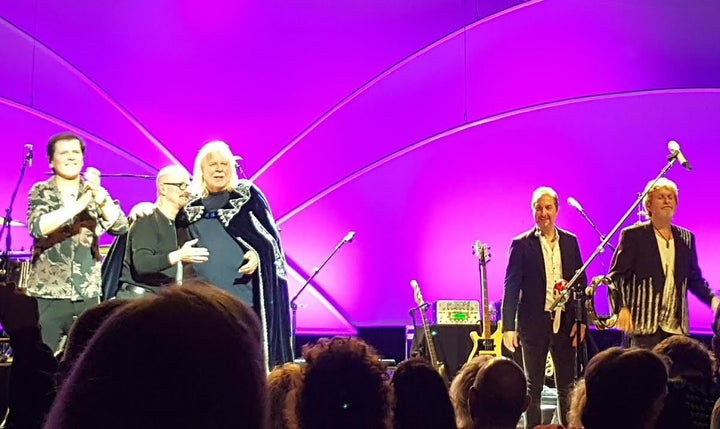 Ah, those teenage nights. The bongs were full and the Boone's Farm Apple Wine flowed in the requisite upstairs bedroom of the party-central house, uncomprehending parents sequestered down below. And on the turntable, the newly-released Yes Album, and in particular, "Your Move (I've Seen All Good People)," the Jon Anderson/Chris Squire-penned magnum opus that kicked off Side Two and featured Steve Howe's 12-string, Portuguese guitar and other innovative, electronically captivating accoutrements.
But life goes on, and longform, prog grandiosity eventually gave way to DIY, three or four chord indie blasts (a larger, cultural reaction to such previous musical excess) and then, post-punk's still-compact, avant-garde, multigenre fusion.
Life went on as well for the founding members of this legendary progressive rock act that formed in 1968 and went on to sell millions of units, touring the world on their smash-success records that included The Yes Album (1971), Fragile (1971), Close to the Edge (1972), and Tales from Topographic Oceans (1971-74). Anderson, who originally left the band in 1980, reunited (1983's 90125 LP continued their rock reign), and quit again in 1988 to join Yes-men Bill Buford, Rick Wakeman and Steve Howe in Anderson Buford Wakeman and Howe. Incarnations appeared, disappeared, and were resurrected, but that epic voice of Jon Anderson has been absent since 1990, when he joined with former Yesmates Trevor Rabin (guitarist/singer), and keyboardist Wakeman, for Yes' "Union Tour."
On Oct. 19, after a 25-year hiatus, the three appeared on the stage of the Wang Theatre in Boston as ARW, an ensemble that also featured Lee Pomeroy on bass and backing vocals, and Lou Molino III on drums and percussion. It was the ninth stop on their debut tour, "An Evening of Yes Music and More Tour," that will take them across the U.S. and then across the pond, through the U.K. and on to Belgium, prior to a March 28 wrap-up in the Netherlands. If Boston was any indication, they'll be leaving behind legions of glassy-eyed and utterly transfixed spectators.
ARW formed in 2010, and according to the tour website, their aim will be to restore the excellence of the Union Tour, which brought together eight former and current Yes members. (A current lineup of Yes that includes longtime members Howe and Alan White and more recently-added singer Jon Davison is touring as well.)
"Trevor and I have wanted to play Yes music together since the Union tour," states Wakeman on the tour site. "...The 'Holy Trinity of Yes' is for me, very much a dream come true."
From the start of the Boston show, it was that and more for the crowd as well, on its feet immediately with cheers that were more of veneration than standard applause. As members strode to the stage, particularly Wakeman in his appropriately wizard-like cape, they remained wide-eyed and awestruck. Anderson's joyous entrance further entranced, and from the first chords of "Cinema," and into "Perpetual Change," the cheers and standing O's never ceased.
I see the cold mist in the night/ And watch the hills roll out of sight/ I watch in every single way,/ Inside out, outside in, every day/
The sun can warm the coldest dawn/ And move the movement on the lawn/ I learn in every single day,/ Inside out, outside in, every way/
According to the ARW tour page, Wakeman's Yes years were during its 70s "prog era," while Rabin's were in the 80s "pop era." Anderson, there from the start, is the glue that binds, and on the Wang stage, the decades melded and seamlessly intertwined within each member's continued mastery. Rabin crushed the strings, Wakefield cruised the keys, Pomeroy and Molino kept up a consistent rhythm, and the hits kept coming.
Anderson's prized vocal cords were still in fine form, and his amiable tips of the hat to Boston added to the kvelling among the crowd. "I remember those Boston Garden concerts," he said. So did many listeners, according to their fists and faces. His harp playing only added to the rapture. From the upbeat lyrics to the crowdpleaser entreaties, it was sheer lovefest, syncing right in with Anderson's ebullient Facebook posts.
On the tour page, Rick Wakeman pronounces, "And as for so many of us, there is no Yes music without Jon." Therefore, HuffPo asked Trevor Rabin the crucial question: How did Jon return?
"On a crystal carriage," was the emailed retort. (Given Wakeman's wizardry and the generally ethereal tone in the theater, this seemed entirely plausible.)
But why did it take 25 years for this eagerly anticipated tour to come together?
"We had been talking about it for a long time, and once Chris [bassist and Yes co-founder Squire, who passed away in 2015] died, that was the catalyst," Rabin said.
ARW has reputedly been developing new material for a studio album since 2011. So HuffPo asked Rabin if there was a reason why the new music being created was not going to be performed.
"Yes...." responded Rabin. "As it is not complete, we didn't want it on YouTube before the record was ready."
HuffPo asked him about the music business, which has changed a lot since Yes began. Is the music industry evil, and did they get their comeuppance? Or is it a new opportunity?
Rabin didn't mince a word. "I think politicians are no less evil than the record companies for doing nothing in real terms to protect copyright, or attempting to restrain the constant theft and acceptability thereof, of music on the Internet," was his stark analysis. "Music unions around the world are weak, and do nothing to protect musicians," he added.
"I am consequently very worried for the great new talent who have so little support," Rabin continued. "The revenue stream is so severely impacted by these and many other issues, that the music industry, and musicians, are in grave danger, in my view. Unless you are lucky enough to be hugely popular, the vast majority of musicians are suffering," he said.
"As far as new opportunity, I've yet to see it."
For Boston fans who thrilled to the old songs, which included "Hold On," the aforementioned "I've Seen All Good People" (with a "Give Peace a Chance" quote), "Lift Me Up" (with Rabin on lead vocals), "And You and I," "Rhythm of Love" (featuring Anderson on acoustic guitar), "Heart of the Sunrise," "Long Distance Runaround," the esoteric "The Fish (Schindleria Praematurus)," "The Meeting" (from Anderson Bruford Wakeman Howe), "Awaken," "Owner of a Lonely Heart" (including a "Make It Easy" instrumental introduction), and a rousing encore of "Roundabout," the message can only be clear. Boston, U.S., U.K. and European fans need to support these beloved icons of our youthful musical passions. Yes, throw their vids onto YouTube, but also, buy merch, vinyl and other releases from their sites, and show your adoration with proper compensation.
We want many more of these magical nights to continue throughout our lives.
Yes, along with Pearl Jam and Tupac Shakur, leads fan voting in this year's Rock and Roll Hall of Fame nominees.
Susie Davidson tweets at @SusieDavidsonMA.