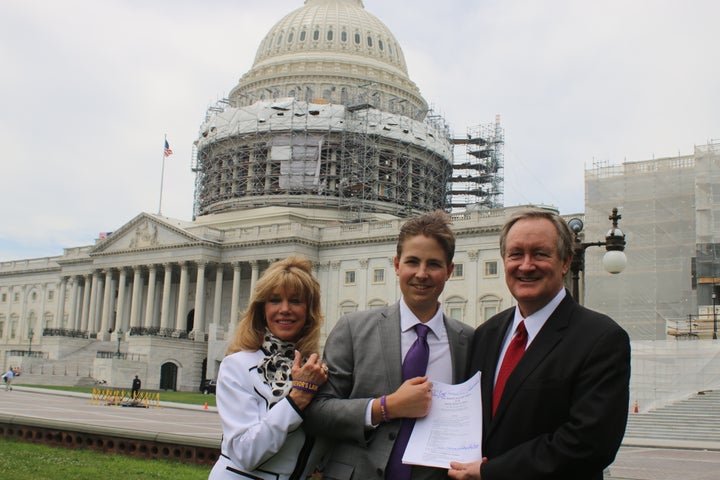 At 13, I heard three words no child should have to hear: "You have cancer." I instantly went numb, and my mother became hysterical. I looked at her and said,"Mom, you better start carving my gravestone."
My cancer diagnosis was a malignant brain tumor at the base of my brain. After an eight-hour surgery to remove the tumor, I endured 14 months of rigorous chemo and radiation therapy. The road to recovery was long and arduous. Many times during that first year, I didn't think I was going to make it. More times than I like to recall, I didn't want to survive, because the pain was so excruciating. I doubted that I would live to see fourteen, but after the five-year mark I was pronounced in total remission. I graduated high school and was accepted to college, but none of that was enough for me. I felt an obligation to help others avoid the pain, suffering, and the lingering effects that cancer leaves in its wake.
My mother and I suspected that bad genes or bad luck were not to blame, believing instead that environmental toxins were the culprit. In a small mining and milling town where I grew up, with a permanent population of only 1,700 residents, there were five brain cancers diagnosed in the same year as my diagnosis. When we turned to various state agencies for answers, we were almost always immediately turned away and given the same response: Your town is too small to be statistically significant. My mother taught me that "no" was never an acceptable answer, so we continued to fight for the 46 children a day that are diagnosed with cancer in the United States.
After extensive research and meetings with environmental scientists, community activists, and parents across the country, we formulated a piece of legislation that would finally change the way government at every level will respond to environmental exposures that contribute to cancer clusters. I could have never dreamed that 14 years after my diagnosis the President of the United States would be signing a bill in my name to give kids and adults with cancer and their families the voice they currently don't have.
Trevor's Law, a truly bi-partisan bill, was introduced by Senator Barbara Boxer (D-CA) and co-sponsored by Senator Mike Crapo (R-ID). It is cancer cluster legislation that gives authority to the appropriate federal agencies to collaborate with state and local governments, academic institutions, and the public to investigate and address potential cancer clusters throughout our country.
Two years after I first met with Senator Boxer and her staff, the legislation was finally ready for hearings. In what I'm told was a rare moment of true bi-partisanship, I testified for both the majority and the minority members of the Environment and Public Works Committee at their Oversight Hearing on March 29th, 2011. I explained the basis of the law and also let them in on what I endure on a daily basis since being cured: endless ringing in my ears, vision and memory problems, and yes—recurring depression and other Post Traumatic Stress Disorder symptoms (PTSD). Most other children who have battled cancer and won the fight face tougher obstacles, I am considered to be one of the lucky ones.
On June 9th, 2011, Trevor's Law passed out of committee. I was beyond thrilled until I heard that due to the fractured political climate, it was being held back, and it never reached the Senate floor for a vote. Passing Trevor's Law proved to be quite the roller-coaster ride: for several more years the bill sat in limbo, was re-introduced twice, disappeared, and seemed to be doomed to the heap of other bills never seen or passed. I couldn't stop envisioning the faces of children who would never get the chance to grow up, and the voices of suffering communities across the country still silenced.
I thought about giving up, forgetting the bill, because nothing seemed to happen in the halls of power besides gridlock. But then I would meet more young children battling cancer who had trouble speaking, who were wheelchair bound, some who eventually lost their fight and so many others riddled with the devastating effects of cancer. Their struggles took me back to my own battle, and made me ask myself: what got me through this illness? The love and support of my mother, patience, perseverance, and a determination to never give up. I realized I could not give up on this bill. I became my own lobbyist, never stopped calling the senators or hounding their aides about new ways to help get our essential bill recognized and passed.
In the fall of 2015, it all came together, thanks to the hard work and unmatched determination of Senators Boxer and Crapo and their staff. With very little fanfare, Trevor's Law was attached to the Toxic Substances Control Act (TSCA) reform bill, known as the Frank R Lautenberg Chemical Safety for the 21st Century Act. Even then, there were times when TSCA reform was on the verge of falling apart, and our bill would go down with it. After a series of last-minute debates and discussions, this monumental legislation passed. On June 22nd, 2016, years of fighting for the protection of our children and communities finally paid off, and Trevor's Law was signed into law by President Obama.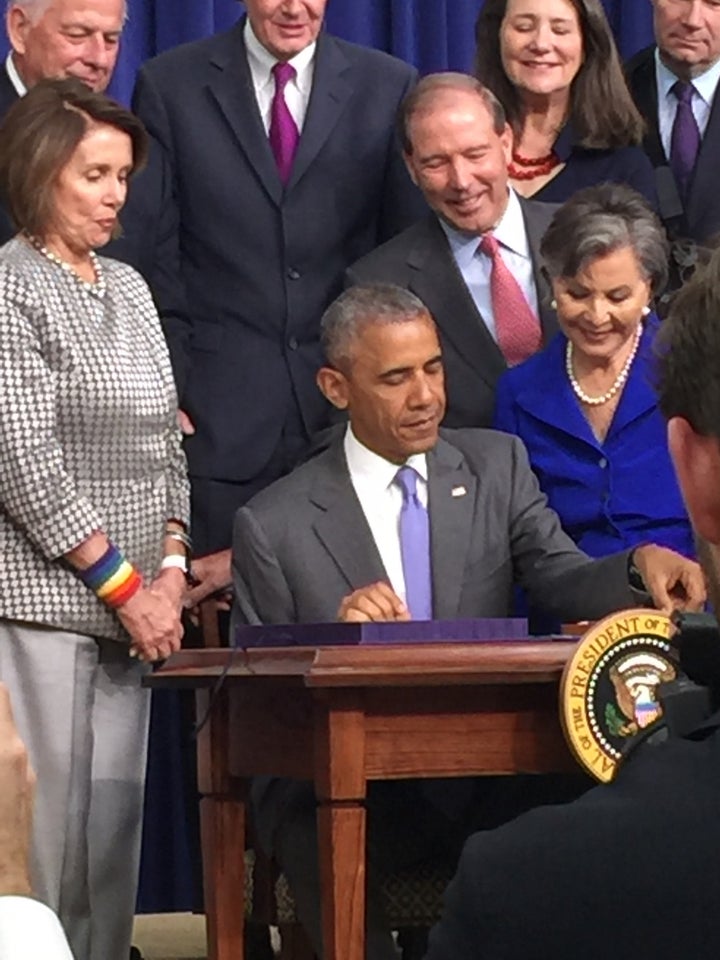 Immediately after the signing ceremony, we were invited to celebrate over lunch in the Senate dining room. Glasses were raised all around in a toast to our unwavering determination and ultimate success, but the fanfare was soon followed by sobering words: your work is just beginning. Our mission now is to ensure that the bill is fully funded and operational. There are families in communities across our country who have been waiting for Trevor's Law to throw them a lifeline. I will make sure that this legislation is not just my name on a piece of paper.