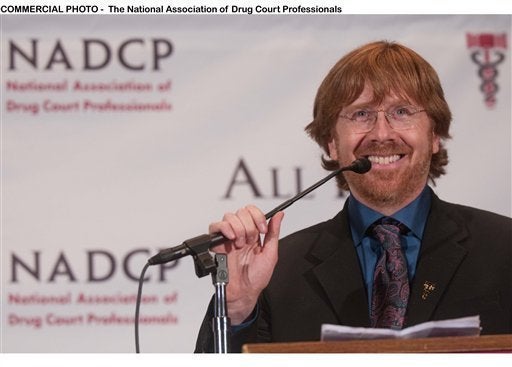 Phish's floppy-haired frontman is sporting a sharp, navy blue suit, which can only mean one of two things. And he isn't in a courtroom, so he must be on Capitol Hill, lobbying.
"My name is Trey Anastasio, and I'm a recovering alcoholic and a proud graduate of the Washington drug court program," he tells a gathering of drug court professionals and supportive members of Congress. "Yeah, Trey!" yells a Hill staffer in the audience, as if waiting for Anastasio to whip out his guitar.
In 2006, Anastasio was sent to drug court in Washington County, New York, after getting pulled over drunk and arrested for possession of pills he was addicted to in Whitehall.
Any cause worth its appropriation needs an anecdotal success story, and Anastasio is here on a Wednesday evening to tell his. Anastasio, a private cult-celebrity who is rabidly apolitical, rarely tells the story of his addiction or takes political positions, but he's making an exception for the drug courts.
"My life had become a catastrophe. I had no idea how to turn it around. My band had broken up. I had almost lost my family. My whole life had devolved into a disaster," he says. "I believe that the police officer who stopped me at three a.m. that morning saved my life."
He spent 14 months in the drug court system, he says, scrubbing toilets and cleaning fairgrounds. "I've been sober for two-and-a-half years," he says to applause. "My children are happy. In August, my wife and I will celebrate our fifteenth wedding anniversary. My band is back together with a sold-out tour. And in September I'll play a solo concert at Carnegie Hall with the New York Philharmonic." That last part really impressed the Hill crowd.
His presence might aid the cause, but drug courts are among those rare programs that don't need to rely on anecdotes alone. Because they work.
Upon release, between 60 and 80 percent of drug users commit a new crime -- most often drug-related, according to Department of Justice stats. And, according to a study in Prison Journal, 85 to 95 percent begin using again almost immediately -- if they ever even stopped.
Anastasio saw it first-hand when he missed an appointment and was sent to jail for two days. "I can tell you that behind bars there was rampant drug use," he says. "What's more, the people I met there spent their time blaming judges and lawyers for their circumstances. Not in drug court. In drug court, full responsibility rest with you and you alone."
Drug courts, meanwhile, produce graduates intent on staying out of prison. Nationally, 75 percent of graduates stay out of jail for at least two years after leaving the program, a rate that the "corrections" industry could never dream of attaining.
Anastasio is on hand for the (non-alcoholic) celebration of the 20th anniversary of the founding of drug courts. Earlier in the day, acting Office of National Drug Control Policy Director Edward Jurith presented drug court advocates with a five paragraph, framed proclamation from President Obama, signed and dated May 6th, pledging his full support for the program. There is clearly a new drug czar in town. Jurith even consents to an interview with the Huffington Post, evidence of the administration's new posture if any were needed. He praises drug courts as an effective, evidence-based approach to addiction.
Despite their proven effectiveness over the past two decades, drug courts have had to compete for dollars with the prison industry, and when it comes to lobbying might, the drug courts are outgunned. Despite the expense and ineffectiveness of locking people up, the U.S. continues to do it at rates higher than any other nation. Nationally, more than $60 billion was spent locking people up last year. States spend $65,000 on prison construction per inmate and another $23,876 annually to take care of the prisoner, according to the Pew Public Safety Performance Project.
The fiscal year 2009 budget, with a Democratic Congress and a Democrat in the White House, was better for drug courts than the Bush years had been, with funding roughly tripled to $64 million. And 2010 will be even better. On Thursday, Obama requested a big jump for the next year's budget, but the total figure is embargoed until 12:30 p.m. [UPDATE: Obama's budget asks for $118 million for the program, a doubling. It will still only cover a fraction of those needing it, however.]

States, however, have led the way, because it's on the ground level where the problem of drug addiction is truly felt. State lawmakers can't get away with pumping money into a wasteful drug war. They need results.
Indeed, meth addiction helped build the nationwide system of local drug courts. The trend began in response to cocaine, with the first drug court established in Miami in 1989, but it rose in tandem with meth use and continued upward even after the rate of speed use began to decline. By 2005, there were more than 1,500 drug courts in operation. By 2008, there were nearly 2,500. Still, that number served only 120,000 addicts, a tiny fraction of the number who needed treatment.
More than 2.3 million adults -- one American in 100 -- are now behind bars. Roughly 1.2 million are non-violent drug-abusers, according to a 2008 Urban Institute study.
In 2000, California voters approved a program to provide drug treatment, rather than prison time, for nonviolent drug-possession offenders. A study of the law found that it saved the state $1.3 billion over its first six years, and that for every tax dollar invested, California saved $7 dollars thanks to reductions in crime and health-care costs. Oregon, also hit hard by meth, factored in savings on prison costs and health and welfare spending and found that treatment returned $5.62 on every dollar spent. Maryland, Texas, and Utah followed by passing their own treatment-over-incarceration laws.
A two-year study, published in the journal Addiction in 2008, found that those parts of the country that turned to enforcement instead of treatment fared poorly. Researchers looked at several counties in Arkansas, Kentucky, and Ohio that had tightened laws around meth in an effort to curb supply. They discovered that, when confronted by a shortage of their favored drug, meth users simply switched to snorting coke. Overall, such areas saw a 9 percent increase in cocaine use after their meth laws were enacted.
As the local movement toward treatment gained strength, it finally received some notice in Washington with the 1994 institution of the federal Drug Court Program. Led by then Sen. Joe Biden of Delaware, it authorized $250 million. But authorizations are worth nothing if the money isn't appropriated. It wasn't.
The way the program was structured and funded indicates the movement's grassroots nature: It created no nationwide effort aimed at establishing a system of drug courts, but rather allowed localities to apply for federal grants for whatever it is they're doing. In 2007, the entire federal program was cut a check for $19 million for the courts and for treatment -- at $400,000 per state, that's about as paltry a sum as Washington can conjure.
Following Anastasio, one member of Congress after another takes the podium to rail against current drug polices. "What an indictment it is of our system of justice," says Sen. Jack Reed (D-R.I.) of the millions behind bars, saying the nation is "criminalizing a public health problem."
Rep. Patrick Kennedy (D-R.I.) talks up his idea of a "veterans court" for returning warriors "self medicating" for post-traumatic stress.
David Simon, the creator of The Wire, is on the Hill, too, and tells the Huffington Post he backs drug courts "to the extent it increases the medicalization of the problem."
The idea that drug addiction is a health problem rather than a criminal one is catching on in Democratic circles. With major health care reform on the horizon, the timing couldn't be better for drug court advocates, says Rep. Sam Farr (D-Calif.).
"This certainly ought to be one of the basic tenets of a national health care plan," says Farr.