WASHINGTON -- Rep. Trey Gowdy (R-S.C.) on Wednesday morning urged his fellow lawmakers not to use the investigation he is leading into the 2012 attacks in Benghazi, Libya, to raise money, calling it a subject that "transcends politics."

Minutes earlier, the National Republican Congressional Committee sent out a fundraising email tied to Gowdy's role leading a select committee to investigate the attacks.

The timing of the two events points to a problem that Republican leadership will likely encounter as it looks into the Obama administration's handling of the attacks on the U.S. consulate in Benghazi, which left four Americans dead. The temptation to rev up the base and raise money from it too could end up damaging the investigation's credibility even before it starts.

Appearing on MSNBC's "Morning Joe" Wednesday, Gowdy seemed aware of that particular pitfall. Asked by the hosts whether he thought members of Congress should withhold from fundraising off of the Benghazi select committee, he responded: "Yes, and I will cite myself as an example. I have never sought to raise a single penny on the backs of four murdered Americans.
"Even in a culture of hyper-partisanship, [there are] certain things that ought to be above politics, like the murder of our four fellow Americans, and whether or not you can trust what any administration –- Republican or Democrat –- tells you in the aftermath of a tragedy," he said.
But about half an hour before Gowdy made those comments, the NRCC sent out an email from a website it runs called BenghaziWatchdogs.com. "A new Select Committee headed by South Carolina Congressman Trey Gowdy and appointed with special powers by Speaker John Boehner will begin a thorough investigation of what happened that night," it read.
In the email, the NRCC linked to a contribution page that alerted those who clicked through that they were "now a Benghazi Watchdog" and asked them for donations ranging between $25 and $500
A separate link in the email brings the recipient to another contribution page that was published on May 6, after the select committee was announced.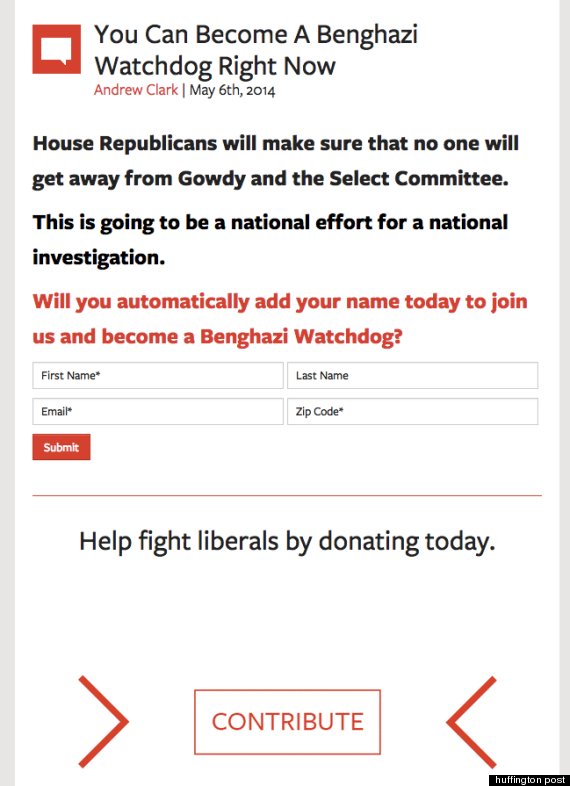 Reached for comment, Andrea Bozek, the NRCC's communications director, suggested that the committee is not going to back off its Benghazi-related fundraising campaigns.
"The Obama administration has not been honest with the American people with regards to the security failures in Benghazi, which left four Americans dead," she said. "Our goal is to hold Democrats in Congress accountable who vote against creating the select committee on Benghazi and who continue to try to sweep this controversy under the rug."
The committee isn't the only one jumping in on the Benghazi fundraising bonanza. Andy Tobin, the speaker of the Arizona House of Representatives and a Republican candidate for Rep. Anne Kirkpatrick's (D-Ariz.) congressional seat, sent out his own fundraising email tied to the select committee earlier this week.
UPDATE: 2:00 p.m. EDT -- Gowdy now has called on the NRCC to stop fundraising off of the Benghazi select committee.
"I cannot and will not raise money on Benghazi," Gowdy said in an interview with CNN's "The Lead with Jake Tapper." "I also advise my colleagues to follow suit."
This article was updated after publication with a response from the NRCC.
Support HuffPost
The Stakes Have Never Been Higher
Before You Go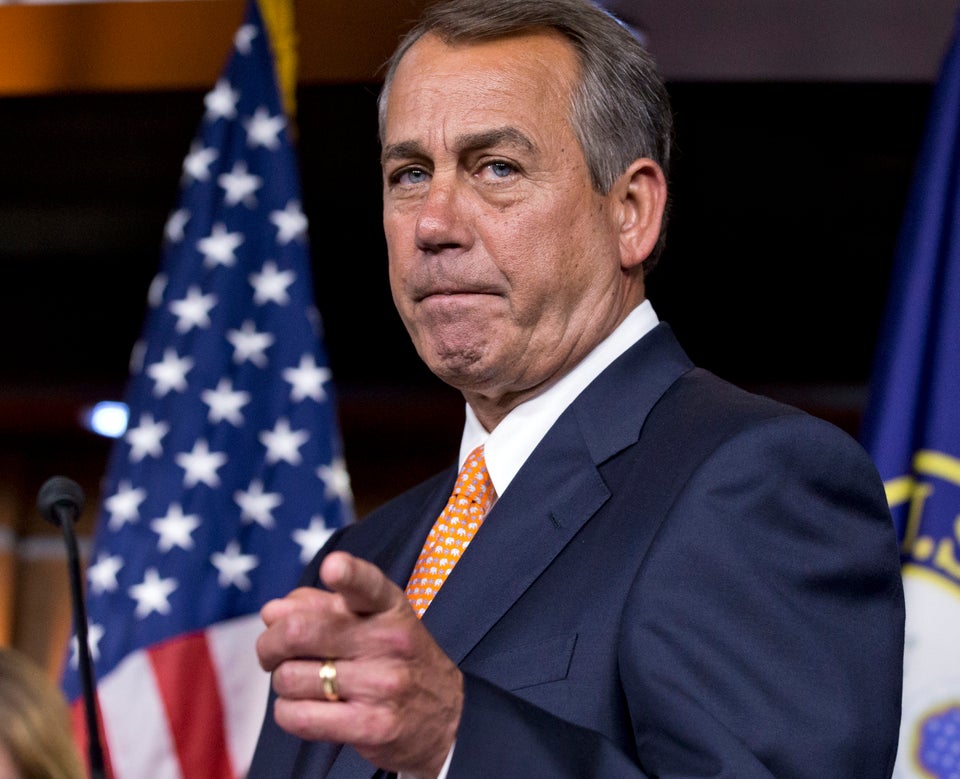 Conservatives Pointing Fingers
Popular in the Community