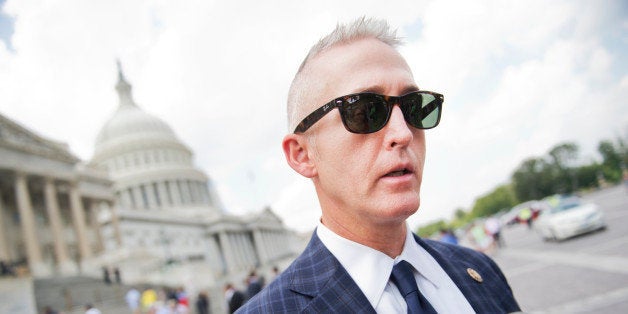 WASHINGTON -- As he strode into the hearing room in the Capitol Hill visitor's center on Sept. 16, Rep. Trey Gowdy (R-S.C.), chair of the special congressional committee investigating the 2012 attack in Benghazi, made a quick beeline to a member of the crowd.
It wasn't a fellow lawmaker. They were already on the dais waiting to begin the first open hearing. Nor was it one of the roughly dozen reporters on the side of the room. Rather, it was an aide to Rep. Elijah Cummings (D-Md.), Gowdy's minority-party counterpart, who had grabbed the chairman's attention before official business began.
Gowdy tapped the aide on the shoulder, said a brief hello, and was on his way. The exchange lasted no more than a few seconds.
"Are you buddies?" The Huffington Post asked the aide later.
"Oh yeah," came the response.
They aren't. But those fleeting niceties were an indication that the hearing wouldn't be the firestorm that had been expected. Gowdy, far from the pugnacious interrogator he had shown himself to be in prior settings, wasn't spoiling for a fight that morning.
Instead, the proceedings were nearly as straightforward and professional as that greeting. Nearly. Over the course of several hours, State Department officials were grilled on American security and the findings of the Accountability Review Board, or ARB, which had been commissioned to look at what went wrong when militants attacked the American diplomatic compound in Benghazi, Libya, killing Ambassador Christopher Stevens and three others. It was meticulous and, at times, snoozy. Stories produced by the attending press corps were similar: Gowdy's management had surprised -- not for the fireworks, but for the lack of drama.
For those who worked with Gowdy before he was a hot-shot member of Congress, this wasn't surprising at all.
Long before his 2010 election to Congress, Gowdy was a well-regarded federal prosecutor in South Carolina. He tried cases mostly involving narcotics -- once estimating that drug crimes made up 90 percent of his workload -- but also robberies, child pornography, the first federal murder case in upstate South Carolina in more than a quarter-century, and even a criminal who made "America's Most Wanted."
Those who worked with with him when he was an assistant U.S. attorney, and later after he was elected as a solicitor -- South Carolina's equivalent of a district attorney -- praised his demeanor and approach. He was a showman, for sure, personally handling trials as solicitor, even though his job was more managerial. But he was disarming inside a courtroom and serious about the work.
John Delgado was one of Gowdy's legal sparring partners in South Carolina. Delgado, a "yellow dog" Democrat who "can't wait to put a Hillary sign" in his yard, said during an interview with The Huffington Post over the summer that Gowdy was "very personable, forthright individual." Those times when they'd argue drug cases in the federal courthouse in Greenville, South Carolina, Gowdy would deploy the type of interpersonal skills that would serve him well as a politician.
"He got up in front of the jury -- this is the South, this is just the way we do things -- and I remember Trey saying, 'First thing I want to say is good morning to y'all!" Delgado said. "And the jury responded 'Good morning!' It just flows out of him."
Despite their political disagreements, Delgado called Gowdy a "very capable prosecutor" who was "measured, well-prepared, nuanced, and yet most, most willing to preach to his choir." The guy, he said, "knows his audience."
Beattie Ashmore, a former federal prosecutor who worked a large number of drug cases with Gowdy, had similar recollections. He remembered Gowdy being "incredibly diplomatic and talented in the courtroom" and said he expects the Benghazi hearings to be handled in a similar manner.
"Trey will be prepared, Trey will be tenacious," Ashmore said. "I'm not a D.C. guy, but I watch CNN and Fox News like everybody else. I've seen my friend Trey on YouTube, that's his style. He's able to ask you the most offensive question that one could ever be asked and do it in a vanilla-flavored way."
Sometimes there are other flavors. For all his charm and prosecutorial acumen, Gowdy is ambitious. It's a trait that defined his professional conduct, even during his South Carolina days.
"I do recall him saying to me one time that 'Either next year at this time I'm gonna be in private practice … or a United States congressman,'" said Delgado. "He was making plans then."
Perceptions of Gowdy as a fast-moving grandstander followed him to Congress. He came into office on the 2010 tea party wave, and his penchant for creating camera-ready moments quickly became a trademark, alongside his erratic hair styles.
Sitting on the House Oversight Committee, Gowdy pestered witnesses. Basic criticisms about the Obama administration were turned into over-the-top polemics about the country's crumbling legal foundations. He insisted that Lois Lerner, a top IRS official, had forfeited her Fifth Amendment rights by delivering an opening statement to the committee before going silent -- a strand of legal logic that lawyers found curious. He railed against Attorney General Eric Holder before voting to hold him in contempt of Congress for not turning over documents in connection with a botched federal gun-running investigation. More than anything else, he delivered scathing broadsides about Benghazi.
So when House Speaker John Boehner (R-Ohio) announced that Gowdy would chair a special investigation into the Sept. 11, 2012, attack, Democrats reacted with eye-rolling. And, for a moment, it seemed their suspicions would be confirmed. Gowdy said he would demand answers to questions that had already been asked, and got into trouble for framing the investigation as a court trial, with him, naturally, playing the role of lead prosecutor.
But as quickly as the guffaws started, they stopped. Months passed with barely a peep out of the usually vocal Gowdy. Skeptics saw it as the logical evolution of a manufactured crisis -- once the headlines died down, so too did the actual work. But Gowdy's office said the lack of pomp is by design.
"When all is said and done, Chairman Gowdy intends to lead the committee in a manner that produces a final accounting that is worthy of the sacrifice made by the four brave Americans we lost in Benghazi and worthy of the trust of all our citizens regardless of their political leanings," Gowdy's spokesman, Jamal Ware, told The Huffington Post. "He has said repeatedly, to anyone willing to listen, he wants this process to be viewed as fair."
The truth about the committee's progress likely lies somewhere in the middle. Some Democrats worry that Gowdy's patient approach is just a ruse, and that he'll pounce more forcefully once the 2016 campaign comes around and Hillary Clinton is running. Others have complained that the committee lacks basic organizational structure. According to aides, there have been no business meetings to discuss the scope or timetable of the investigation. The committee has a divided staff (20 for Republicans, 10 for Democrats) and budget (same proportional breakdown).
"This Select Committee was created in May because there was an urgent need to address all of these 'unanswered questions' about the attacks," said one Democratic aide. "They were allocated $3.3 million just for this year to do this. And here it is September and the committee is holding its first public hearing and it is on a Democrat's idea."
For Gowdy's defenders, there is an operational explanation for the slow pace. Investigators have been going through previous testimony and reports to avoid duplication. They've built classified systems, which takes time, met with victims' family members, and, according to several sources, held classified briefings.
Deliberativeness is also done for the sake of legitimacy. Though no one would admit it on the record, Gowdy clearly is contrasting himself with Rep. Darrell Issa (R-Calif.) As chair of the Oversight Committee, Issa has been a bombastic thorn in the side of the Obama administration. He runs investigations with little patience, cutting off microphones and leaking incomplete materials. He has a toxic relationship with Democrats.
Gowdy has contributed to that dynamic with his own theatrics. But according to sources close to him, he also recognized the pitfalls of that approach. While Issa proved adept at winning news cycles, his investigations often have been tainted by the perception of partisanship, so much so that the findings have suffered from instantaneous distrust.
"The emphasis [for Gowdy] is on making this as boring as possible," one source close to the committee put it.
Those in Gowdy's office have flicked away talk of the Issa contrast, in part because they see his committee as different in objective. But if you read between the lines, it's hard to not see it as a motivating force.
"As a prosecutor, Chairman Gowdy learned the importance of preparation and the necessity of thoroughness," said Ware, his spokesman. "He also learned that process matters as much as the final result. Having the facts but lacking credibility accomplishes nothing. That is one of the reasons why the Chairman has emphasized conducting this process in a fair, fact-driven manner to ensure the final outcome of the Committee's investigation is beyond reproach."
That Gowdy wants to distinguish his style was evident from the first hearing. During opening statements, he leaned back in his chair, head jutted forward, giving him an inquisitive glare. While other members looked at their papers and tablets, he never turned away. When it came time to ask questions, he deferred, letting others take the first whacks. More than one aide noted that it was distinctively un-Issa-like to cede the opening spotlight.
When it came time for Gowdy to ask questions, however, the courtliness began to fade. He read witnesses portions of a document that outlined needs to beef up security at the U.S. compound.
"Do you know what that's from?" he pressed Gregory Starr, the assistant secretary of state for diplomatic security, who worked briefly under Hillary Clinton when she was secretary of state.
"I believe it's part of the ARB report," said Starr.
"From 1999," Gowdy said, emphasizing the numbers for effect.
In a brief moment, Gowdy had deftly cast the promises of post-Benghazi reforms as the usual platitudes that follow a crisis. It was a classic performance. Like the prosecutor working a South Carolina courtroom, Gowdy had spent hours winning the trust of the crowd, before going in for the kill.
As the committee ramps up, old associates expect more to come.
"I'm really looking forward to seeing former Secretary Clinton and Trey square off," Delgado said. "That's gonna be very interesting."
CORRECTION: A previous version of this article misspelled John Delgado's last name.
Calling all HuffPost superfans!
Sign up for membership to become a founding member and help shape HuffPost's next chapter
BEFORE YOU GO
PHOTO GALLERY
Attack On U.S. Compound In Benghazi