WASHINGTON -- Rep. Trey Gowdy (R-S.C.) said on Sunday morning that, as chair of the newly created select committee on Benghazi, one of the biggest questions he would like to ask former Secretary of State Hillary Clinton is why the United States was still there.
"Why were we still in Benghazi? The British ambassador was almost assassinated. Our facility was attacked twice. There were multiple episodes of violence. We were the last flag flying in Benghazi, and I would like to know why," he said on "Fox News Sunday."
Gowdy's right in noting that the situation in and around Benghazi was harrowing. A month before the attack on the U.S. diplomatic mission in Benghazi on Sept. 11, 2012, U.S. embassy personnel in Libya were attacked by armed assailants in a possible carjacking. Three months before the Benghazi attack, a U.K. diplomatic convoy in Benghazi was attacked and two people were injured. And in June of 2012, a bomb was set off at a wall of the U.S. mission in Benghazi.
In light of those incidents, it does seem worthwhile to understand the strategic decisions that led American diplomats to stay in place. And, indeed, other members of Congress have asked those questions, and they've actually asked them of Clinton.
Clinton testified in front of the House Foreign Affairs Committee in January 2013 and was asked the following question by Chairman Ed Royce (R-Calif.):
So here's the point. Senior officials fully appreciated the grave threats in Benghazi. They knew that al Qaeda was there. They knew that our security was insufficient. But instead of adding security, in this case they took it away. They withdrew mobile security detachment teams. They sent packing a special team that the Defense Department provided, and provided at no cost. So if senior officials knew that our diplomats weren't safe and weren't adequately staffed, then why did they continue to withdraw security?
Well, there is a lot of important questions in that, Mr. Chairman. And let me begin by saying that I was aware of certain incidents at our facility and the attack on the British diplomat. I was briefed on steps taken to repair the breach in the perimeter wall after the June bombing, steps taken to reduce off-compound movements.

Our team, led by security professionals, but also including intelligence professionals and others, did not recommend, based on those incidents, abandoning Benghazi. In part, because over the last years we have become accustomed to operating in dangerous places, in Pakistan, in Iraq -- excuse me -- in Afghanistan and Yemen and elsewhere. And we do, as by necessity, rely on security professionals to implement the protocols and procedures necessary to keep our people safe. And as I said in my opening statements, because you know, most of the time they get it right.

But I was also engaged -- and I think this is what Deputy Secretary Burns was referring to -- in the issues related to the deteriorating threat environment, particularly in Libya. There were other places across the region. We were also watching to try to see what we could do to support the Libyan government to improve the overall stability of their country to deal with the many militias. We have many programs and actions that we were working on. I had a number of conversations with leading Libyan officials. I went to Libya in October of 2011. In fact, shortly before the attack on Benghazi we approved Libya for substantial funding from a joint State/DOD account for border security, CT capabilities and WMD efforts.
Clinton's answer may not have been satisfactory for some lawmakers. But the question was asked. And some of Gowdy's other lines of inquiry into Benghazi have already been explored, as well.
Appearing on Fox News on Sunday morning, House Speaker John Boehner (R-Ohio) took a slightly different approach. While he said the select committee should focus on the events leading up to the Benghazi attack, he specifically said that members should investigate "the number of requests for more security and why it was not provided."
Support HuffPost
The Stakes Have Never Been Higher
Before You Go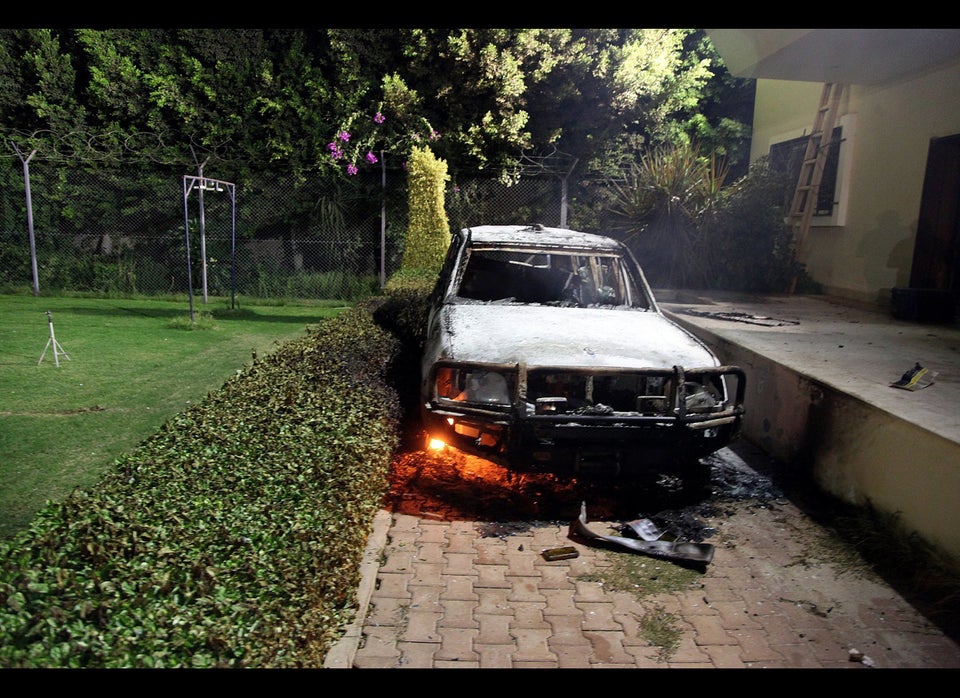 Attack On U.S. Compound In Benghazi
Popular in the Community