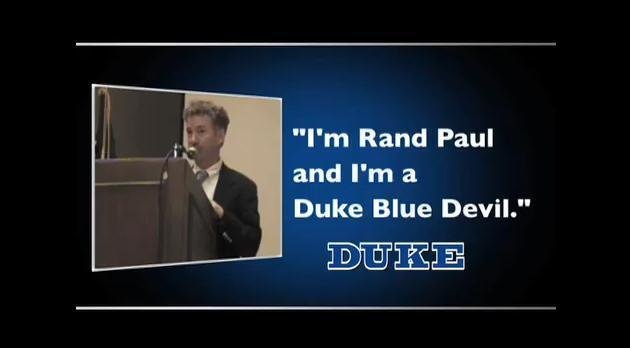 In the Kentucky Senate race, current Secretary of State Trey Grayson is the preferred candidate of the GOP establishment. But Grayson has thus far been unable to overcome a primary challenge from Rand Paul who -- paced by his father Ron Paul's indefatigable fan base and Kentuckians' natural love for South African currency -- is dominating in the polls.
As the Washington Independent's Dave Weigel has been documenting for a long while, there's been a real unwillingness among party officials and local media to admit that Paul is the decided frontrunner in the race. Back in December, Weigel captured the contest thusly:
Six months out from the state's primary, there's reason to ask whether Grayson's sleepy Rose Garden campaign is failing to take Paul seriously.
Yes, Rand Paul obtained his M.D. from Duke University, like his father. Had Carly Fiorina's people made this ad, they probably would have included a shot of Christian Laettner eliminating Kentucky in the 1992 tournament while flashing red demon-sheep eyes. But in a basketball-mad state, maybe Grayson can drive up Paul's negatives by associating him with the hated Blue Devils.
UPDATE: An eagle-eyed reader sends along a newspaper clipping that demonstrates that Trey Grayson wasn't always so hostile to Duke University: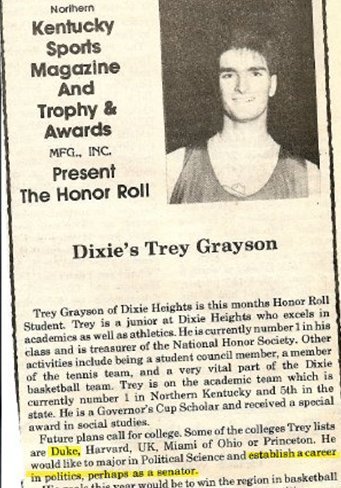 Calling all HuffPost superfans!
Sign up for membership to become a founding member and help shape HuffPost's next chapter