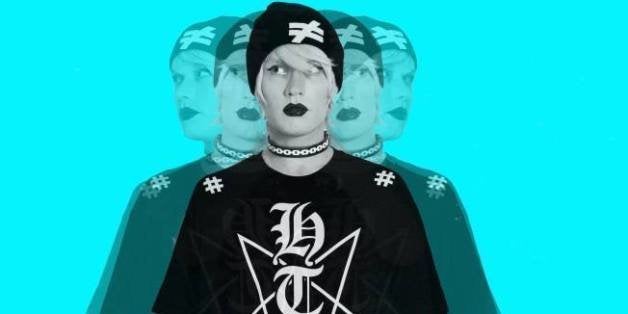 This is the twenty-third installment in an ongoing series that explores drag culture and the nightlife scene in Brooklyn, N.Y. Over the past several years, following the large-scale exodus of artists across the East River and into northern Brooklyn, those engaged in drag culture in this outer borough have created a new, queer world entirely their own. Accompanied by a larger movement to understand drag culture outside of the pageant circuit, many individuals engaged in the drag community in this borough approach drag culture through a nontraditional lens of "alternative" drag or performance art, enabled largely by the malleable and queer nature of this part of New York. Visit HuffPost Gay Voices regularly to learn not only about the individuals involved in Brooklyn's drag community, but more about the culture of the community itself.
The Huffington Post: How did you get your start in the drag and nightlife world?
Trey LaTrash: I guess you could say I've been in drag since I was 15. I attended Clarke Community High School in Osceola, Iowa, which was consolidated with other small towns in the area and was the only high school with a graduating class of 75. I experienced extreme bullying and was pissed off. Instead of hiding, my response was to take things further. I accepted what they said about me, owned it and pushed it right back in their faces.
That being said, I think nightlife can be a place where people who are shunned during the day are celebrated. Fast forward to college and the same was true. I was harassed by the people who worked at the bar my friends and I frequented and threw my first party, a free kegger, a block away on their most popular night in protest. Eventually, with with the help of Troy Kyro and Bootytronic, I moved into clubs and my last year at Iowa State University I was invited to play VEISHA with them. VEISHA is ISU's big outdoor annual festival. We got a big crew together and basically paraded from my house to the stage, releasing LED lit balloons that you could see from all over town. It was a good show, complete with a marriage proposal and attendees getting naked on stage during my set. It was pretty risqué for an ISU event. I moved to NYC shortly after and threw my first "Dizzyland" -- my monthly party -- two weeks after moving here.
Your work is different than most of the other featured artists and performers in this series. What do you do?
I don't consider myself a drag queen because I'm not a performance artist. If you really want to carry you can say my performance method is non-performance -- but whatever. Also, my goal isn't to "transform" into a "woman," etc. It's always been my point that it's a dude doing these things. Trey LaTrash is a boy's name. I went to school for fashion design and had my first bag of makeup handed to me at the age of three. But I would rather DJ or throw an event than perform in the ways that all my amazing friends do. Ultimately, I'm a boy in makeup who is interested in the social and community aspects of all of this. I also design street wear under the name Pop Psychic, which is a sister of the collaborative label NVR MND.
How have you seen the Brooklyn scene develop and change since you moved here two years ago?
When I first arrived and started raging someone said to me, "You got here at the perfect time, Brooklyn needed you." I was flattered but I had no idea what they meant. At first I spent a lot of time in Manhattan, but Bushwick very quickly showed itself and truly inspired me. In a way it reminded me of Iowa, where if you want to see something happen you need to make it happen, but was more rich in the resources I needed to make it really work. Myself and a handful of others quickly staked our claim, and since then I have seen all of us flourish like one of those stubborn and mystifying weeds that manage to grow out of the sidewalks here. Then came the second wave -- people who saw what was happening in north Brooklyn and were inspired. Eventually our neighbors started going to Manhattan less and less to party because there were cute things to do in the hood. And now Manhattan people are coming to Brooklyn, like Susanne Bartsch with her party KUNST, which I hosted the premiere of last month.
How do your parties create and inform a space for radical queer artistic expression?
With my monthly party "Dizzyland" I try very hard to bring people together who may not be otherwise. I want you to leave your differences at the door and vibe the fuck out. And it works. The party I threw in March was angled directly at straight people, because I noticed that at every party I had people telling me they were straight in a way that made me want to address it.
Queer doesn't mean homosexual.
Sometimes my lineups tell a story, or comment on something I can't get out of my head. But they are always interesting groupings, at least to me.
PHOTO GALLERY
Trey LaTrash
Describe the drag scene and community in Brooklyn –- how is it different from drag culture elsewhere?
I feel like this thirst for freedom and value found in winning the competition of tangible bizarre has produced something specific to this area. I see a lot of boundaries being pushed and a lot of lines being crossed but most of it seems to be done in a way that is sensitive and respectful in the long run. Maybe that is queer mentality.
What role do you see drag culture and the nightlife scene playing in the trajectory of the changing landscape of Brooklyn itself?
I think the large and public presence of this queer and drag culture provides an air of acceptance for everyone. Brooklyn's like, "we're so cool just TRY and freak us out, man" and so we try -- and sometimes we succeed. So this high level of tolerance mixed with other cultures like art and music, especially in Bushwick, has the potential to make this moment something that goes down in history as really great.
Where can you be found throughout the week?
Every Thursday I do "Bless This Mess" at Wreck Room. BTM is like "Dizzyland's" punky little sister, and one night per month we call it Mirror//Mirror where we all celebrate a particular clubkid from this area. Last time we mirrored Cher Noble, next time is Gerry Visco (it's really fun). "Dizzyland" is my monthly at the Spectrum. I'm the resident DJ for Marry/Fuck/Kill, at Tandem on the first Tuesday of each month, which is really Cher Noble and Hamm Samwich's party. If I'm not booked or exhausted, I really love Hamm Radio at This N' That, BathSalts at Don Pedro, F.R.A.T., NVR FUN, and anything at Bossa Nova.
Any parting words?
Open up.
Missed the previously featured drag performers and installments in this series? Check out the slideshow below.
Calling all HuffPost superfans!
Sign up for membership to become a founding member and help shape HuffPost's next chapter
BEFORE YOU GO
PHOTO GALLERY
Queer New World: Brooklyn Drag Culture