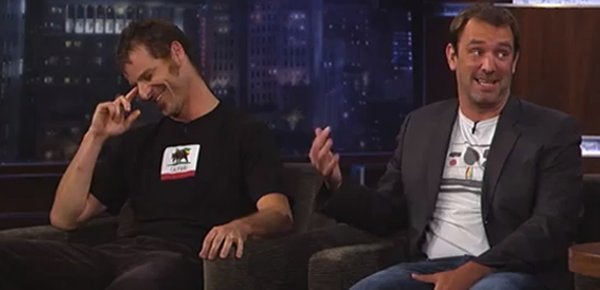 Trey Parker and Matt Stone have come a long way since the construction paper days of "South Park."
Between their hit Broadway musical (now destined to become a film), "South Park" beginning its 15th season and a Comedy Central documentary about them premiering next week, right now the foul-mouthed duo can do no wrong.
Seems like the perfect time to clear up what kind of drugs they were on in the year 2000, right?
In a three-part interview on Thursday night's "Jimmy Kimmel Live!," Parker and Stone talk about "Six Days To Air" the new documentary about their "South Park" creative process (of which we got a taste on last week's "60 Minutes"), as well as their recent foray into teaching at NYU and of course, "The Book Of Mormon." But they also took time to clear up a recent confession they made about their notorious trip to the 2000 Oscars in ladies' gowns.
Fearing that people may think they were on cocaine, the guys made sure last night that Kimmel and the rest of the world knew they were actually on acid at the Oscars. We'll leave it up to you to decide whether or not that's an important distinction -- we were more taken aback when they said they had bought back-up tuxes and almost chickened out of wearing the gowns!
Watch all three parts below to hear the acid story as well as what it was like to be the subject of a documentary about their insanely fast turn around on "South Park." And when we say fast, we mean fast. According to them, they haven't even formulated the plot of next week's premiere, only five days away. And yet, "The Book Of Mormon" took them seven years!
The new mid-season premiere of "South Park" airs Wednesday Oct. 5 at 10:00 p.m. EST on Comedy Central and "Six Days To Air" hits TV on Sunday, Oct. 9.
Popular in the Community