The lush vineyard-laden valleys of Napa and Sonoma counties have been well-documented, but not far away is a less-frequented wine-producing region located in a trio of valleys stretching from Alameda County north into Contra Costa.
The verdant Amador, Livermore and San Ramon valleys are home to a thriving wine industry with deep historic roots. Livermore's Wente Vineyards, for example, is a fifth-generation winery that traces its origins to 1883, and is the oldest continually operated family-run winery in the country. The Concannon Vineyard, in Livermore, is where the Petite Sirah varietal of grape was first introduced.
Livermore Valley, about 50 miles east of San Francisco, boasts more Ph.D.s than Silicon Valley, more than any city in the country, as a matter of fact. If you're scratching your head over that one, keep in mind that in addition to viniculture, the city contains the labs of Lawrence Livermore and Sandia.
Downtown Livermore is a quaint Main Street-like setting occupied by fountains, gazebos, ethnic restaurants and a towering flagpole displaying the Stars and Stripes. It is here, in the shadow of the flag that your trip to wine country ought to start. Nestled within a charming building is Winemaker's Pour House, a tasting room/restaurant that features live music each night.
The proprietors know their local vino and will help inform your tour through the valleys. In addition, this is the best food you're going to find at a tasting room. Their cheeses come from Cowgirl Creamery and the charcuterie from Zoe's Meats.
And once you've lined your stomach, it's time to take the top down and hit the road. There are more than 50 wineries in the Tri Valley, and nearly all have tasting rooms -- it's important to seek out the best ones. Here are a few of my favorites:
Steven Kent Winery: The Barrel Room is what a cellar would feel like if it had a first-class section. The staff, steeped in the history of the local wine, are guides more than pourers. Lloyd Bell shared with me some insights about the current harvest.
"2013 is going to be a banner year," says Bell. It was a statement that I would hear again and again. The Bordeaux-style reds at Steven Kent are unparalleled in this region.
Darcie Kent Vineyards: Set beside a red barn teeming with rusticity, the interior of Darcie Kent's new winery is anything but. Minimally furnished and featuring a purple motif, the house is a showcase to the vineyard-inspired art of Darcie Kent.
The tasting room offers not only the best whites for my money, including a Sauvignon Blanc with notes of jalapeno and tropical fruit, but it boasts the best soundtrack, with Pink Floyd, Led Zeppelin and Santana on the Pandora.
Nottingham Cellars: Located in a semi-industrial strip near the Lawrence Livermore lab, Nottingham is a pint-size room with some really big reds like the Supremacy blend.
"This is our flagship wine; we're really proud of it," says winemaker Jeff Cranor.
Wente Vineyards: The granddaddy of Livermore wines, Wente is the oldest continuously operated family-run winery in the country. The fifth-generation vineyard not only offers tastings of their acclaimed wines, it features an 18-hole golf course, organic garden and the best restaurant in Livermore.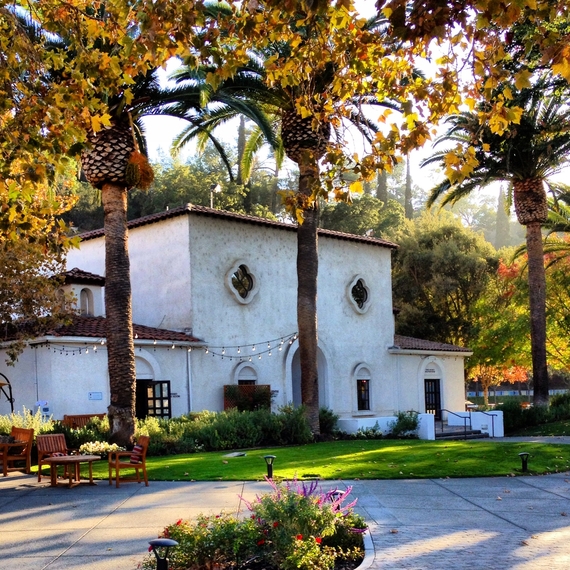 Wente Vineyards: The oldest continually operated family-run winery in America. (Photo by Scott Bridges)
But there's more to the Tri Valley than Livermore; there's the beautiful old town of Pleasantown, the contemporary shops of Dublin, as well as the quaint charm of Danville in the northernmost part of the Tri Valley, in Contra Costa County. It is here where you'll find The Vine at Bridges, a classy tasting room that draws an attractive crowd of locals and tourists, and features a wide variety of local and international labels.
As you plan your Tri Valley trip, bear in mind that you'll need a vehicle to travel between cities and to tour wine country. If you decide to fly in, I recommend the small and not-too-busy airport in Oakland, which is connected to the BART (Bay Area Rapid Transit) system. I took the BART to the end of the Blue Line -- Pleasanton/Dublin, where the amenities-loaded Hyatt House is conveniently located just blocks from the track.
Popular in the Community