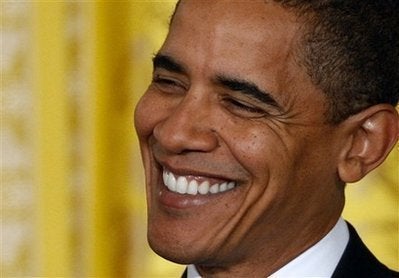 There's a sense of urgency emanating from The White House. Political analyst David Gergen has described it as the actions of an ambitious president for whom things are going well. And that's good. There's nothing herky-jerky about it. All seems well planned and, with few glitches, well executed. It's promising, not only because it's happening so soon, but also because President Obama displays the energy and intellect required to pull rabbits out of some hats that we'd had every reason to consider empty.
But one crucial issue gets little attention during this necessitated triage. Listed on the White House website as an "additional issue," it barely even came up during the campaign. Yet we read about it nearly everyday -- babies and children being beaten, drowned, burned or neglected to death.
While our leaders don't intend to be dismissive about the lives of children, President Barack Obama has shown us anew that words matter -- and that how we think about things matters. The ways in which the new administration prioritizes, frames and presents issues tells us whether Obama believes they are urgent or belong on the back burner.
So consider the following:

- In 2006, nearly 1 million children were victims of abuse or neglect, government data show.
- More than 1,500 children perished from abuse and neglect. Of those who died, 3 out of 4 were toddlers under the age of 3. Nearly half of them were mere infants.
- Beyond the intolerable loss of innocent lives, the economic consequences of child abuse and neglect costs our country more than $100 billion every year.
Yet the USA's child protection "system" is a case study in broken bureaucracy. With 2,200 individual jurisdictions, with mountains of inconsistent rules and procedures, this fractured patchwork of purported protection has created barriers that actually prevent children from reaching safe home environments or gaining crucial access to effective judicial remedies.
A 2008 study by the child advocacy organization First Star found that state confidentiality policies regarding child fatalities and near-fatalities often protect agencies and perpetrators over children. When states were graded on this problem, ten flunked, among them Maryland, Pennsylvania, Vermont and Tennessee.
- Another First Star study found that most states do not provide abused and neglected children with adequate legal representation, leaving their voices muffled while decisions are made about their futures. When graded, fifteen states flunked, among them states from which candidates in the last election hailed -- Illinois, Delaware, and Alaska.
President Obama can apply a strong federal hand in shaping policies to ensure that a child protected well in one state not be endangered simply by moving to a neighboring state where protection is woefully inadequate.
As a first step, he could press for the reauthorization and full funding of the Child Abuse Prevention and Treatment Act. There should also be certification programs for all those involved in protecting at-risk children, including judges and attorneys. President Obama could also launch a Caseworker Education and Training Corps to recruit, train, and financially support college students in return for a pledge to work in the field helping to protect America's children and reward colleges and universities that create campus-based support for children at risk.
Stronger laws are needed to ensure that abused and neglected children have skilled and effective advocates. In addition, information related to how abuse and neglect cases are handled by state agencies needs to be more accessible to the public and the media to promote and enforce agency accountability. Although the identity of child victims would still be protected, repetitive bureaucratic error would not be.
There are some promising signs. Congress recently passed and President Bush signed a law designed to keep siblings in foster care together and provide additional services to young adults who age out of the foster care system, 53 percent of whom are unemployed after a year of living on their own. Several states have also begun to overhaul their systems.
But we need to go much further.
In Philadelphia efforts are being made to institute an ombudsman to oversee agencies where intentions are good but children too often fall through the cracks.
Despite these actions, each day the toll in lives lost and futures squandered is a tragedy we all share.
Candidate Obama offered hope for America's future and the country believed him. America's children living in fear pray that President Obama extends this hope to them.
When the triage is over, let's be sure children at risk for abuse and neglect aren't waiting in the wings as "additional issues," their lives and futures at stake. That wouldn't be change; that would be shamefully more of the same.
Popular in the Community