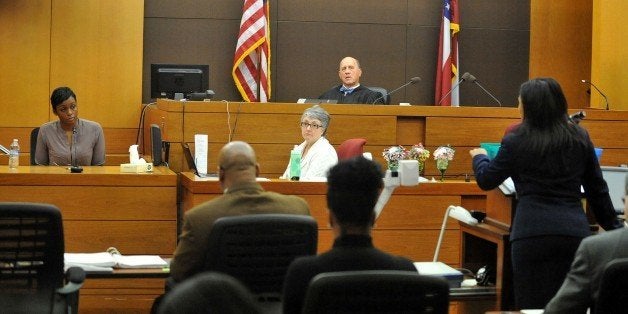 ATLANTA, March 16 (Reuters) - Closing arguments are expected to begin on Monday in the five-month trial of a dozen Atlanta public school educators charged with conspiring to cheat on student standardized test scores.
Prosecutors allege that educators hungry for cash bonuses participated in a "cleverly disguised conspiracy" in 2009 to erase incorrect answers on standardized tests and instructed children in some cases to change their answers.
Former educators who have pleaded guilty to charges in the case being heard in Fulton County Superior Court have testified for the prosecution that they prompted students during tests and changed their answers, acting under heavy pressure from superiors to raise scores.
Defense attorneys have said some prosecution witnesses changed their statements after being offered immunity and plea deals and could not be trusted.
Annette Greene, attorney for former first-grade teacher Shani Robinson, said in opening statements that her client innocently erased students' stray marks on test booklets.
"This was not cheating," Greene said. "First-graders doodle all over the exams."
In opening statements, prosecutor Fani Willis told the court there had been almost 257 million "wrong-to-right erasures" in 2009. An 800-page state investigation in 2011 found that 38 principals and 140 teachers in the Atlanta school district were involved in cheating on the 2009 standardized tests.
Trial testimony revealed how "a testing fixation had infected entire schools," said Bob Schaeffer, education director for FairTest, a nonprofit group that focuses on limiting the use and ending the misuse of standardized tests.
In the past five years, there have been confirmed cases of test cheating in 43 states and the District of Columbia, Schaeffer said.
While it is clear that cheating took place in the Atlanta schools, Schaeffer said it was uncertain whether the jury would convict the educators of participating in a criminal conspiracy, which could result in 20-year-prison sentences. (Editing by David Adams and Peter Cooney)
Calling all HuffPost superfans!
Sign up for membership to become a founding member and help shape HuffPost's next chapter