If you follow me on Twitter or have ever held a conversation with me about books you know that Nick Harkaway is easily one of my top five favorite authors.
He's brilliant. In so many ways. Brilliant to the point he has me reading literary fiction when I never did in school. But nothing he's ever written in hundreds of pages of tome-age was quite so brilliant as this.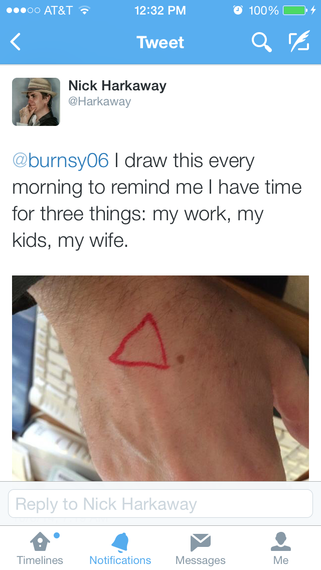 I've immediately started to fall back and analyze what my three points would be. My family is for certain one. My chosen family and my blood family. The two are interchangeable.
Remarkably writing has a point on my triangle. I love writing. I get a lot of joy and a lot of cheaper-than-real-therapy therapy out of writing.
Now I've got this unused third point.
I don't know what should be there. (At least I'm presuming coffee isn't substantial enough for a point of its own?) I feel like, of late, my third point has been almost solely comprised of living. And I know that's okay. I know that's good. I wish I had something more substantial than just being alive, but I can also -- intellectually -- admit that that's not a little thing. That's not an insubstantial thing.
I wish I had something different to feel good about. I wish I had something more to feel good about. I know a part of me is settling, but I don't know what else to strive for; trying to think of something more to strive for is almost as daunting as the striving itself.
I've decided to take yet another page out of Nick Harkaway's book. I'm going to draw lines on my hand. It may start as a single line. It may grow to a V. Maybe someday it'll even grow to a triangle or a pyramid. It's foreign to me, but I'll try a little optimism. Maybe some day I'll have my Field of Dreams moment. "If you build it, they will come."
Related