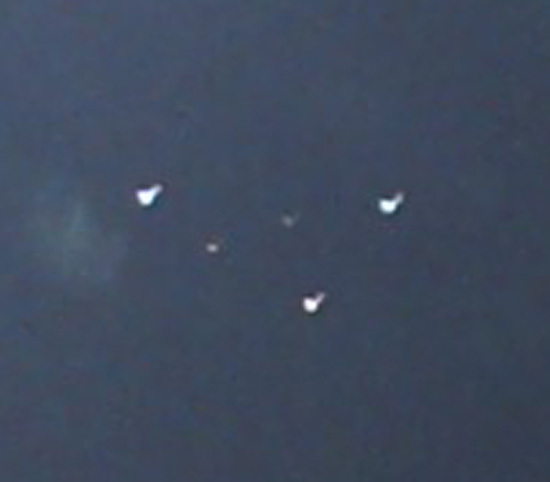 (Enlarged witness image from MUFON Case 51888 captured over Greenville County, SC, about midnight on October 27, 2013.)
A Greenville County, SC, witness report that includes two photos of a hovering triangle UFO was closed as an Unknown, the Mutual UFO Network (MUFON) announced February 11, 2014, in Case 51888.
The witness was traveling along Highway 29 from Greenville about midnight on October 27, 2013, when he noticed a "triangle-like object floating in the air."
"I took the picture while driving," the witness stated. "A busy highway with no place to pull over. There is Air Force testing and repair in Greenville called Donaldson Center. I figure this is where it came from."
The witness estimated the object was hovering under 500 feet. South Carolina MUFON State Director Cheryl Ann Gilmore investigated.
Greenville is the county seat of Greenville County, SC, population 842,853. South Carolina has a UFO Alert Rating of 4 with a higher than average number of recent reports. South Carolina was the 15th highest reporting state with 15 reports in January 2014 - while California had 102 reports - the highest reporting state in the nation.
The above quotes were edited for clarity. Please keep in mind that most UFO reports can be explained as something natural or man-made. Please report UFO activity to MUFON.com. Read about other recent UFO cases at the National UFO Examiner.
Related
Popular in the Community