Social media now accounts for nearly one quarter of all the time Americans spend online--the leading category by far, compared with less than ten percent for online games or e-mail respectively. At the same time legacy media are still in steep decline, as measured by both audience reach and advertising revenue, and the sweeping technological shifts and the unprecedented rupture in the long partnership of news and advertising brands that have been roiling them for years continue unabated, with the disruption still most notable in print media such as newspapers and magazines.
Meanwhile the media brand Americans spend the most time with by far is Facebook, the Internet's most ambitious, technologically sophisticated, and fastest-moving company. Its eight hundred million users--one in every nine people on Earth--spend an average of fifteen and a half hours a month on the site. The monthly usage of all news media sites, by comparison, averages only five to twenty minutes per month, while the total digital advertising revenues of all American daily newspapers is just $3 billion, compared to Facebook's individual share of $2 billion.
For all its success, however, Facebook also continues to infuriate large numbers of its users, as an unending series of poorly communicated changes to the site fuels further controversy. (The latest overhaul was announced at Facebook's fourth so-called "f8" event--its key gathering for developers, press, and the public--where Bret Taylor, Facebook's chief technology officer, proclaimed it "the biggest change we've made to our platform since we launched it at the first f8.") At the same time questions about the privacy implications of Facebook's vast presence on the Web--executives were forced to defend their practice of tracking every page users visit even after they have logged out of Facebook--also dog the company.
Just five years after its public launch, Twitter continues to grow in both size and importance too, delivering 350 billion tweets and signing up more than 600,000 new users every day. For its part, YouTube is seeking new and better ways to serve its 490 million unique monthly users, who now spend a staggering total of 2.9 billion hours per month on the site. Still struggling not to be completely overwhelmed with unedited content, YouTube executives have recently partnered with a variety of outside entities to create and curate videos for one hundred new channels that will feature regularly scheduled programming on such broad themes as fashion, news and sports.
Legacy brands of all sorts continue to fragment and falter, particularly those of the news media, as the advertisers that once supported them increasingly decamp for social media in general and Facebook in particular, where the same recent changes that dismayed users are considered brand-friendly. And Google--once the leading global brand--continues to lose its buzz. A November 2011 front page story in the New York Times headlined, "Google's Chief Works to Trim a Bloated Ship," detailed how the company's " midlife crisis...threatens to knock it off its perch as the coolest company in Silicon Valley." Reporter Claire Cain Miller dismissed Google as "an aging giant ... being pushed around by government regulators and competitors like Facebook." And as AP Technology Writer Michael Liedtke reported, even Google's former CEO Eric Schmidt now admits, "I screwed up," in not pressing the company to focus more on mounting a challenge to Facebook. "I think the industry as a whole would benefit from an alternative," Schmidt added.
On the political front, elections are breaking out all over as we head into another year of historic change. In the Middle East, the promise of the Arab Spring is being put to the test of ballots in lieu of bullets, as Facebook revolutionaries transform themselves into more traditional candidates for public office. Here in the United States, politicians from both major parties are embracing social media as never before. While Barack Obama tries to rebuild the grass-roots movement that propelled him to the White House in 2008 by employing everything from YouTube to Twitter, where he has over 10 million followers, to Facebook, where he boasts 19.3 million friends--chief among them Mark Zuckerberg, whom the president has assiduously courted--Republicans say they are better prepared than ever to compete online in the 2012 contest.
"The notion that the Internet was owned by liberals, owned by the left in the wake of the Obama victory, has been proven false," says Republican political online strategist Patrick Ruffini, who points out that many Republicans in the House and Senate now use social media tools more than Democrats. "It is not necessarily that Democrats or young people or liberals have become less active," notes Aaron Smith, the author of a study on the subject by the Pew Research Center for the Internet and Society. "It is more that older adults, conservative voters and Tea Party activists have come to join the party." And Andrew Rasiej, co-founder of the influential TechPresident.com blog, says, "This will be the first election in modern history that both parties are understanding the potential of the technology to change the results of the election. Both Republicans and Democrats are ready to use online platforms and are no longer skeptical of its potential."
Local media strategies will be key to both sides in America's 2012 national election. Social media will be the difference maker, since strategists have figured out how to harness the Internet for hyperlocal purposes. "With old media tools, local press, radio and TV, it was difficult for a candidate to wage a nationwide, local strategy," says one media analyst, Brooklyn Law School's Jonathan Askin. "The Internet finally makes local campaigning, with national themes and local messaging, effective for presidential politics." It may not matter, however, if we are entering a "period in politics that's sort of fact free," as former President Bill Clinton recently warned...
Meanwhile, the Occupy movement in the United States and its international counterparts all over the world continue to agitate, demonstrate, and aggregate in number and influence. They are not content simply with bypassing legacy media corporations to spread their message but have also begun developing new media tools for future use. Examples include the "I'm Getting Arrested" app, which alerts legal support and family via text messaging when a protester is getting arrested, Occupy The Hub, a website for aggregating video feeds, tweets and live chats to provide one-stop coverage of what's going on in the movement, and OccupySMS, a program that allows one person to send a text message quickly and easily to a huge mass of people. "With this sort of innovation, the Occupiers won't need major media companies to get the word out," as Benish A. Shah, vice-president of Strategic Digital Media at the Global Executive Board, told the Huffington Post. "The people following this are going to go online and find the information and find it from other sources."
Finally, the single most important new trend within the digital information revolution--the exponentially increasing amount of unvetted and unverified information now washing over us all--continues to flashflood forward at a frightening pace. What's worse, it's harder than ever to tell which waves in the torrent might carry relevant and trustworthy news and information.
A Pew report released in September 2011 showed that only one-quarter of those surveyed think news organizations get the facts right--a new low since the question was first asked in 1985. Two-thirds say stories are often inaccurate--a new high--and nearly three-quarters believe that journalists try to cover up their mistakes rather than admit them. For the first time in any such survey, as many people say that news organizations hurt democracy (42 percent) as protect democracy (42 percent). The situation is so dire that the MIT Center for Civic Media has begun to pursue the development of a "nutritional label for news," which would "semi-automate evaluating the quality of an article" and could be visualized "as easily as an FDA 'recommended daily amount' nutritional label for food."

Everyone Wants To Be a News Filter
All the while, the debate over the "Daily Me" vs. the "Daily We" still rages. As academic media researchers argue over how much they really know, our privacy continues to vanish, unwanted personalization thrives and disputes continue over how best to filter and sort through it all. What are the best means and mechanisms of dealing with the twin crises of too much information and credibility-and-trust: the old, time-tested brands? The new recommender systems and algorithms? Curators and influencers? Friends and followers? Or an adroit mix of all of the above?
"Everyone wants to be a news filter now," Mathew Ingram wrote in a post on GigaOm. "As the avalanche of information coming through social networks and real-time tools like Twitter continues to grow, the need for filters to make sense of that tsunami of data also increases, and it seems as though everyone has a different way of trying to solve that problem." As Ingram noted, however, "Relevance is a tricky problem to solve." Many new apps and approaches suffer from similar problems: "Either they are filled with the same content I've have already seen in other places, or the links simply aren't relevant.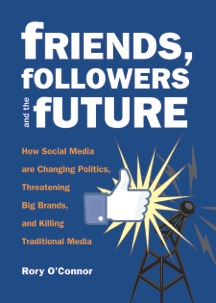 "It's good that plenty of services are trying to solve the news-filtering problem, and different users may choose different solutions," Ingram concluded. "So far, no one seems to have come up with the one-size-fits-all solution to this modern dilemma."
Leading communications researchers remain optimistic, however, particularly about the still-developing roles of both social media and algorithms and learning machines. The University of Michigan's Paul Resnick is among those who remind us that we are still in an experimentation phase. "One key is to develop algorithms that give people what they really want and not the current naive version of it, i.e. what they 'like,'" says Resnick. "Instead of just popularity, there is an opportunity to give people something that will take into account that we have preferences that are sets of items that will engage us the most."
The machines must move away from measurements of mere popularity to become more multidimensional, says Resnick, "to consider sets of items over individual items, and to offer us crossover, or 'strange bedfellows' items. We need more sophisticated models of why people want what they want--and we also need consciousness raising among developers."
MIT's Ethan Zuckerman agrees. "With machine learning, the problem now is it produces echo chambers, which are a comfortable filter but may lead to personalization and homophily," he warns. "But in the future, we'll get better systems. In addition, everyone is looking for curators now, and each has own pronounced point of view, so we'll have to learn to 'read the net."
Like Resnick, Zuckerman is ultimately hopeful that progress can and will be made in the ongoing effort to separate signal from noise in the crowded and chaotic news-and-information environment. "In diverse enough worlds, we will be able to triangulate our way to the truth," he says. "The real question is how to rebuild institutions--gate keepers if you will--who can tell us the difference between what is credible, relevant and trustworthy and what is not."
Calling all HuffPost superfans!
Sign up for membership to become a founding member and help shape HuffPost's next chapter