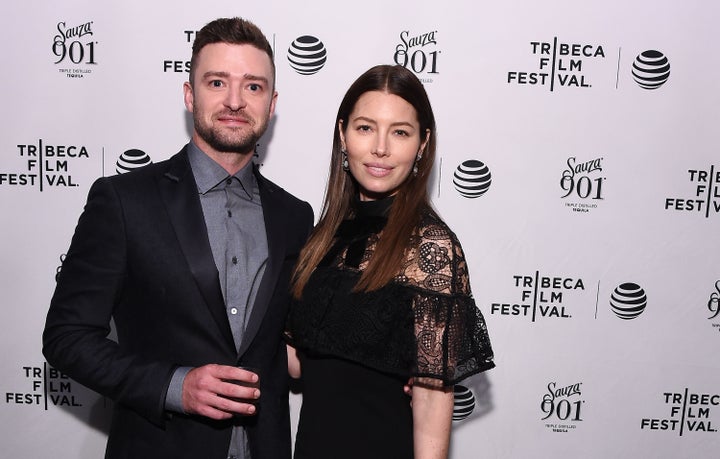 Eight years ago, Jessica Biel and director Bill Purple, alongside his wife and Biel's producing partner, Michelle Purple, began discussing the possibility of shooting their first feature-length film together. The script for "The Devil and the Deep Blue Sea" stood out. It was raw, honest and brought a bit of humor to an emotional story about grief. Now, after years of pre-production, the movie is finished and part of the Tribeca Film Festival's outstanding lineup. 
The film focuses on Henry (Jason Sudeikis), an architect who becomes fixated on helping homeless teen Millie (Maisie Williams) build a boat to sail across the Atlantic after the tragic death of his pregnant wife Penny (Jessica Biel). It deals with two people's journeys through despair and how their connection to heartbreak brings them together more than they expected. 
"We had a couple of other projects that we were trying to get going and then we found this and were all on the same page," Purple told The Huffington Post at the movie's Tribeca press day. "We were like, 'This is a great story, it's lovely, we should get this made.'" 
Thing was, they didn't realize how long it would take to get the indie film off the ground. "Literally, when we initially started this project, Maisie was 10," Biel joked, referring to the now 19-year-old United Kingdom native. 
They went through a few iterations of the script before finally nailing down a shooting schedule. Although they had been working with a handful of younger actresses to fill the role of Millie, those talents moved on by the time they were ready to shoot. "Someone would have shown interest, but then they grew up and it took so long to get this going," Biel explained. Purple added, "There were all these amazing actors who helped us along the way, but when we had an opportunity to do it, Maisie seemed like the right person."
As for Sudeikis, Purple knew he wanted the actor from the get-go.
"Jason was my initial thought when I read the script. I don't know why, but it was some gut instinct," the director, who has also worked on "New Girl" and "Fresh Off the Boat," explained. "He was still on 'Saturday Night Live' at the time and he started making some films and I said, 'There's something about him, I just have a feeling.'"
"I was very, very moved by the story and then very flattered to be considered," Sudeikis told HuffPost. "I knew Jess a little bit through Justin [Timberlake], who I met at 'SNL,' and I remember her and I having a conversation and being like, 'Why me?' I certainly hadn't played [a variation of] parts in my life on camera at that point, so for someone to sniff that out was as thoughtful and creative as I could have asked for."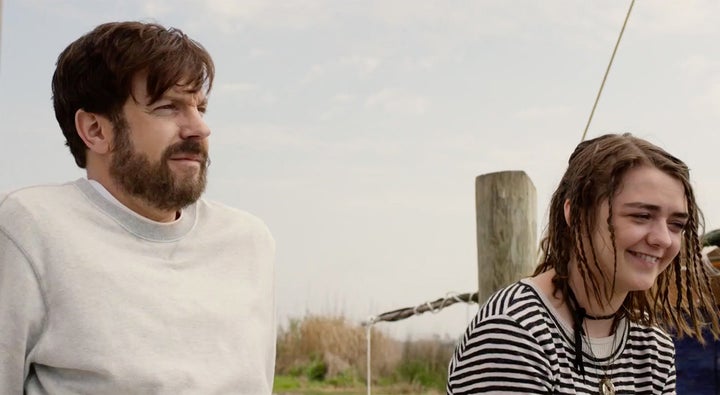 The "perfect alignment of the stars," as Purple referred to it, included Biel's husband Justin Timberlake, who scored the movie. 
"It was his first time doing music for a film and it was something that he responded to," Biel said. 
"He loved the story immediately and approached us saying, 'What are you thinking for music? I'd love to do it.' And then when it became real we said, 'All right, let's do this,' and he dove into it," Purple chimed in. "It was exciting and scary for him to try and do something different musically, and I think he's as proud as I am with what he did."
So, all in all -- considering Biel was very pregnant with the couple's son Silas at the time of the shoot -- the film was a Timberlake family affair. 
"Totally," Biel said, while Sudeikis and Williams later told HuffPost that they felt like "the outsiders" since the Timberlakes and the Purples were married couples and best friends. 
"And, I was like 4,000 miles from home," Williams said of shooting the project in New Orleans with people she'd never met before. "I travel on my own to go do 'Game of Thrones,' and I've traveled alone to do that since I was 16, but going to America on my own was a lot different. I guess I really didn't think about it too much until I was out there. But in New Orleans, everyone was like your mom and everyone was looking out for me."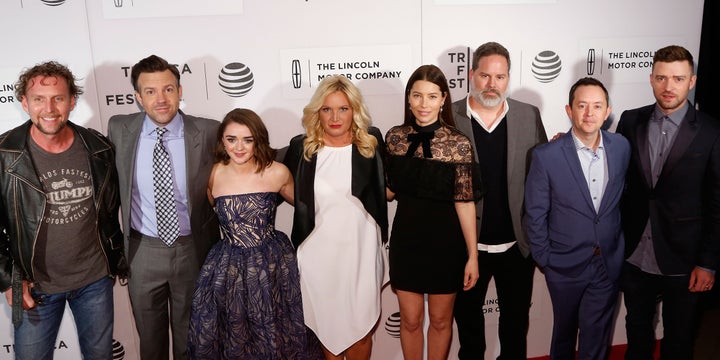 Williams knows she plays a lot of "homeless runaways," you know, with her career-making role as the independently fierce assassin Arya Stark in "Game of Thrones" and her role as Millie in this project. But, for her, what's always the most important is finding a story that presents authentic characters.
"If you find someone who's writing real people who make honest decisions, then that's what it's about really, when choosing roles, in my opinion," she told HuffPost. "I'm not snobby about what I'm working on or what the budget is or who the audience is. If I fully believe the characters and the script, and if I can get immersed in it from the get-go, it's something that really intrigues me."
When HuffPost asked Sudeikis what he thought of working opposite Arya Williams, he admitted to one major faux-pas. 
"I had never seen ['Game of Thrones']," he revealed. "By the time I knew Maisie was going to be in the movie, I purposefully stayed away from watching it. For no other reason than to get to know her in the real time of making the movie."
That decision made for a great on-screen collaboration, and some very touching scenes. For all the actors, this project was an emotional roller coaster of sorts. 
"It was very close to home," Biel said of acting out the death of a pregnant mother while expecting her first child. "These ideas of just having to leave your life because something happens and you have all this hope and you're just beginning."
Although the pregnancy storyline was in and out of the film multiple times, Purple said he fought to keep it since it added to the overall theme. (Biel's real-life pregnancy just ended up working in their favor.)
"We got to this point where it was like, if you want to lose everything, he's got to lose everything," Purple said of Sudeikis' character. And the "Race" actor really took all of that to heart, since he knows how it feels to truly be in love and be a parent. (He's engaged to fellow actress Olivia Wilde and they have a son, Otis.)
"Going through those experiences in real life -- being with the love of my life and having a child -- and then imagining that and other elements of tragedy was difficult, but I think that all happens for a reason," he said. "We had to wait until Maisie was old enough so we didn't have to hire a tutor and we had to wait until I was deeply in love and had my little boy [to do this film]." 
REAL LIFE. REAL NEWS. REAL VOICES.
Help us tell more of the stories that matter from voices that too often remain unheard.
BEFORE YOU GO
PHOTO GALLERY
Tribeca Film Festival 2016 Preview