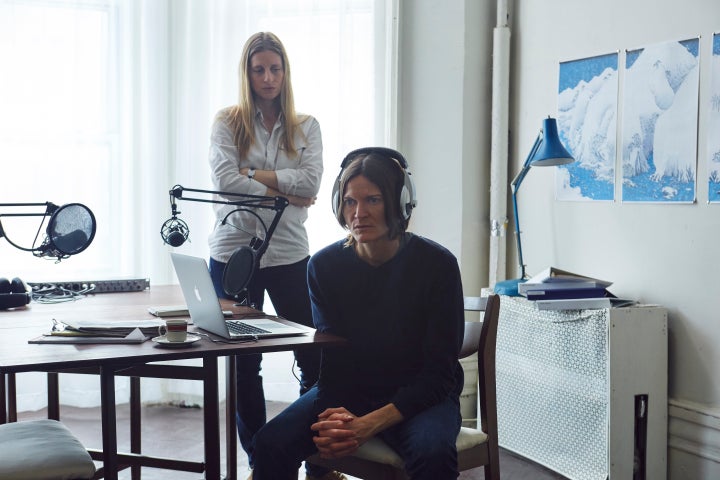 In the beginning scenes of Ingrid Jungermann's "Women Who Kill," podcast co-hosts Morgan and Jean are driving up to a correctional facility to interview a female serial killer. Moments earlier, we saw them sit facing each other in a well-lit, tastefully decorated apartment, each with a mic to her mouth, debating the relative hotness of various murderers.
Jean flips down the car's visor mirror. "Why didn't you tell me I had kale in my teeth?" 
It's this early juxtaposition, of life's dark corners painted against Brooklyn's veggie-friendly Park Slope neighborhood and its residents, that sets the film's tone: funny, wry, heartfelt, dark. The movie, Jungermann's feature-length directorial debut, premiered Friday night at New York's Tribeca Film Festival.
The film centers on Morgan, played by Jungermann, who is somewhat of a local celebrity as host of the "Women Who Kill" podcast with her ex, Jean (Ann Carr). When a new love interest named Simone (Sheila Vand) enters Morgan's life -- during a shift at a food co-op, naturally -- she's forced to confront her hesitancies about commitment and trust. Doing so becomes much harder when unsettling details about Simone's past emerge. 
This conceit seems perfectly at home in Brooklyn, where young families sprout from brownstones like wildflowers, where organic is king and where being part of the status quo is paramount. ("Would you keep your voice down? Do you know what people in Park Slope would do to a swan hater?" Morgan hisses to Jean during a walk through Prospect Park.) The escalating suspense throughout the film -- namely whether Simone is a murderer, and why she's kept her past mostly hidden as an adult -- plays out in stark contrast to the idyll that surrounds the characters, with well-timed quips that keep it from becoming too dark.
It's ground Jungermann has traveled before, in her web series "F to 7th," which follows her through Park Slope, trying to find herself and reconcile her sexual identity. As a former resident of the neighborhood, she explained over the phone to The Huffington Post, "I'm a lesbian, and I've never really wanted a family ... I'm part of this community where I feel quite different once again."
Being around others who present a certain fulfillment of ideals can make a person question herself. "I was able to sort of see ... because I was surrounded by families that I didn't have that thing," Jungermann said. "I didn't necessarily want it, but it's really easy to slip into like, oh, I don't want that, but I should want that, right?" It's clear to see these parallels in Morgan. Love and commitment are right there, but choosing them for herself isn't so easy.
Now is an apt time to see two otherwise typical women do deep dives into serial killers, considering the staggering number of people who've tuned into "Serial," "The Jinx" or "Making a Murderer." 
"I don't know if we're drawn to darkness to remind us that we're better than other people or if we're drawn to darkness because it reminds us that we are imperfect and thats OK," said Jungermann, who was a fan of "Serial" herself.
"It was amazing with 'Serial,' what that did," she said. "And how people just became sort of fanatics, you know, and I was one of them." That phenomenon inspired her to change her characters from grad students to podcasters, saying that "it just opened the world up for me." 
In the film, as Morgan spends more time with Simone, two fears emerge: the palpable one that the person she's sharing a bed with might be a murderer, and the more unconscious fear of making oneself vulnerable in a relationship. With the caveat that "I'm the worst person to figure out the meaning of relationships," Jungermann explained, "It feels like a death in that you have to let go of parts of yourself that you've been really attached to, and that's kind of where I think the heart of the movie comes from."
"I think it's exciting for this to be a conversation because you can feel a shift happening," she said.
"The women that are not in charge right now at these companies and studios are going to be," Jungermann continued, "and they're going to be the ones making the decisions and I think we're just gonna see more interesting films coming out, both in the indie world, which is ahead of the game, and also the studio world."
If "Women Who Kill" is a preview of what's to come in the movie world, we'll happily keep watching.
Calling all HuffPost superfans!
Sign up for membership to become a founding member and help shape HuffPost's next chapter
BEFORE YOU GO
PHOTO GALLERY
Tribeca Film Festival 2016 Preview