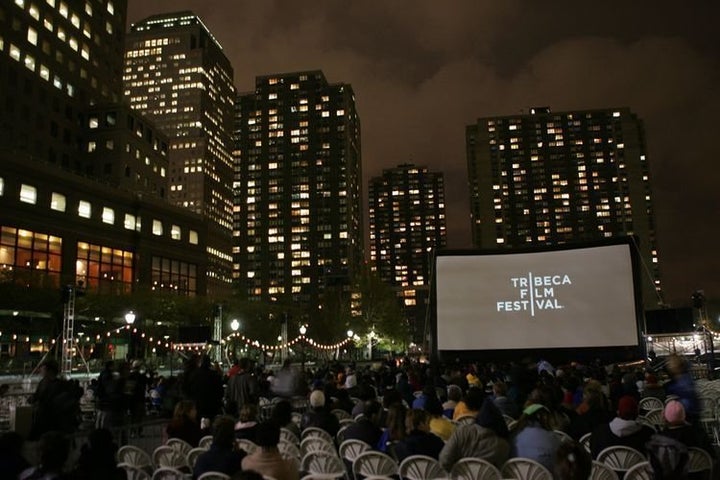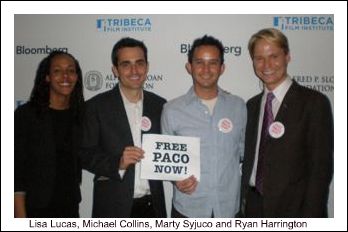 "Education is the most powerful weapon which you can use to change the world." Nelson Mandela
"Relaxed and supportive" are hardly words we associate with show business. In fact, when I think of motion pictures, the cut-throat, chaotic world depicted in films like The Player or the Robert De Niro starrer What Just Happened come to mind. But those two words were used by Give Up Tomorrow filmmaker Michael Collins -- who received a Director's Special Jury Mention for the film at the 2011 Tribeca Film Festival -- to describe an insider's secret, passed around carefully in cinematic inner circles: The Tribeca Film Institute's Tribeca All Access program. TAA is where filmmakers come to spread their wings and their films come to fly.
During this anniversary edition of Tribeca, the buzz around the TAA program was impossible to miss. Four films by past TAA alumni were screened at TFF, including the narrative feature Jesus Henry Christ and the feature documentary Give Up Tomorrow by Collins and Marty Syjuco. Dennis Lee came to TAA in 2005 with a screenplay for Jesus Henry Christ and talked about that experience with me on the red carpet -- accompanied by Julia Roberts, who is co-executive producer of the film along with her sister -- "it's a dream come true to come back to Tribeca" Lee continued "and show the feature version of the script that won the screenwriting award. Winning that contest launched my career and we're back here now in 2011 showing the feature, it's amazing!"
Give Up Tomorrow -- a touching documentary about the criminal injustice perpetrated against Paco Larrañaga within the Filipino justice system -- came to TAA in 2008 when, Collins disclosed "we had filmed about half of it, we still had a lot more work to do but we had been self financing and we knew we couldn't make a proper film." Collins continued "TAA was the first of any market, we didn't have any grants at that point, and it was where it all began for us. It was were all the dominos started falling." His co-director and co-producer Syjuco added "especially as new filmmakers it's difficult to approach HBO, Sundance and ITVS and all the big players in the industry, and TAA really opened the doors for that."
While presenting these films at the festival this year was, to quote Syjuco "truly coming full circle", the TAA program starts, well, at the very beginning. At a Welcome Luncheon inside the Time Warner Center overlooking Central Park on Monday, I sat with the team behind one of this year's pitches. Boarders Without Borders is a documentary about four snowboarders who go to Iran to interact and inter-connect the differing cultures. At this point, for filmmakers Marjan Tehrani, Nick Catania and Brian Sachson their process, and their journey have just begun. But with Olympic champion snowboarder Hannah Teter already signed on, I have the feeling this is one project we'll hear lots more about in the months ahead.
Ryan Harrington, Director of the Gucci Tribeca Documentary Fund feels that a project like Boarders Without Borders has the power to "bring a whole new audience to documentary filmmaking." In the age of YouTube and reality TV, it is unquestionable that documentaries are the most contemporary way to tell a story, one that will end up teaching through its truths. I was honored to sit next to the elegant Harrington at the Award Luncheon and hear about his exciting role at TFI.
The greatest part of being a witness to the TAA program is the opportunity to understand how close and supportive of one another filmmakers can be, if given the chance. I was also pleasantly surprised to find some of my favorite artists within the program this year, involved in one way or another. Documentary filmmaker Havana Marking, whose Afghan Star I credit for singlehandedly starting my love affair with documentaries, was the recipient of one of the TFI Documentary Fund backed by Insurgent Media for her project titled Smash & Grab: The Story of the Pink Panthers. The award was presented by Insurgent's co-founder Fisher Stevens, at the TFI Award Luncheon on Thursday, the culinary culmination of a weeklong series of great meals, courtesy of TAA. Insurgent is just one of the companies associated with TFI, which now include the Ford Foundation, Heineken, HBO and the Producers Guild of America.
Present at the Luncheon, hosted by Tribeca Enterprises co-founders Jane Rosenthal, Robert De Niro and Craig Hatkoff, were brilliant Palestinian actress Hiam Abbass, The Italian Job director F. Gary Gray and the multi-talented Ajay Naidu -- best known for his hilarious acting turn in Office Space -- who collectively made up the 2011 Narrative Jury. Elvis Mitchell, Suroosh Alvi, and John Quinones made up the Documentary Jury, while actor Matthew Broderick helped in the decisions for recipients of the Alfred P. Sloan Foundation Grants and jokingly introduced the clips by saying "to sit with real scientists was a treat because... They're real smart!"
With each edition of the festival, the Tribeca All Access team continue to redefine the "dinner & a movie" concept, with their exciting food-related events and culinary/cinematic journeys. Kicking off the week was a special Key Ingredients lunch, held at David Bouley's Test Kitchen in TriBeCa, where selected members of the press and media mingled with Making the Boys director Crayton Robey, Grammy Award winner Pharrell Williams, Heavy Metal in Baghdad producer Suroosh Alvi and TFI supporter and fashion icon Bethann Hardison, among others. The food was Bouley-licious, of course, and the special cocktails -- The Producer, a tiny bit tart and The Director, a tiny bit sharp -- felt spot on shared with TFI Executive Director Beth Janson and Director of Feature Programming at TFI Tamir Muhammad.
Then there was of course the Welcome Luncheon at the Time Warner Center, where a delicious molten cake ended the perfect meal and again, the foodie voyage continued this past Thursday at Tom Colicchio's newest venture Riverpark for the TFI Award Lunch. While on another side of town the Tribeca Film Festival awards were announced, the Tribeca All Access crew celebrated into the night at Hiro Ballroom the legacy of Quincy Jones, whose quote about the great "power of being underestimated" is a personal mantra.
In the words of Tamir Muhammad, who has come to represent the TAA program for me with his class and easygoing attitude, and who proudly disclosed that this year's overall TFI funds for filmmakers amounted to over $1,000,000 "it's exciting and a testament of the hard work we have put into our program and our filmmakers paying off." Muhammad continued "a lot of our filmmakers have come back with new projects and now we are able to support them. I want more project completed. I definitely want us to stay relevant. We provide this service for the industry, but there's a lot of work still to be done, making sure not only to cater to the industry but to audiences and making sure we're engaging them."
So what is some good advice for wannabe filmmakers? Muhammad revealed "my one bit of advice to aspiring filmmakers who want to be a part of TAA is that it's competitive, just like the industry, so stay persistent. If it were up to me, we would accept more projects but the nature of the business is that it's competitive."
Popular in the Community