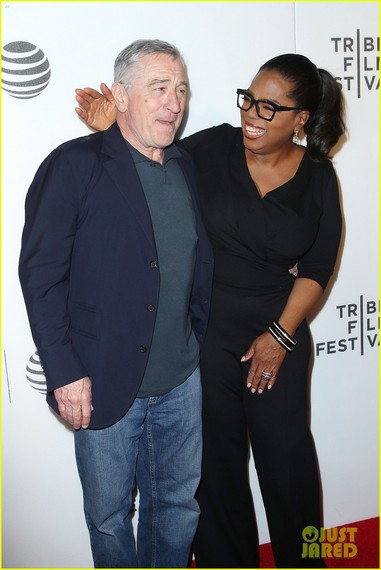 Last Wednesday I had the absolute pleasure of being in the presence of the mighty O--that's right Oprah and her all-star cast of OWN's newest addition Greenleaf. The show which Winfrey executive produces and also guest stars in, takes viewers on a somewhat salacious ride into the unscrupulous world of the powerful Greenleaf family and their Memphis mega-church.
With a rash of shows like AMC's Preacher and Bounce TV's Sinners & Saint's turning to the pulpit to provide viewers with some drama, Greenleaf is the only one that directly depicts the black mega-church. And although the shows creator, former minister, Craig Wright, insists that the show is not about any specific congregation or community, the narrative certainly parallels to some very real life narratives we've seen in the news recently.
Greenleaf, which also stars acting legends Lynn Whitfield and Keith David, is Oprah's first return back to acting on television in a recurring role. Tribeca Film Festival audiences were thrilled to see Oprah back on the small screen and loved her portrayal of Mavis McCready-- a southern bar owner who can throw back shots with the best of them. Her character also plays Aunty to lead character, ironically named Grace Greenleaf.
But as I sat there in that theater post screening in front of actors I admire so much, such as Oprah Winfrey, Lynn Whitfield and the rest of the cast who all equally bring the drama, I wondered "Aren't they worried about what the black church will say about this."
The black church has been providing entertainment for those of us who attend, for years. It's an institution that simultaneously makes you marvel at black culture and thank God that you're black while also being thoroughly entertained by some of the goings-ons. After all "shade" which is so trendy these days originated on the motherboard of the black church.
But in recent years there have been more than a handful of mega-church scandals. Funds mismanaged, infidelity and even sexual misconduct are all things that have topped news headlines. And who can forget the pastor that made headlines with his request for the congregation to pay for a new jet. And although the black church has been very powerful for decades maybe even a century; there probably has never been a time where the black church has been such a source of wealth. Although the show may not be sitting in any specific churches front pew it's certainly borrowing some scenarios that wont sound too foreign to viewers. Even the name Greenleaf is very suggestive.
When asked about the significance of the name Greenleaf, Show runner, Craig Wright explains "There are bible verses that refer to....if you follow money you will suffer but if you follow God you will flourish like a green leaf, that's definitely floating around in there. Also the notion of green as money."
So what exactly is Greenleaf's message about the black church? That remains to be seen. But even some of the cast members who are professed members of the black church seemed a little nervous about where the narrative is going.
As a believer and a parishioner of the black church for all of my life I have to admit, there were moments that I felt a little defensive mainly because of the instances that are a little gratuitous and predictable. Yet there is something about the lead character, Grace Greenleaf, played by Merle Dandridge that is very honest. One of the profound themes of the show is summed up in a question asked to Grace. What do you believe GG?" Her battle is one that I've gone through and I've seen many of my other church friends go through. Although she fights it, the church is a part of her. It's a part of her essence and her truth. And coming back to church for her is a homecoming unto it's self. But she's gone out and seen the world and evolved. Why can't those two things coexist? Evolution and foundation. How can you believe and also evolve?
When asked about why do this show Oprah said, "All my work is all about the same thing. Its about showing people new ways of seeing themselves and seeing the problems and flaws and dysfunctions that we all have and shinning a little light on that. Being able to lift that just enough that you can see yourself in that. So the idea of bringing light, the light of awareness the light of consciousness to the work is always what I'm striving for no matter what I'm doing."
As salacious as the first episode is and it is packed with more than one episode worth of greed, lies and sex--despite it all there is a lot of truth there too. I'll be tuning into the premiere on Tuesday, June 21 at 10 p.m. ET/PT and Wednesday, June 22 at 10 p.m. ET/PT on OWN. Checkout some clips from the cast of the show below:
Calling all HuffPost superfans!
Sign up for membership to become a founding member and help shape HuffPost's next chapter