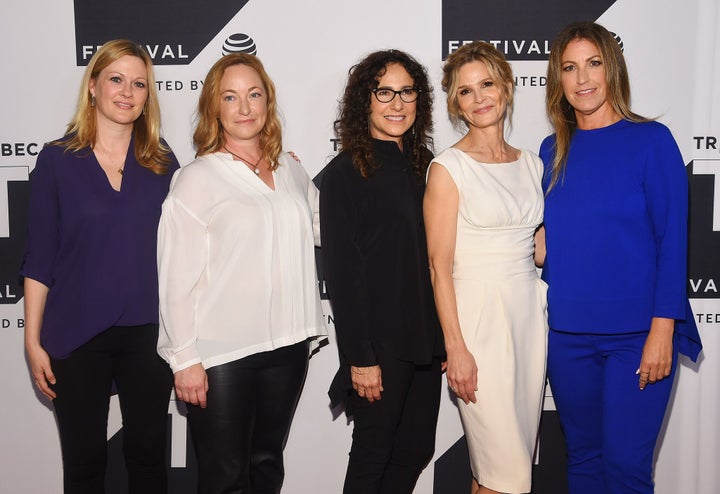 Women directors are apparently pretty busy at the moment. That good news came out at Tribeca's first-ever, TV-only festival that ran from September 22-24 in New York City. Kyra Sedgwick, whose new ABC thriller Ten Days in the Valley had its series premier at the festival, told the audience after the screening that the opportunity to work with women drew her to the series, created by Tassie Cameron and executive produced by Marcy Ross, Jill Littmann, and Sedgwick (all pictured). Having women directors was very important, too.
"When you hear the numbers [of female directors], you can't help but feel responsible," said Sedgwick. "The statistics are staggering and depressing. You need to make choices based on that knowledge." So she and her creative team reached out to female directors, only to discover that they could not get as many as they wanted because the female directors they knew were all booked up. Four of the ten episodes are women-directed, which is far better than the industry average.
A similar point was made about OWN's hit series Queen Sugar, which had its mid-season premiere at the festival. Acclaimed writer/director/producer Ava DuVernay—creator and executive producer (along with Oprah Winfrey and Monica Macer) of the show--committed from the outset to hire only female directors. Though none of the seven directors DuVernay hired for season one had the opportunity to direct for television before, all of them went on to direct other television fare after the season ended, reported an OWN-TV spokesperson. That opened up the opportunity for eight new directors to come on board for season two (along with Daughters of the Dust director Julie Dash and returning director Kat Candler, for four episodes), which had been DuVernay's goal all along. "We always committed to a whole new slate of directors in season two," DuVernay wrote in an email. "But it's also true that all the season one directors are very busy."
If women like Sedgwick and DuVernay are providing opportunities, so is TV in an unprecedented way providing what festival director of programmer Cara Cusumano called "the democratization of opportunity." And that TV-related landscape is very hot, which is why the number of TV festivals like Tribeca's is growing. As to why this festival now, said Tribeca Executive VP Paula Weinstein: "Because the work is so good. The most extraordinary writing and daring story telling is happening on TV."
Plus, noted Cusumano, "There's a big audience for communal TV experiences, the opportunity to see something before everyone else, to hear from the creators." The organizers wanted a festival that would reflect how people watch TV—via network, streaming, web series; that would feature popular as well as unseen shows; that would honor Tribeca's commitment to the representation of women; and that they could bundle into a weekend, which they did with 15 events (all with panel discussions, now streaming live on Facebook) as well as Visual Reality offerings. The aim was to balance "the curatorial sensibility of the film festival" with "a fan-friendly community-building experience for the audience."
That audience turned out in force for the screening of Queen Sugar, the beautifully filmed saga of the Bordelon siblings as they carry on the legacy of managing their family's Louisiana sugar plantation, specifically, uber businesswoman Charley (Dawn-Lyen Gardner), prickly investigative reporter Nova (Rutina Wesley) and ex-con struggling to find his place, Ralph Angel (Kofi Siriboe). It addresses pressing contemporary issues, like incarceration, police brutality, drug addiction, sports heroes, sexual assault, 9th ward health issues, Southern racism, family battles, love, and women's empowerment.
Asked in the panel discussion what it's like to work with all female directors, Wesley said that women bring a special sensitivity, but added that should not imply weakness: "These women directors are fierce, they know how to run a set too." For Gardner, "It does something immediate, something physical to your system. It changes the game, creates an inclusive environment so that people open to ideas differently, listening differently, not assuming. It's not a frat boy environment."
As for 23-year old Siriboe, he had a little different point of view. "I don't even remember how it feels to be directed by a man," he said. With women, "There's meticulousness, an emotional resonance; they understand. And, they want to talk about it, they want to get into the details, they want to make sure you're good. It feels like a relationship." Noting that he's worked on 29 episodes so far, Siriboe added: "I feel like I've had twenty-nine relationships."
A fraught mother-daughter relationship begins to figure prominently in Queen Sugar new season, as Charley's mother, who we've heard about a lot about and not in a good way, finally appears. Turns out, she's white. The portrayal of their relationship is powerful not only for Gardner's character Charley, but for Gardner as well. "I'm biracial," she told the audience. "There's an assumption about biracial and multiracial folks since Obama, that we're all fine." But growing up biracial wasn't all "fine" for Charley or for Gardner either. "It was a complicated experience around belonging, feeling apart from, othered, within your own family, and doing what you can to integrate yourself and reconcile yourself and being completely alone in that, even with your mother." For Gardner, "bringing that part of Charley's story to the fore, it felt very, very vulnerable."
A mother-daughter relationship, or rather mothering, also figured prominently in the gripping and fast-moving thriller, Ten Days in the Valley. The idea for the show about a driven TV producer and single mom Jane Sadler came out of creator Tassie Cameron's recurring nightmare. In her dream, she would be working in her writing shed while her daughter was asleep—which she assured us, she never, ever does when her daughter is asleep—and when she came back into the house, she'd have to get through a locked door and her daughter would be gone. That's exactly what happens to Jane.
In the panel discussion, focus went to Jane's moral character (she's not averse to snorting a line or two of coke), especially as a mother. "I had to go through a lot of soul searching to write a character this complicated," said Cameron, who found herself judging the character and herself. "It's easy to write a male character with all of these flaws," Cameron said, "but it's harder even for women to write women this way." The other panelists, Sedgwick and producers Marcy Ross and Jill Littman, defended flawed female characters like Jane, especially the tendency to judge a woman by her parenting skills. "Did we ever ask if Walter White (Bryan Cranston in Breaking Bad) was a good father?" asked Sedgwick.
One woman who doesn't seem to have any issues writing and performing as an arguably flawed female character and mother is Emmy-nominated and Peabody Award winner Pamela Adlon. With Louis C.K., she created and writes her popular FX sitcom Better Things. In the second season, she both stars in and directs the series about an actress in LA raising three challenging daughters alone. We got a sneak peek at an episode from the second season which, if it's any indication, promises to be as surprising, honest, and wry as the first. We see Sam (Pamela) heading off to spend a weekend with an alluring guy she just met (Henry Thomas, formerly little Elliott in ET). Besieged by her cranky kids who hate their babysitter and demand that Mom stay home, she refuses to abide, going so far as to say they could go out and get their own apartments while she's gone if they like. The screening was followed by Louie C.K. interviewing Pamela about her life and work.
In the nurturing fandom category, as well as showcasing the work of women, came the premiere of TruTV's At Home with Amy Sedaris, screened before an SRO audience. In the series, Sedaris plays different characters, shows off her wildly variable talents (like making "potato ships" out of paper, glue, sour cream and potatoes), and entertains invited guests, like Paul Giamatti, Jane Krakowski, and Justin Theroux (playing a gay astronaut who'd rather be a dancer). Think of it as a how-to, hospitality, cooking, crafts show, including interviews, "with a Lawrence Welk feel," Sedaris said in the panel discussion, where she and co-creator Paul Dinello were interviewed by Andy Cohen.
An international perspective was represented in the VR premiere of Look But with Love, a five-part documentary live action series created by two-time Academy Award documentary filmmaker Sharmeen Obaid-Chinoy. Tribeca made two episodes—both about women working for change in Pakistan—available. Tazzy Phe, one of You Tube's three "Creators of Change" whose work was shown at the festival, also brought an international focus, in her clever visual essay that follows her journey to make peace with being a Muslim living in America and an American Muslim visiting Pakistan. As for how participants in this weekend festival felt about participating in this second Golden Age of television, the question was put most pointedly by an audience member at the close of the panel on Queen Sugar. "This is a very important show," she said. "How does it feel to be a part of this revolution in TV with women and people of color, bringing fullness and realness to the screen?"
Said Dawn-Lyen Gardner: "As an actor you yearn to see yourself, to have an opportunity to speak to your experience, your family's experience, your neighborhood's experience…to shine a light on what you find unendingly beautiful and dimensional…You miss it for so long, you're hungry for it for so long, it's almost a shocking experience [when you finally have it]…Thank you Ava, thank you Oprah …They are absolutely revolutionizing an industry, with no apology."
Among the other events at the festival were A Conversation with Will and Grace (and Jack and Karen); another with Trevor Noah and his writers; the premiere of OWN's post-incarceration documentary series, Released; Pillow Talk, a raunchy web series to be viewed on your phone; Sundance TV's rape-themed Liar; and a docuseries about an amateur football team of refugees in Germany. It was a potpourri of offerings, lots of great TV was missing, but it was a fair representation of what's going on today when we can't possibly keep up, when we are all of us inhabitants of an ever-evolving, screen-obsessed, visual wild west.
A version of this blog first appeared on Medium, at Women and Hollywood.