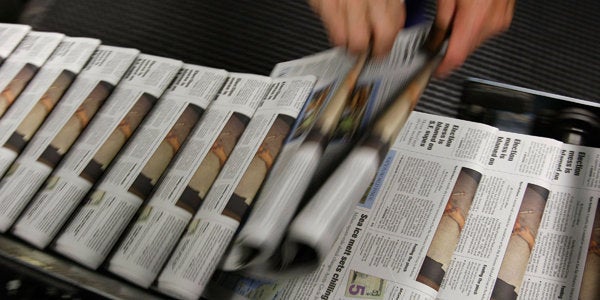 It was a warm and clear Tuesday morning on Jan. 9, 2001, in Scottsdale, Arizona as media executives and financial analysts poured into a conference room at the ultra-luxurious Fairmont Hotel. They were attending the 11th Annual Salomon Smith Barney Global Entertainment, Media and Telecommunications Conference, a not-to-be-missed event for the industry's movers and shakers.
The scheduled speaker was Tribune Vice President for Corporate Relations Ruthellyn Musil, who was happy to get away from the bitter cold of Chicago. Musil began her address by explaining how Tribune was well positioned for above average growth for years to come, thanks in large part to the company's recent $8.3 billion acquisition of Times Mirror.
She highlighted Tribune's multimedia presence in markets across the country, the unlimited promise of its interactive media portfolio, and, most importantly, the company's strong balance sheet that included $6 billion in annual revenue, making Tribune the eighth-largest media company in the United States.
After Musil's presentation, audience members were left with the impression that the future of the venerable Midwestern company was as bright as a desert sunrise.
However, less than eight years later on Dec. 8, 2008, Tribune filed for Chapter 11 bankruptcy. The 2001 "We're in great shape for the future!" Scottsdale speech could now be replaced with the 2009 "Do we even have a future?" speech.
So, what happened? How did a healthy media giant that seemed poised to grow at the beginning of the decade, find itself on life support just a few years later?
"The deterioration of Tribune is not unique," said Dave Novosel, an analyst with the Gimme Credit research firm in Chicago. "All newspaper publishers are struggling. There are two major reasons. One, the weak economy has caused advertising dollars to shrink. And two, there's a shift away from newsprint to Internet and other media."
According to trade group Newspaper Association of America, the industry's advertising revenue was $38 billion in 2008 compared to $49.5 billion in 2007, a stunning 23 percent drop. To make matters worse, online ad sales - an area publishers expected to continue to grow - also declined from $3.2 billion in 2007 to $3 billion in 2008.
Circulation numbers, which account for 15 percent to 30 percent of newspapers' revenue, dipped to 49 million in 2008, a 22 percent slide from 1990's peak of 63 million. And the Audit Bureau of Circulations reported that average daily circulation from October 2008 - March 2009 fell 7 percent from the same six-month period in 2007-2008.
Global ratings agency Fitch expects there to be few if any two newspaper markets by the end of 2010 and anticipate more bankruptcies of entire companies in the coming quarters.
But, unlike their competitors such as The New York Times Co., Gannet Co. and McClatchy Co., Tribune has an additional headache.
"Not only is Tribune struggling operationally like everybody else, they also have the problem of being overleveraged. So, that combination caused the company to go into bankruptcy," Novosel said.
Tribune has a crushing $13 billion debt load that is mainly the result of the company's $8.2 billion buyout in 2007 that was led by 67-year-old Chicago real estate billionaire Sam Zell.
That deal took the company private and was financed primarily from high-interest borrowed money, which added to the $5 billion debt that was already on the books before the leveraged buyout.
According to the bankruptcy filing, Tribune's assets total $7.6 billion and the company's revenue mix is 74 percent from publishing and 26 percent from broadcasting. Tribune's properties include 12 newspapers, with a total readership of about eight million people on weekdays and 11 million on Sundays; 23 TV stations that cover 35 percent of the U.S.; WGN America cable network that reaches 70 million U.S. households; WGN-AM Chicago radio station; Chicago magazine; 31 percent of the Food Network; 25 percent of Comcast Sports Network Chicago; the Chicago Cubs; and more than 50 Web sites that reach about 15 million unique monthly visitors.
In theory, Tribune's vast multimedia holdings were supposed to act as a hedge against a downturn in any one area. However, this diverse portfolio strategy underestimated the power of the Internet and the potential for a "perfect storm" financial crisis that would affect all its business units.
"Traditional media failed to realize the competitive challenge created by the Internet as it allows all media to compete directly and without any competitive advantage," said Lauren Rich Fine, a former media analyst at Merrill Lynch and now a Practitioner in Residence at Kent State University's College of Communication and Information. "Now there is excess supply of both news/entertainment content and ad space, which combined with slower demand, due to the economy, is spelling disaster."
In the past, Tribune and several other media companies, simply cut costs to maintain their margins when they should have been more focused on how to preserve readership and promote growth in the midst of a digital media revolution.
Fitch analyst Mike Simonton said Tribune not only should have been more active in buying or developing Internet media properties 10 years ago, but they also should have made more partnership deals with other newspapers, online aggregators and technology companies.
"All newspapers did a poor job of partnering and investing in technology, not that the purchase prices were necessarily justified," Simonton said. "But the two management teams that seemed to be the most sophisticated about Web metrics and strategies were Dow Jones and The New York Times. Both had made major digital acquisitions - MarketWatch.com and About.com. Needing to explain these investments to investors helped them understand the business and its different nuances."
So, what can Tribune do to get back on its feet?
"I don't know if it's possible," said Gimme Credit analyst Novosel. "How do you turn around the operations? The most logical solution is to go to the Internet because that's where everything else has gone. But, the competition on the Web is so much more intense. And how do you monetize it?
"Also, Tribune's opportunities are limited because they are in bankruptcy court," Novosel continued. "In contrast, Gannet, which is also suffering from the same problems - declining revenue, declining margins, and declining advertising - went into the downturn with a very strong balance sheet. And so Gannet has options right now, such as strategic acquisitions, that are not available to Tribune and other companies that overleveraged themselves."
Although Tribune owner Zell said the goal of the bankruptcy proceeding is to maintain and preserve as much value as possible, another more drastic strategy for Tribune might be to shed some assets to lower its debt.
"Tribune's thought process before the bankruptcy was selling assets would be a last resort," Novosel said. "However, it is a strong consideration now. The dilemma they have though is the market for those assets, such as the Food Network (worth $500 million - $1 billion for Tribune's 31 percent stake) and other non-core properties have declined along with their other media holdings. The market is not strong. So, do you want to be selling in a weak market?"
Also, tighter credit has slowed all media transactions and was a major reason for the delay in Tribune's $845 million sale of the Cubs, Wrigley Field and its 25 percent stake in Comcast Sports Network Chicago to the Ricketts family.
Even seen-it-all businessman Zell, worth an estimated $6 billion, admits he did not realize how bad things were at Tribune when he took over the company in December, 2007.
"By definition, if you bought something and it's now worth a great deal less, you made a mistake," Zell said during an April interview with Bloomberg Television. "And I'm more than willing to say that I made a mistake. I was too optimistic in terms of the newspaper's ability to preserve its position."
On May 28 the top executives of the major newspaper companies including The New York Times, Gannett, E. W. Scripps, Advance Publications, McClatchy, Hearst Newspapers and the Associated Press, held a "secret" meeting in Chicago to discuss the future of their industry. The conclave, which calls to mind the covert gathering of the five families in The Godfather, was centered on the theme "Models to Monetize Content."
It's too early to tell what impact that meeting will have on the industry, but, ironically, on the same day more than 2,000 miles away in Carlsbad, Calif., News Corp. chairman Rupert Murdoch said during an interview with the Fox Business Network that the days of free news online were "going to stop" and that newspapers are going to have to start charging readers for content on the Web.
"You're going to have to pay for your favorite newspaper on the Web," said Murdoch, whose media empire includes The Wall Street Journal, the New York Post and The Times of London. "I think it's two or three years away before they get introduced in a big way and then it will probably take 10 years or 15 years for the public to swing over."
Murdoch reinforced his feelings during an earnings conference call on August 6.
"Quality journalism is not cheap," Murdoch said. "The digital revolution has opened many new and inexpensive distribution channels but it has not made content free. We intend to charge for all our news websites."
The transition to an online subscription model would be welcome news to Zell, who compared the current state of the newspaper business to a disease when asked about the possibility of a merger.
"That's like asking someone in another business if they want to get vaccinated with a live virus," Zell said. "The answer is I don't think there's a long list of people who want to buy newspaper companies today, and for sure, it's not likely to be the case until we reach some kind of a new bottom as to what the newspaper's role is going to be in our society going forward."
Currently, Tribune and its biggest creditors, which include JPMorgan Chase and Merrill Lynch, are trying to develop a workable plan to restructure Tribune's financial obligations.
The negotiations could last until the end of 2009 and at that time, it's expected the lenders will gain control of the company in a debt-for-equity swap that could pave the way for Zell's exit.
"The creditors are calling the shots," said Douglas Baird, a corporate reorganization specialist at the University of Chicago Law School. "If JPMorgan Chase feels the best way to maximize the value of the asset is to find new management, then that's the strategy it will pursue."
When Tribune resurfaces from bankruptcy, probably around the spring of 2010, some analysts estimate the company's value will be around $4 billion, a mere 25 percent of what the company was worth at the beginning of the decade when its market capitalization peaked near $16 billion. Tribune's 2008 revenue was $4.3 billion, a staggering 25 percent drop from 2001. And its 2001 ranking as the eighth-largest media company has plummeted to 17.
Fitch analyst Simonton believes Tribune and other major content providers need to maximize their strength in local markets if they are going to last.
"Media companies that can create unique content franchises that consumers in their local markets will seek out are most likely to survive," Simonton said. "These media companies will need to develop and defend this content without incurring significant costs. In fact, they will need to be much leaner in order to survive and compete with online-only rivals."
Assuming Tribune is still around in 10 years, what might the company look like?
"Tribune may only operate newspaper properties in an online form," Simonton said. "They will likely only employ 10 percent to 30 percent of their current newspaper newsroom staff. Its broadcast stations may do better, but it's possible that the CW network, with which Tribune's stations are affiliated, could be defunct by then. In that case, they'd be running independent stations in major markets and be dependent on syndicated programming for much of their content.
"We expect that the media business will continue to be very competitive in local markets and that certain players like Tribune could be squeezed out by healthier, more nimble rivals that either have lower cost structures - online only - or lower debt loads."
So, after the ink dries on this turbulent period for the 162-year-old media giant, will it be remembered as a time when Tribune was like a T-Rex dinosaur desperately trying to survive after the asteroid hit the planet? Or will the era be remembered as a time when Tribune began to evolve into a fast-paced, innovative media company that combined creativity with technology to produce content that was a vital part of daily life?
Popular in the Community