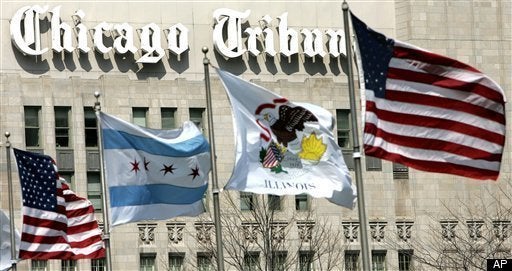 UPDATE: Forbes' Jeff Bercovici reports that Tribune Co. executive Lee Abrams has been suspended from his role as chief innovation officer. Bercovici obtained a company-wide memo from Tribune CEO announcing the suspension. In the memo, Michaels wrote that Abrams has been suspended indefinitely and without pay, and that the company is deciding what further action it will take. "This is the kind of serious mistake that can't be tolerated," he wrote. "We intend to address it promptly and forcefully."

ORIGINAL POST: Less than a week after a blockbuster New York Times story charged the Tribune Co. leadership with promoting a sexist, frat house-like environment at the media giant, a top Tribune executive was forced to apologize for sending an offensive memo to the entire company.
According to Chicago Breaking Business, Lee Abrams, the company's chief innovation officer, sent a company-wide memo that featured several video links. One of them -- which Abrams labeled "Sluts" -- was a video from The Onion which featured a bare-breasted woman pouring liquor on her chest.
CBB writes that the video was among the links to what Abrams called "pretty inspirational or at least interesting" that he and another Tribune executive had assembled.
After several Tribune employees, including the top editor at the Chicago Tribune itself, Gerould Kern, complained, Abrams sent out another email to the company, apologizing for the previous memo:
"The video in bad taste was a parody of a cable-type reality show," Abrams wrote. "It is not something that we would ever air on our TV stations -- in fact quite the opposite -- we show this as an example of what NOT to do. But still, I understand that it was very inappropriate to distribute a link to the video to a wider audience."
He also said that he had asked the company's technology staff to delete the email from the Tribune servers.
Calling all HuffPost superfans!
Sign up for membership to become a founding member and help shape HuffPost's next chapter