Co-authored by Sharon Zimmerman, WAND Director of Strategy and Planning for Women, Peace, and Security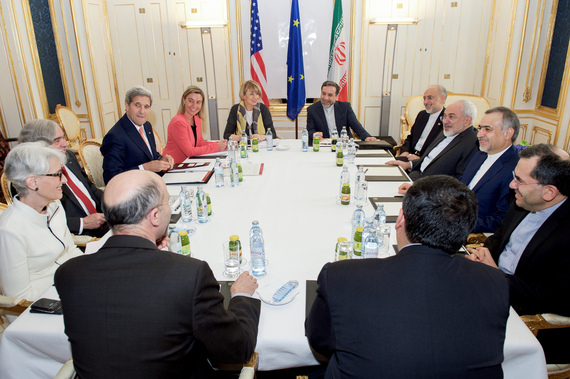 In celebration of Women's Equality Day we're saluting Wendy Sherman, U.S. Undersecretary of State for Political Affairs, lead U.S. negotiator of the historic Iran deal.
August 26 marks Women's Equality Day when we say brava to the extraordinary accomplishments of the suffragists who fought tirelessly for the passage of the 19th Amendment making women's right to vote a part of the U.S. constitution. This commemoration should also be a reminder that gender equality goes beyond the voting booth as there is much work to do to address the inequities that impact women, their families, and ultimately the security of our nation. Moreover, we live in a shrinking world where nations don't operate in silos created by borders on a map and where gender equality has an impact on our nation's security -- and in fact -- on global security. Women are needed at the peace and security negotiating table.
The notable absence of women from high-profile peace and mediation processes has been an ongoing concern of those advancing the women, peace and security agenda over the past fifteen years. Women constitute less than two percent of peace process mediators deployed by the United Nations to major conflict zones, rarely assuming the key negotiator role in high-stakes inter-state negotiations. There are some noteworthy exceptions. Former Irish President Mary Robinson was appointed by the UN Secretary General as Special Envoy for the Great Lakes region in 2013. The 2011 Nobel Peace Prize award given to Ellen Johnson Sirleaf, Leymah Gbowee and Tawakkul Karman came with explicit recognition of their struggle for participation in peacebuilding and negotiation processes in Liberia and Yemen.
What is unfolding now with Iran is perhaps the most important peace and security negotiation in this century. A host of women are playing a key role in the Iran nuclear deal and have entered center stage. Wendy Sherman, U.S. Undersecretary of State for Political Affairs; Federica Mogherini, EU High Representative for Foreign Affairs and Security Policy; and Helga Schmid, Deputy Secretary General on Political Affairs of the European External Action Service all deserve tribute for their contributions to these "high-stakes inter-state negotiations."
Experience has shown us that in Liberia Northern Ireland, and in other places around the globe where conflict was brought to a close with women's participation, that women at the peace and security negotiating table works. History shows us that women's presence in conflict resolution and conflict prevention is essential. The current Iran nuclear deal, completed with women at the table is, as reported by Politico, "well built and durable, and exceeds historical standards for arms control agreements."
As the nation is buzzing with what will happen in Congress about the Iran deal, WAND would especially like to thank Wendy Sherman for her outstanding efforts on behalf of the peace and security of the United States and the world.
And as we take a moment today to reflect on the 19 Amendment, thank you to all activists and change-makers who have paved the way to expand how we view and work toward true gender equality.
[Image Credit: A Different Perspective of a Trilateral Meeting Between the U.S., E.U., and Iran in the Blue Salon, July 2015. U.S. Department of State, public domain image.]