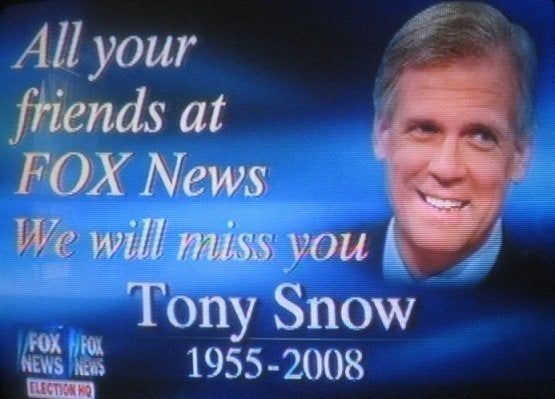 The news on Saturday morning was very sad: Tony Snow — former White House Press Secretary and "Fox News Sunday" host, radio personality, speechwriter, syndicated columnist, multi-talented musician, father and husband — died at the too-young age of 53, finally felled by the cancer that had first struck him in 2005. Snow was conservative in his politics, obviously, but an undeniably likeable presence at the podium (which is not to say that he did not on numerous occasions provoke the ire of more left-leaning watchers, myself included). When Snow left the White House in 2006, the farewell he received from the staff as he departed was genuinely touching, as was his interview with fomer sparring-partner David Gregory about his chemotherapy and, more importantly, what he had to live for. Those clips were tough to watch as they re-ran on Saturday on MSNBC, as onscreen Snow choked up about how much he loved his family.
But the network that truly felt the loss the most was Fox News, where Snow had been a valued colleague and friend for years, and certainly one of the most prominent 'alumni.' Much time over the weekend was spent in remembrance of their friend and colleague, with virtually everyone at Fox making a point of contributing memories of their friend. Chris Wallace called in from vacation and likened it to "a death in the family...like there's somebody missing at the dinner table." Brit Hume called him one of the "founding spirits" of Fox News, and called him a "profile in courage" in his positive spirit and unrelenting hope and good cheer.
On "Fox & Friends" Sunday, Fox top boss Roger Ailes had this to say:
"[W]hat radiated from Tony was a kindness and a gentleness, but some intellectual power. So we all loved him, and, you know, I think today, what everyone wants to say to Tony, I think, is, 'thank you for sharing your life with us.' But if Tony were here today he'd say, 'no, no, thank you.' "...So, you know, Tony, if God needs a press secretary, he's got a good one.
Griff Jenkins, who worked closely with Snow as his longtime producer and who called him a friend and mentor, said this:
He taught me more about optimism than anyone I have ever encountered in my life...his spirit, his sense of optimism, and his absolute cheer and professionalism will live in the halls of Fox for a long time.

ETP has previously noted that Jenkins is about the most upbeat, optimistic guy on television, so that testimonial is saying something. Jenkins and Julie Banderas anchored a special edition of "America's Election HQ" on Saturday afternoon, and Bill O'Reilly and Greta Van Susteren hosted special tribute shows (usually they are off weekends). Fox News Sunday, where Snow formerly anchored, also did a special tribute to their colleague. Even "Fox News Watch," pre-taped Friday to air Saturday, was hastily adjusted to include a Snow tribute.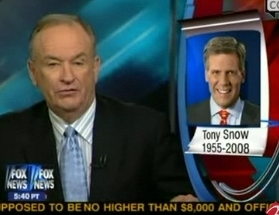 O'Reilly, who was a personal friend of Snow's, hosted some high-profile White House guests including Condoleeza Rice (who praised Snow's "wicked sense of humor"), Chief of Staff Josh Bolten (who said that Snow shared a sense of optimism with President Bush that "made them natural partners"), his predecessor Andy Card, who said that Snow's clarity of communication as a speechwriter would "help us understand policy" better, and he had been a substantive contributor in both Bush White Houses as a result, and Ari Fleischer, who noted the difference Snow made at the podium thanks to his TV skills (he also noted that Snow was a natural ad libber, and "people at the white house weren't always happy" with that. No kidding).
CBS White House correspondent Bill Plante, on that beat for 23 years, told O'Reilly that Snow ranked "right up there near the top," of White House press secretaries, "maybe at the top...with maybe one other guy that I won't name." (Pressed by O'Reilly, he did name - it's Clinton spokesman Mike McCurry). Plante also spoke of the rather infamous sparring between Snow and press coprs grande dame Helen Thomas (whom Snow had once chided for "pestering the teacher" at a press briefing), recalling an episode where Snow had cut Thomas off during an exchange and after the briefing had asked Plante where she'd gone so he could apologize. He also shared that even in the midst of his own illness, Snow had kept up correspondence with Thomas, making sure to call her and ask about her own health when she was ill.
One of the most telling anecdotes came from liberal commentator Bob Beckel, Snow's former co-host on Fox News, who revealed that once, after a night of drinking, Beckel had been scheduled to deliver a speech. This requires a transcript:
Beckel: I was hung over so badly I could hardly make it to the speech...Tony wrote my speech for me, my liberal speech including all my jokes, all my attacks on the conservatives, and handed it to me just before I went up on the podium.
O'Reilly: Did you give him your fee, Bob?
Beckel: I did not give him my fee.
O'Reilly: Well you should have.

Classy. Let's hope someone's making out a fee-sized check to the American Cancer Society right about now.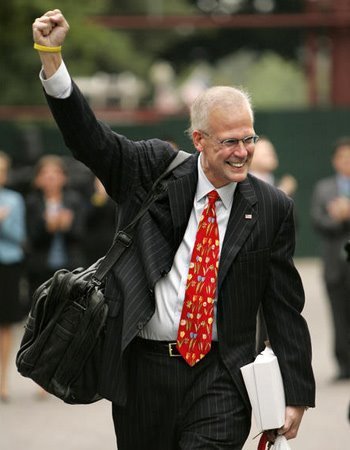 Cal Thomas spoke of Snow's love for his wife, Jill — "you can tell a lot about a man who brags about his wife without being prompted" — citing a rather poignant example from Paul Tsongas' autobiography ("Turning to his wife, he said, 'You know, Nikki, all I'll ever be remembered for is that I loved my wife,' and she said, 'What's wrong with that?'"). Thomas recalled how much Snow loved his family, and his children; Fox White House correspondent Brett Baier recalled how Snow had cared about the children of his peers, too, opening a press briefing to congratulate Baier after his son had come through a risky surgery.
O'Reilly closed with his own personal take on Snow. "The big thing for me was Tony's courage," said O'Reilly. "Never once did he complain about the cancer...he never gave in to that disease, or the anguish and uncertainty it brought. Tony Snow fought the good fight. He lived a good live. There's little else that matters." He closed with this final quote from Snow:
Attitude is real important. Why sit around and bemoan your fate — go ahead and get in there, and while you're at it, enjoy every moment that you're alive.