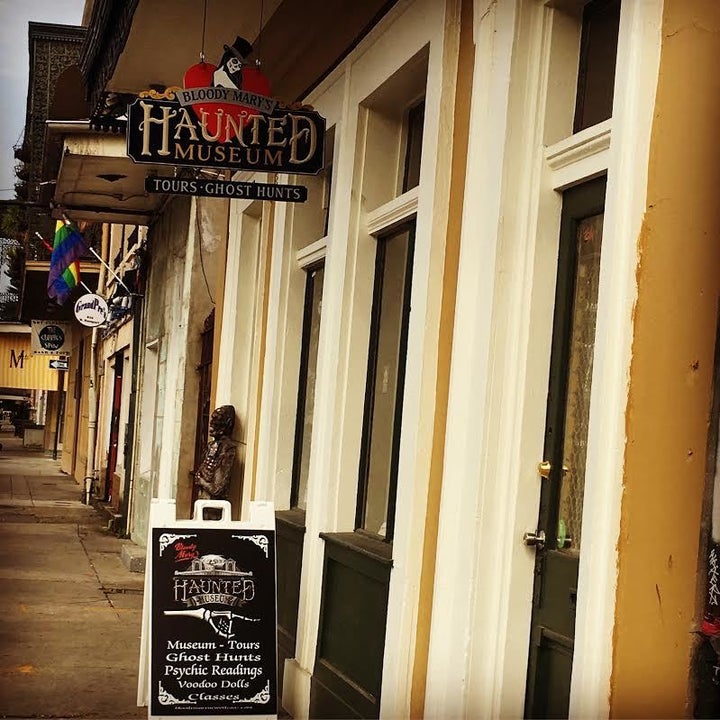 Come connect with the dead, and enter the New Haunted Museum though the Voodoo Hall of Altars; better yet, come feed the dead at the Haunted museum this Halloween season!
"I remind all that this is real, not a game or a Halloween attraction where mechanical monsters step jump out to scare, when the spirits pop up, it is real. Tis the season." Bloody Mary.
Trick or treat with the dead: dead children, dead friends, dead family and dead pets are all invited. Bring pictures of your loved ones to join "The Wall" in the Hall of Voodoo altars and bring a tasty treat or that special toy for the Creepy Doll Drive! Friday, Saturday and Sunday please present your offerings and we'll donate them to the spirits. And, of course, come see the Haunted Museum! Prizes await, too.
Bonus: Come see the doll nursery and a special secret extra peculiar para- treat that we've set-up for Halloween weekend. Hint: Tea might be served.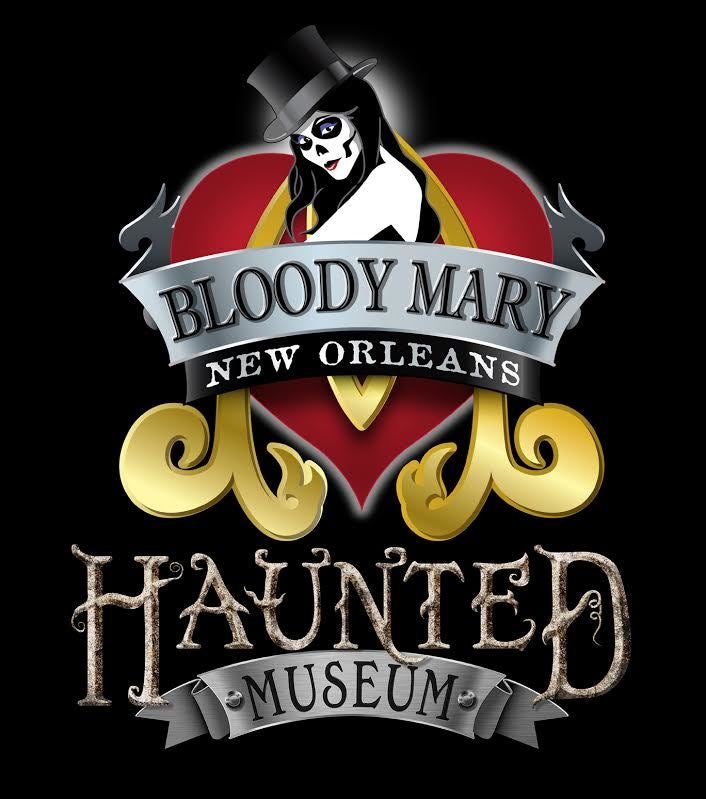 "We were just warming up when we pre-opened in September this year but October is our true opening. Now open to the living and the dead!" Proclaims our Voodoo Queen Bloody Mary, author, medium and now curator of the New Orleans Haunted museum.
Meet and greet the Baron and Baroness, get a voodoo blessing and really pass through those 7 gates of Guinee for Halloween! Our Father & Mother of the Bones may be dead but they work as night watchmen here at the Haunted Museum. This Voodoo power-couple are death incarnate and are also the wisdom of those who have come before. They are the Lord and Lady of the cemetery and the Haunted museum honors their story since they are our history.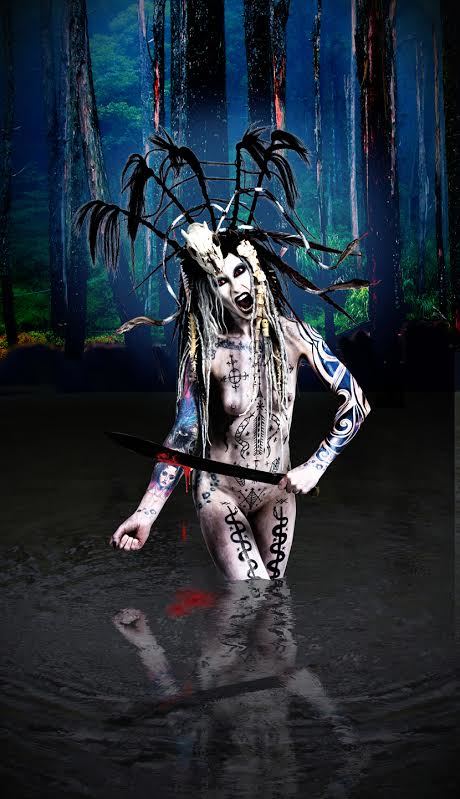 But on the other side, (this one) our living, psychopomp, human Mother, Bloody Mary is the woman to thank for taking care of the ghosts at the New Orleans Haunted Museum, especially the children. Bloody Mary is a leader in her field and honors the spirits of her 300 year long New Orleans bloodline and birthright. She is a strong advocate for Spirit's rights and offers Sanctuary.
"My Haunted Museum is in the infamous Rampart Street murder house - the home of the last two Katrina victims - the infamous Zach and Addie who played out the rage of the storm with their relationship."
These infamous ghosts Zach and Addie may be the most well-known spirits, but the whole who's who of New Orleans ghosts are honored at 826 & 828 N. Rampart in the Haunted Museum.
Come feel the haunted courtyard and haunted carriage house hidden off the street and out of view from the public and then turn back to the Other Side to the twin haunted cottage, directly into the swamp monster section. Cryptid creatures led by our spirit of place Maman You (the mermaid mother of the river) await, opposite of our lovely Loup Garou, the French werewolf who stalks the swamps and carouses the old narrow streets in French Quarter. See what else lurks in the cozy corners within the walk of the museum. Wander into the supernatural settings of our Victorian séance parlor adorned with haunted artifacts once used by Houdini. Or maybe you'll have an encounter with our resident deceased spiritualist: Walter. Or, you may wish to pay your respects on the beautiful altar, and view the personal possessions of New Orleans own 19th century Voodoo Queen Marie Laveau. Marie Laveau is one of the spirit guides to curator and author Voodoo Queen Bloody Mary. "Marie Laveau did what she called Voodoo séances, which I also do. But I created my own method of spirit connection which I call Voodoo Paranormal, a blending of old school and new school paranormal investigation techniques."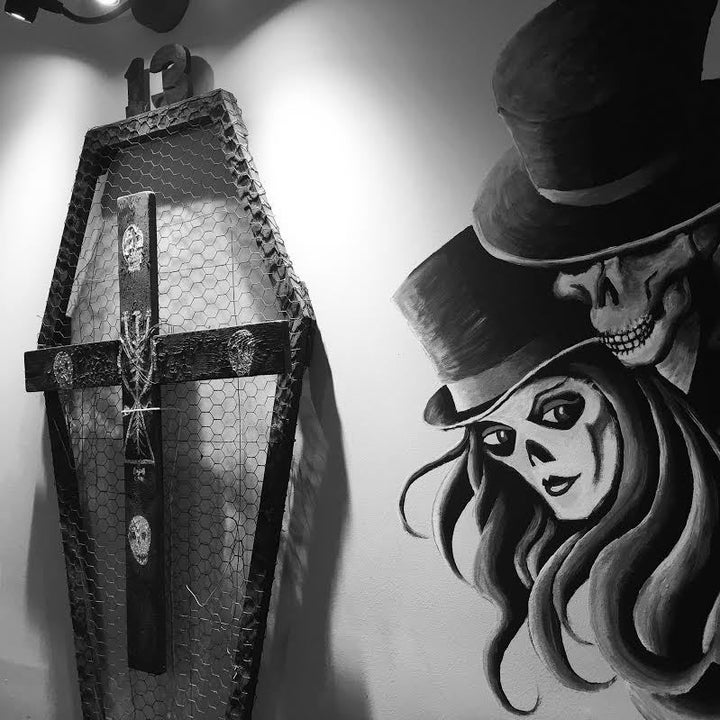 The museum itself is a mystic teaching institute which also houses a Voodoo pharmacy and Spirit Shop alongside this very paranormally active museum. They also offers ghost hunts, séances, classes, tours and is home to many handmade, one-of-a-kind voodoo dolls with a voodoo doll decorating bar, crystal bar, Gris-Gris apothecary and awakening altar. Our workers will feed and charge your own personal voodoo doll to help you achieve your goals. "I am very old school. No made-in-china dolls. Only New Orleans hand-made dolls with hand collected ingredients by Bloody Mary and her House members!"
I highly recommend visitors go to the adjoining Voodoo Pharmacy and Spirit Shop to take a class, book a psychic reading or just sit and meditate in the quiet courtyard, but touring the museum is a must!
Trick or Treat with the Haunted Museum and bring a treat for the dead and treat yourself even further by stepping out on the town with her supernatural tour company by van or by foot to see the rest of haunted New Orleans.
Enjoy an authentic Bloody Mary presentation by the ultimate insiders who are not only locals but are also psychics and priest/esses too. Try Bloody Mary's City and Cemetery Ghost Town, her Van Tour and the walking Tour of the Undead – the tell all ghost, voodoo and vampire trilogy. Join her hands on ghost hunts which are all part of her veteran spirit tour company 24-years in the making.
Find out more about celebrity Bloody Mary and her Haunted Museum on Paranormal Lockdown, A Haunting, Buzzfeed Unsolved, Ghost Adventures, E, ABC, Haunted History, https://www.youtube.com/user/BloodyMaryNewOrleans and neworleanshauntedmusuem.com
Bloody Mary's 2016 book Bloody Mary's Guide to Hauntings, Horrors, and Dancing with the Dead has a 5 star amazon review and is quite a remarkable and in depth look at the spirits of New Orleans that Bloody Mary calls on as friends.
"My book is a teaching book and is said in and of itself to be haunted!"
Look for her new book in the Spring 2018 on Voodoo by Schiffer Publishing where she teams up with Fabulous LA Photographer, Justice Howard: Voodoo: Conjure and Sacrifice.
Don't forget to check out Bloody Mary's own self-published, 2012 Paranormal Bluebook 1 and 2. Those supernatural coffee table ghost and cemetery photo-books are filled with paranormal evidence will be relaunched in ebook style later in 2018 and are all on display in the Haunted Museum and Voodoo pharmacy.
Popular in the Community