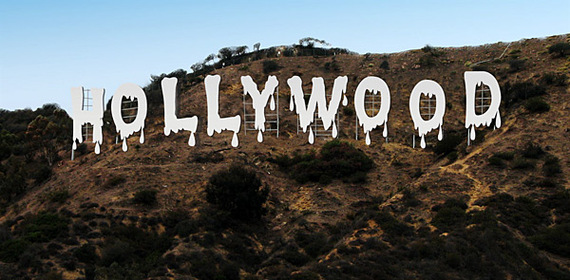 I see my neighbor of 8-plus years only on Halloween. In fact, the first time I met her she was dressed in a furry white bunny suit so encompassing it could have passed for a team mascot. She -- as you have likely not guessed -- is Angelina Jolie, who, for the record, introduces herself as "Angie." No matter how far flung the film or humanitarian mission in which Angie is currently involved, she reliably returns to Hollywood by October 31st, ensuring her global kids have an all-American trick-or-treat experience. Angie, I've concluded, is a Halloween person. I am not.
Much of my Halloween dislike is specific to Los Angeles where, come fall, the city's "more is more" mentality takes the form of that stretchy faux spider web stuff so tenacious I find it lurking in our yard well into December.
Speaking of faux, let's kick off the season like the natives -- with a trip to the uniquely Angeleño spot, Mr. Bones. Mr. Bones is the Islamic State of pumpkin patches, which is to say it is a self-proclaimed pumpkin patch. No pumpkins grow or likely have ever grown on Jefferson Boulevard between the 10 and 405 freeways. At Mr. Bones, you -- and each child -- are charged admission (plus an additional fee to park), for the privilege of purchasing a pumpkin. Said gourds range in price up to a whopping $100 for the "Big Mac" -- it's organic (no pesticides will poison your porch!). Please note it costs extra to partake in face painting, skitter down an inflatable slide or pet poor goats baking in a pen.
Also in a pen are the paparazzi. Yes, "paps" are perched on high hay bales in a corner of Mr. Bones' lot. This gives the (also self-proclaimed) photographers prime vantage to feast telephotos on B-/C+ celebrity mommies in studied-casual flannel shirts who flock to this patch in hopes of landing on the pages of In Touch.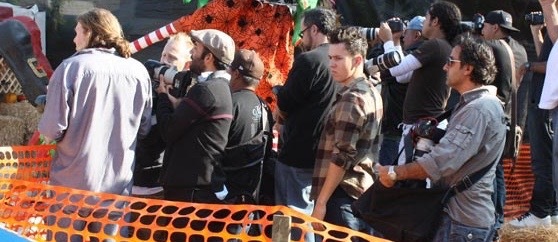 Photo Credit: Candy Kirby-The Laughing Stork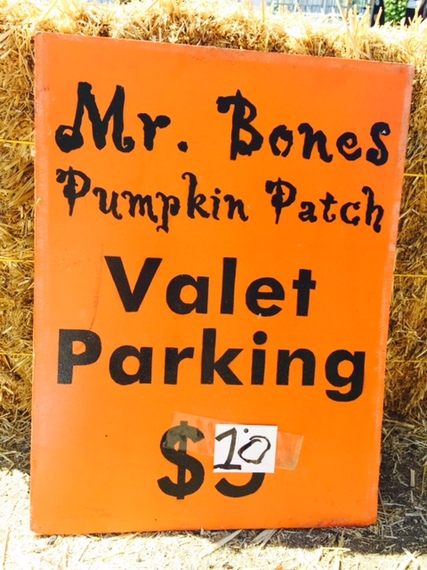 With a wheelbarrow full of future jack o'lanterns in tow, exit through the gift shop hawking holiday décor galore. Here we find glow-in-the-dark skeletons with infrared eyes, Styrofoam gravestones that snap in the Santa Anas and black cats sure to shed their polyester fur by mid-month. No matter how large the Mr. Bones boutique tab, my kids are always disappointed with our results. The ghosts are always ghostlier on the other side of the cobweb covered fence.
But lest we forget, Halloween is primarily about wardrobe. Costume catalogues start arriving just after July 4th and the fairy godmother of them all is Chasing Fireflies' Wishcraft - think the Neiman Marcus Christmas Book for kids. Perhaps you are familiar with this glossy advertisement (owned by Home Shopping Network) favored by Palisades preschoolers and Pasadena preteens alike. Your daughter can dress in a $150 glittery "Candy Princess" gown designed by Gwen Stefani. Read the fine print to realize accompanying wand, wig and wings are a la carte. The Countess of Grantham Dress will run you $90 and the hat an additional $40. And Mom and Dad, too, can be cast members of Downton Abbey -- perhaps, for irony's sake, the help: Maid Anna and Servant Jimmy.
Back to the children's costumes. They are plural in this town. Halloween, you see, is no longer one night, but rather a series of events -- and wearing the same getup to each would be akin to donning the identical dress on the Emmys, Globes and Oscars red carpets. For my 11- year-old son, there is first a coed soiree to attend inside a Beverly Hills gated community at a gothic-style manse that might have been built with the holiday in mind. If you are to believe the reality show on which his friend's mother appeared, Wicca is practiced here (benevolently with scented candles) thus lending a further aura of authenticity.
Next, there is Halloween at school, featuring a choreographed dance performance to "Thriller" and a parade during which a faculty member announces each child as he or she crosses a stage erected for the occasion. At this moment, the audience acutely understands that the imagination and sophistication of their offspring is on display for fellow parents and the entire administration: Is your child an artistic Flower Pot or witty Helicopter Mom or just another run-of-the-mill Spidey-Elsa-Vader? A carnival with worm toss and eyeball mini-golf booths (produced by moms and dads taking time off from earning money for tuition) caps the day's fun for un-deprived children.
I am pleased to report that not every school in the City of Angels embraces Halloween. On the tour of Temple Israel of Hollywood's Bay-Nimoy (yes, as in Leonard) Early Childhood Center, we were warned apologetically that Purim is the only dress up holiday celebrated. While any Pagan Christian undertones have disappeared from Halloween like tan M & M's, it was all I could do to hold back a hallelujah (which probably would have exposed me as a secular Jew). Needless to say, I enrolled my daughter at this Hebraic Nirvana.
When All Hallows' Eve finally arrives it is merely the month's denouement for my children who are by this time more interested in distributing candy than traipsing around in costume again. I'm grateful for their help because our knocker and bell barely get a break from the influx of trick-or-treaters. Although our community is no Beverly Hills, we're centrally located and prepared supply-wise for the evening's demand.
The majority of the revelers are the expected kids and chaperones and later, as the night wears on, groups of teens. There is also the occasional adult without children (nor costume) and inevitably parents with sleeping infants who make me wonder if I should be doling out baby formula instead of junk food. But here I also find something positive in the holiday. The darkness and disguise and open doors are an equalizer. Our city of ethnic and economic enclaves become one. On Halloween, even Angie steps out from behind her hedges and gate - albeit with her face swathed in mummy gauze - to mix with the likes of me.